Discount Swords and Coupon Codes!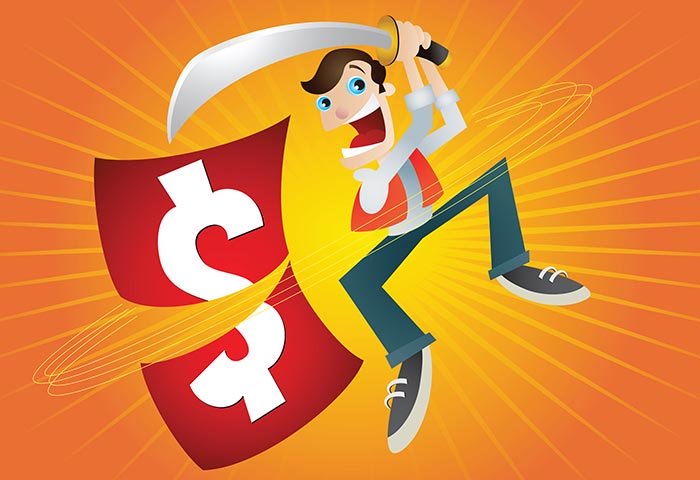 These really are the very best discount swords offers on the internet...
After extensive negotiations to get my visitors the best deal possible, I have teamed up with a carefully pre-screened selection of the most reliable and respected sword sellers in the industry to bring you a whopping 10% to 15% off their already low prices - simply by mentioning my site!
---
ABSOLUTE BEST PRICES!
With these discount swords coupon codes, I think youll find it literally IMPOSSIBLE to get these exact same products at a better price ANYWHERE on the net (If you don't believe me, please have a look around at their competitors and see for yourself!).
---
But it doesn't end there...
Because not only do YOU get the best deal possible but each purchase using these discount swords coupons earns SBG referral credits to buy more swords to review, fund competitions and expand the site further into the future (and to be honest - yes, I even use the discounts when buying swords myself!) - a true WIN-WIN situation if there ever was one!
I'm really proud to be able to bring these discount swords offers to you and wish to thank the great vendors who are involved in offering tremendous value to the Sword Buying community and helping SBG at the same time. Check them out. I guarantee you will not be disappointed...!
---
Discount Coupon Code # 1

"Massive savings on closeout and one of a kind medieval swords at at Museum Replicas (MRL)!!"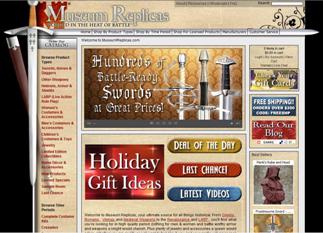 One of the oldest, and most respected sword sellers still around (starting from Catalog sales in the 1970s by none other than the legendary Hank Reinhardt) - Museum Replicas are well known for their wide range of collectibles and the full current range of Windlass Steelcrafts swords (after all they are now OWNED by Windlass!).
And even many years later, they still hold the genuine commitment to customer service that Hank instilled in the business - with one of the most hassle free return policies in the industry.
Lovers of medieval swords often visit MRL to check out the low prices on their recently discontinued swords in their Last chance section, as well as get brand new releases before anyone else, check out one of a kind Limited Edition swords and other releases in their Sample Room (many quality limited edition swords available for under $100!).
And that's just the tip of the iceberg (they also sell officially licensed collectibles, medieval themed gifts/toys and have one of the largest selections of costumes anywhere on the internet!).
Aside from being an extremely interesting site to visit to see what's new, what is coming up and see what is being liquidated (and what bargains are on offer) - MRL are also happy to offer a huge 10% discount to all SBG visitors across their ENTIRE RANGE!!
For 10% off EVERYTHING the Coupon Code is:
SBG2023
P.S. You can also use the SBG discounts if you place a phone order too (1-800-883-8838), just tell them you want to use the 'SBG2023' discount code and they'll give you 10% off on the spot.
My recommendation is to checkout the pages I've linked to above and see what kind of bargain you can get when you add in this discount; but be warned - their site and the kind of savings you can pick up with this discount are a down right addictive combination!!
Check out their full range of swords, medieval weapons and decor (plus so much more):
---
Discount Coupon Code # 2

"5% off EVERYTHING at Swords of the East"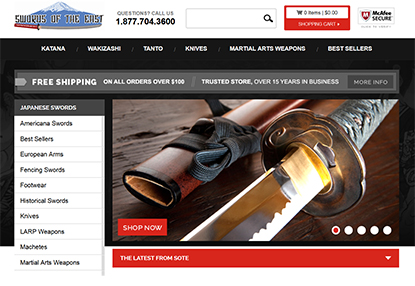 As their name suggests, Swords of the East specialize in Asian swords - Japanese Katana, Korean Jingum, Chinese Dao and Jian and other Asian swords and martial arts weapons.
With a massive range of swords to choose from (they stock Katana from practically EVERY major Asian style sword manufacturer), great customer service and highly competitive prices - add a whopping 10% discount that you can apply to each and every sword in the checkout and you have one heck of a good deal on offer!
For 5% off every sword in their huge range, use the special coupon:
5percent
Have a look and see what kind of discount swords you can pick up with this coupon below:
www.swordsoftheeast.com
---
WANT More Discounts?

No problem!
How about SBG Sword Store Coupons?
It might be cliche, but in this case it is true: the SBG Sword Store delivers super low, everday prices. Over time we have formed such good relationships with a handful of the very best sword makers who discount swords for us enough to bring you swords at  BETTER than manufacturer direct prices
The ONLY downside, we don't usually have a lot of 'wiggle room' to move for discount swords coupons.. But we do have serious bargains and a few limited edition coupon codes:
And the best deals of all, the SBG Sword Store Newsletter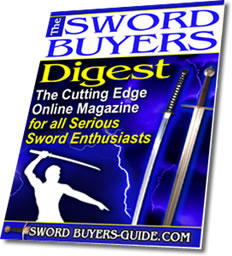 Otherwise, you will on occasion find other "Easter Egg" special discount swords nearly every month in my online newsletter, the sword buyers digest (not to mention a whole heap of other cool stuff, including exclusive articles, videos and even free swords games) so sign up today!
---
I hope you find these discount swords offers to be of great value. Click here to return to Sword Buyers Guide.com's Homepage from Discount Swords at the Best Prices on the 'Net!

Buying Swords Online Can Be

DANGEROUS!



Find the Best Swords in the:
Popular & Recommended ARTICLES

---
---