Hey,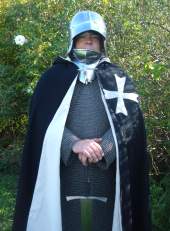 Welcome to the March digest! This issue has a few additional features this month, with a new 'Featured Review' added (this months is Conan's Atlantean sword by Windlass steelcrafts' and an exploration of some of the most unique production blades currently on the market replacing the usual 'clearout and discounts' section (but only this month) just to try something different.
We also have some exciting news about a new pending and very informative page/format for SBG – and the usual mix of videos, best forum posts and of course – Finn and Fulller – so I hope you enjoy it!

CONTENTS
1. From the Desk of Paul Southren
2. Featured Review: Sword of Conan
3. Best Forum Posts
4. Video of the Month: 40 rounds of sword bouts
5. Special Feature: Exotic Blades!
---
FROM THE DESK OF PAUL SOUTHREN
---
Last issue I mentioned that there were some big changes in the works at SBG, and while much of what is occurring is being done behind the scenes, one pretty significant change is imminent – a change I hope will make it so much easier to see at a glance what's new and what is going on with the sword industry at any given time..

Our goal is to create a news page which is linked in to the manufacturers and vendors page of the forums but displayed in such a way so that it filters at the top ONLY news from major sword manufacturers and legends of the industry (such as the likes of Gus Trim, Tinker Pearce, John Lundemo, etc – and below it there will be a second category for promotions and announcements from vendors and up and coming dealers.

Here's a rough mockup pic which shows you what it should eventually look like:
Essentially a single page on the main site which features links to the newest posts sorted by manufacturer.
Behind the scenes, this is actually not anywhere near as simple as it looks and involves some rather tricky programming so SBG is calling in the pros – and while it is expensive and rather time consuming, I think the end result will be extremely useful. But for it to work, we need to re-categorize from one catch all 'M&V tag' and classify each of our M&V members into four main 'tiers' – Tier 3 being up and coming, small scale vendors, Tier 2 for established, large scale vendors (like KoA, Relics, etc) and Tier 1 for large scale manufacturers such as Hanwei, Ronin Katana, Generation 2, etc.
While this may set a few noses out of joint, this categorization is necessary for the news page to display properly, but also it helps clarify things within the M&V section itself because we want to make sure that the community can at a glance identify where each M&V sits in the grand scheme of things – i.e. currently a new customizer who has done a couple of tsuka rewraps has exactly the same title as someone like Gus Trim, a true legend and one of the fathers of the modern sword industry.
Anyway, I think it's exciting – and it has created several offshoots such as we will soon be creating a special category for customizers, repairers, etc with their own new sub forum and we are setting up a system to make it easy to leave feedback for such services as well as ways for potential new customizers to get started.
So stay tuned guys, if all goes to plan these changes will start to be implemented this month and I hope will help to not only revitalize the industry a little as it has had a pretty hard couple of years since 2010, but also to just make it easier to figure out WHAT is going on and WHO is behind it, all on one easy to follow page.
---
FEATURE REVIEW: Sword of Conan
---
Ever since I saw the movie I wanted a decent replica of Conan's Atlantean sword. But it is only NOW that an actual non-stainless steel replica under $3000 (as until recently the only non stainless steel version was this one by Albion, at $2950…
In this review by SBG's Zoe we get to see if this sword is finally what the doctor ordered – a decent Conan replica under $300… (fingers crossed).
REVIEW: Windlass Conan Atlantean Sword
By Zoe, Canada
We've all seen the movie. Right? You haven't? First off, where have you been living? Under a rock? Secondly, stop reading, go rent it/stream it/buy it. Now.
Ok, now that you've seen what is quite possibly the most epic (epic-est?) sword and sorcery movie ever made, you'll understand why this sword is such a big deal.
Most of you probably saw Conan in your teens, some of us didn't have that privilege and only saw it in their twenties or thirties (yes, I lived under a rock for most of my formative years. I'm doing my best to make up for it now, though). It doesn't quite have that same nostalgic feeling for those of us who saw it later in life, but it's still easily recognizable as an undying classic.
I will freely admit that doing this review was a little intimidating to me. This is quite possibly the epic-est (if that's not a word, it should be) sword I will ever review, and I wanted to make sure I did it right. Here goes.
Conan is set in the fictional "Hyborian Age" (roughly 10,000 BC). Steel apparently casts in molds like bronze (opening sequence of the movie), also Rottweilers and German Shepherds (or were those supposed to be wolves?) show up a few thousand years early.
This movie is a classic, and as such I love it. The movie is fantasy, not a documentary... if you take it too seriously, it will make your brain hurt. I know – I've tried.
Full Disclosure
I received this sword as a review sword from MRL, and only paid what customs thought I owed them for the privilege of them rifling through my stuff.
I usually don't like much ornamentation on my swords. Stripped down functionality is generally my order of the day. Obviously, this baby does NOT fit into that mold. Unless you've got arms like Arnold, functionality is pretty much tossed out the window.
Initial Impressions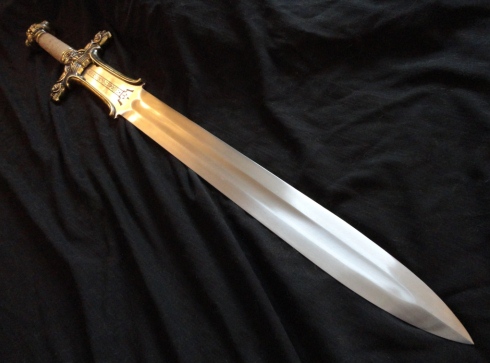 Honestly, I was ready to hate this sword as soon as I saw it. I thought it would be gaudy and unwieldy in person, and a let-down after the hype that surrounds the Conan franchise. However... I didn't, and it wasn't. My inner (ok, not so inner) movie nerd had to pop Conan in the DVD player and watch it with the sword leaning beside me on the couch.
I was prepared for it to be cheap-looking and cheap-feeling, having loose bits and poorly-recreated bronze fittings. The twine does move (a lot) on the handle, but on first inspection I have no complaints about the blade or bronze furniture.
Statistics
Blade length: 28 1/2 inches (without ricasso – 21 3/4)
Handle length: 5 1/4 inches
Overall length: 39 3/4 inches
Guard width: 7 inches
Point of Balance: 2 1/4 inches
Centre of Percussion: to be honest, I don't know. The blade is so thick and heavy, it just doesn't behave like other swords do.
Weight: 7 pounds, 3 ounces
The Blade:
In a word, sturdy. There are no bends or imperfections that I can see. The etching of the runes looks nice and even, and no difference from one side to the other.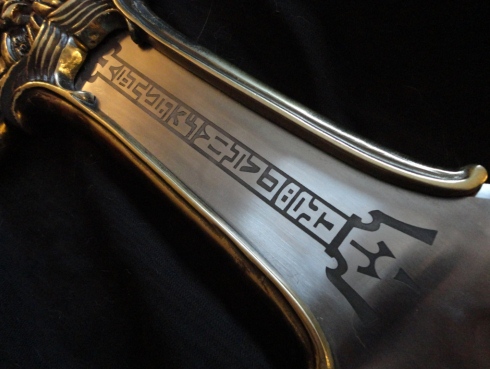 The Handle
The twine on the grip does twist quite a bit. If this were a sword I was planning on using a lot, I would probably see if it could be rewrapped or something. Well, honestly, if it were a sword I would be using a lot, I don't think twine would be my first choice for a comfortable grip. But we're not exactly looking for comfort with this bad boy, are we?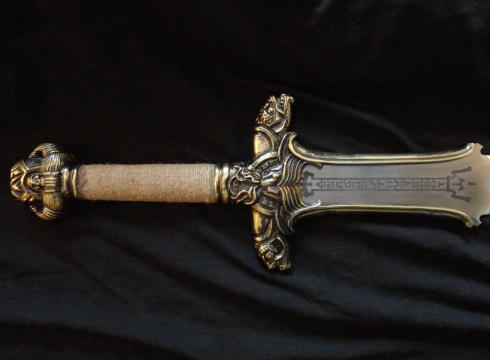 The Guard
From what I can tell from the movie, close-ups of the original prop swords, and the Albion recreations, the guard looks like it should. The bronze is blackened in the creases slightly unevenly from side to side but it's not overly noticeable. The guards extending down the ricasso do rattle slightly when the guard or pommel is struck, but nothing feels loose when handled.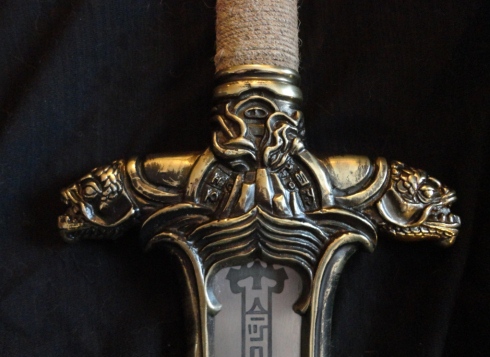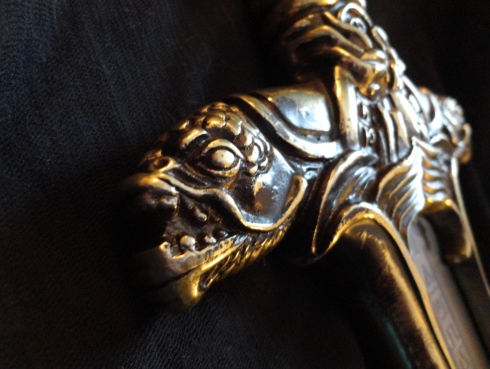 The Pommel
Pretty much the same story as the guard – from what I can tell, the pommel has the design that it should. There have been some complaints with this sword being shipped with loose pommels, though this one in particular feels quite solid.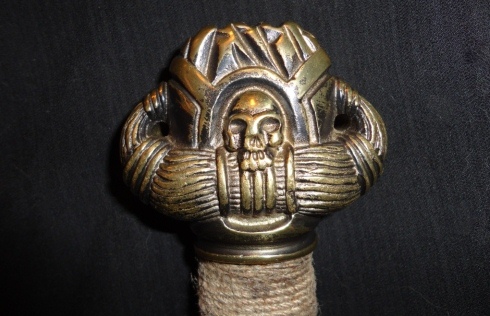 Handling Characteristics
Ha ha... ha. Either I need to work out a LOT more, or perhaps find a lighter sword. Since I DON'T want guns like Arnie, I won't be going with option 'a.' I can heave it off the ground, but that's about it. I can see why Arnold took steroids.
My husband Kevin, however, can do a pretty impressive Arnold-like twirl with it, and hopes to sharpen it and take a whack or two at a pig carcass in summer. Beyond the occasional experimental pig-mashing, though, it's really not a functional blade.
On a more serious note, in doing a little research there had been some concern that this sword might have the dreaded rat-tail tang. I was planning on disassembling my sword to see for myself before letting Kevin sharpen it. No flying helicopters of death here, please. However forum moderator Marc Kaden Ridgeway toured Windlass and recently posted pictures of the sword pre-assembly, with lots of good visuals on the tang and my fears have been assuaged. (See his article and pictures here - https://www.sword-buyers-guide.com/Museum-Replicas-Limited7.html)
Conclusions
Pros:
- Price. Considering the Albion models run somewhere in the $3000 mark, $295 seems pretty darn reasonable.
- It's a fully licensed product – no knock-offs here.
- I know we're not all about looks here, but this thing does look awesome.
Cons:
- Loose twine, rattling ricasso guards and history of being shipped with loose pommels
- At this weight, it's not practical to use as a functional sword
The Bottom Line
Well, it really depends on what your plans are for this sword. For the true purist, Albion's $3000 recreations with original sword-designer Jody Samson's seal of approval might be the way to go. However, since pesky things like rent and groceries tend to interfere with such grand schemes, $295 is a lot more attainable for a product that most people won't be able to tell apart.
If you're shopping around for a new backyard cutter, perhaps you should keep shopping. While this sword is technically functional (and not a stainless steel or aluminium wall-hanger, and does have a decent tang under all that furniture), the weight, point of balance, and general clumsiness of the design really isn't ideal for actual use. (Though that's not really Windlass' fault – that's just the nature of this particular beast.)
Personally, Windlass gets my thumbs up on this one.
EDITORS NOTE – WHERE TO BUY
I would recommend picking this piece up direct from MRL on their website here – the price is $295 but if you use our MRL-SBG coupon code - sbgweb - and apply the site wide 10% discount you can save $29.50.
And for serious Conan fans, you can also collect the fathers sword and Valerias sword, plus some finely detailed cool little Conan letter opener blades for $25.
---
BEST FORUM POSTS
---
Tatami equivalent to cutting flesh, muscle and bone?
Tatami mats are a popular cutting target originally used in the Japanese sword arts – but is cutting a soaked mat in half really the same as cutting off a human arm or neck? Interesting thread from the beginners question section.
EVERYTHING first Katana buyers/owners need to know
Now this is what I call a primer! From choosing what kind of steel to use to terminology, selecting the right length and balance, maintenance and much more this post is a must read for every Japanese sword enthusiast.
Hanwei Shutting down operations?
It started as a rumour, how much truth is in it? And why have prices on most Hanwei swords shot through the roof recently? An important thread that sheds a lot of light on the current state of the sword industry.
What to look for in a dojo?
Thinking of joining a sword school? Here's a checklist to find the one for you.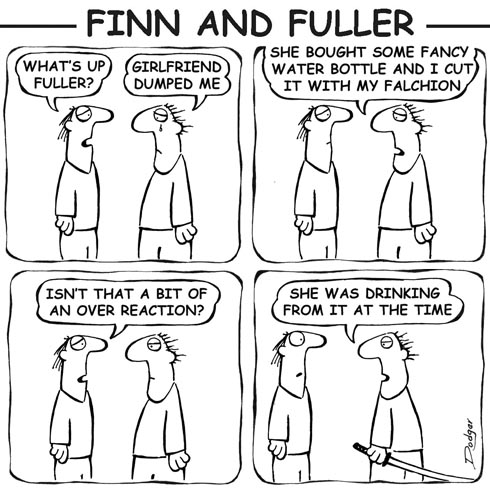 ---
VIDEO OF THE MONTH
---
Sparring with foam or padded swords is a lot of fun – but in this video featuring Lancelot Chan vs elite SCA swordsman Tom Biliter going at it for 40 rounds shows just how deadly and fast a real sword fight would have been..

It has often been said that unlike Hollywood most sword fights are only a few seconds long, and I think this video is pretty good evidence for this. Plus I really like the new technique Lancelot added to this video of clearly marking the winner of each bout with a color coded dot.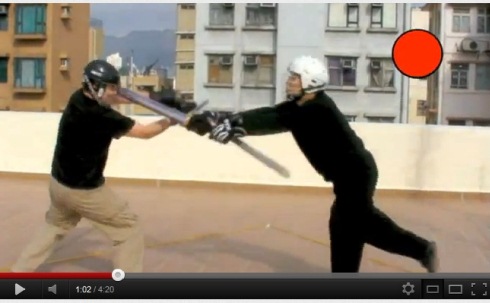 If you haven't tried it you are missing out on some good clean fun. :->
---
SPECIAL FEATURE: EXOTIC BLADES!!
---
This month I have decided to take a bit of a tour of some of the more unusual swords and replica weapons available at one of our favourite sellers, Kult of Athena – and we have uncovered some truly exotic pieces among their massive selection..

The first is a new one by Windlass Steelcrafts, one that has a real niche following, and that is the Indian Katar (pictured below).
While this model is not sharpened (and due to the flamberge blade, is pretty hard to sharpen) it is the only decently made version on the market and at $129 is pretty reasonably priced.
Also newly added are some VERY cool 'tactical' blades handmade in the USA – ZOMBIE TOOLS!
Priced from $229 to $349 for the 'Apokatana', these swords are hand made in Montana from 5160 Spring Steel and with a very unique finish and style.
Speaking of exotic swords made in the USA – Baltimore Knife Companies Yatagan might only be somewhat loosely based on the historical Yatagan, but honestly, for a hand made sword of this quality, does it really matter?
At $550 it is a little more expensive than most of the swords we feature at SBG, but BKS is well known for their quality and they ARE worth the extra dollars if you can swing it.
Speaking of which, this next one is definitely not cheap at $992 – but in terms of the exotic factor – the Hanwei Beile Dao is off the charts: green rayskin wrapped scabbard, Damascus steel, green cord wrap and I don't know if you have ever cut with a well made Dao like this one but they are addictive.

Finally, to wrap up our little sojourn into the exotic (and bring us back closer to the usual $300 budget) – four words the Del Tin Maciejowski Falchion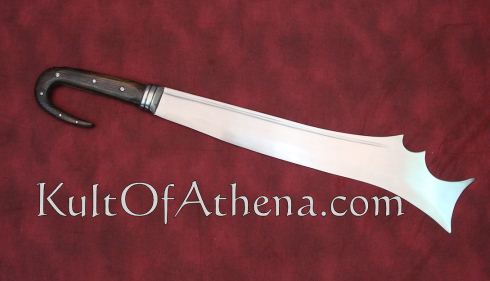 At $385 it is one of Del Tins most affordable swords and as far as sheer 'mean factor' goes it is pretty hard to beat.
There are of course many more unique blades available at KoA, but these are some of my personal favorites. I hope you will pick one up as it would be pretty boring if the whole sword market was just stock standard Katana and longswords – it is exotic swords like these that keep everything fresh, fun and interesting!
---
Well, that's it for this issue – I'm actually playing a bit of catch up at the moment as I lost at least one full week due to a rather nasty case of influenza that pretty much laid me out (I haven't had the flu or a cold for 7 years, so it hit me pretty darned hard) so if you are waiting on an email reply from me about something non-urgent please bear with me, I am doing my best!

Got to go, talk to you all again next month.

Paul Southren
---