Hey,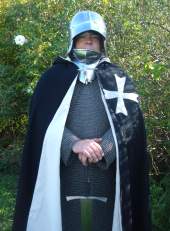 Hope you all had a fun Halloween!
I've got quite a few things to cover in this month's issue of the digest, from the SBG professional grade Katana moving on to new pastures to the re-invigoration of the SBG $330 custom katana, a limited edition release, tips on how to draw/illustrate a sword and the coolest posts from the NEW SBG forum plus much more!
So let's get right into it!
CONTENTS
1. SITE NEWS AND UPDATES
2. SBG Sword Store News
3. Best Forum Posts
4. Video of the Month: Sword Designs
5. New Products from Your Favorite Sellers
6. Bargain Hunters Clearouts and Discounts
---
SBG SITE NEWS AND UPDATES
---
Apart from monitoring the launch of the new SBG Sword Forum (which I feel went pretty well overall) it's been another kind of 'iceberg' month at SBG, with lots going on behind the scenes and not a whole lot of activity on the surface.

Indeed, the only real addition to the site was my review of the Ronin Katana Dojo Pro on the 19th, but as it's been so long since I have done a hands on review, it really made a nice change of pace from the usual SBG duties – not to mention that the sword itself surpassed my expectations.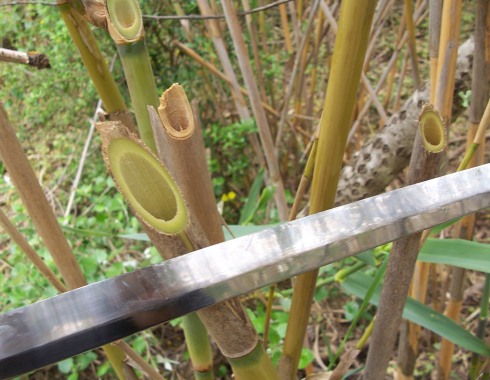 In the latter part of the month though, we had some serious trouble fulfilling one of our exclusive SBG Katana lines, so much so that we had to cancel and refund around 40 sword orders because we simply could no longer afford to make them at the current price…

Let me explain..



---
SBG SWORD STORE NEWS
---
Times have been pretty tough for the SBG Sword Store the last couple of months, but came to a head in late October when due to a sudden currency fluctuation of the USD (which if any of you have been following it will know has REALLY lost a lot of its value over the last 2-3 months) resulted in our wafer thin margins on the SBG Kuramono line to literally disappear overnight and put the whole project deep into the red – forcing me to make a difficult decision and cancel all of last months Kuramono orders (you can read about the details on the forum here).
I could have raised the price - true, but instead I decided that the time had come to hand the entire project over to my partner in this project who had been there from the beginning, Canadian Engineer Paul Mumby from Proswords so that Paul could continue the work we had started. After all, he had been working with the forge for almost 2 years before SBG got involved and with a closer connection to the forge he could resist the price pressure better (more information on this will be available over the coming weeks as the formal adjustments are made)..
Naturally, the last few orders for this line that are in the final stages of fulfilment will be seen through to the end by SBG and the last SBG exclusive line, the $330 Custom Katana project (which is made by a different forge), is unaffected (indeed, we still have a handful of slots available for the current batch of orders) – though a modest price rise is almost inevitable for next years orders.. Speaking of which, after numerous requests we have decided to offer a few additional customization options to the $330 custom Katana – such as 8 sets of iron tsuba as a free upgrade option, and optional extras such as folded steel, including upgraded saya options (see below), and engravings to mention a few of the additional options on offer..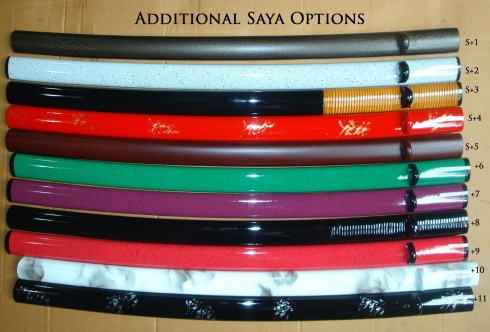 You can see all the new options towards the bottom of the custom katana page here

You may also notice that there is a competition running in the Custom Katana gallery to win a limited edition Shirasaya Katana made by the forge I had made as a tribute to the old 'Yakuza' movies I have called 'the Oyabun' just by sending a few snaps of their design and a quick 'mini-review'.

A winner will be chosen by members of the SBG community on the 1st of December, so if you have one of these swords (or have one on the way) it will make a nice bonus Christmas gift for you! (and if you just like the look of the prize, you can also find the last couple of blades from this exclusive set of 5 swords available for sale as a limited edition collectible right here at the SBG Sword Store).

So if you have bought a SBG custom Kat/wak or tanto in the past and want to show it off to the world AND get a chance to win a cool Shirasaya for your efforts, time to break out the digital camera and take a few snaps!

I need to update the store news page shortly, but to stay advised of any new developments please sign up to our store newsletter here
---

---
In the aftermath of recent price wars and stock dumpings by manufacturers, the sword industry is struggling a bit at the moment and no-one is really taking too many risks or chances with anything new right now – the economy has definitely effected the sword industry and the wheels are struggling to turn right now, none more especially than higher end swords..
That said, Hanwei has released a new 'Gunto' sword and Albion's Marxbruder German messer project from their Albion line is coming along quite nicely (click here to read about both in the October update of Sword Manufacturers Guide Industry News).
But while things are a little stale or even a tad depressing all around, Michael 'Tinker' Pearce's The Sword Geek Podcast is a breathe of fresh air.
There are 4 podcasts so far and great for background 'sword radio' while you are checking out forum posts, drooling over swords on your must get collection or whatever else (such as writing the sword buyers digest, hehe!).
Sword manufacturers guide should be getting another burst of attention this month too.. ;-) (not so easy trying to run multiple websites I can tell you!).
---
VIDEO OF THE MONTH
---
Over the years, the SBG forum has been host to many a talented artists. The Members Designs section alone - located here is a bastion of the most beautiful sword & armor illustrations I've ever seen.

But alas, we are not all so naturally gifted... So I went out in search of tutorials, and in my search I came across this video - in which comic book & fantasy artist Tom Fleming demonstrates how to give a basic drawing a realistic "metal" look. With a little practice, even the amateur artist can make their sword or dagger illustrations jump right off of the page!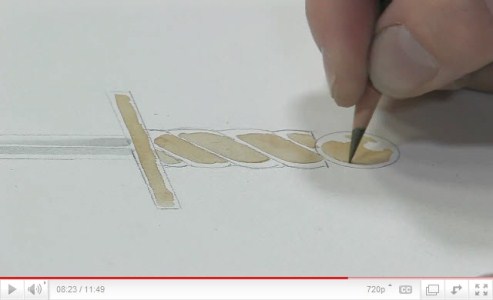 ---
NEW PRODUCTS OF NOTE FROM YOUR FAVORITE SELLERS!
---
A quick overview of the latest products of interest from tried and tested sword stockists
SBG Sword Store
As mentioned briefly before we had a limited number of black Shirasaya made that we have called the 'Oyabun' and have listed it for sale in the Hot Specials Section of the SBG Sword Store.
But in addition to this particular model I also created another unique limited edition custom design that I have christened the 'Yukiken' (sword of the snow).
This sword, also made by the same forge who makes our $330 custom Katana, is a solid bodied, differentially hardened blade with a white synthetic ito, black rayskin a special hamidashi tsuba and a rayskin wrapped saya (a recent upgrade option that normally costs $70!).
If you were to create this design, it would cost $400 plus take several months to make, however we have just 6 pieces of this limited edition design and are offering them for just $329.99 SHIPPED!
Click here to check both these swords out for yourself..
---
BARGAIN HUNTERS CLEAROUTS AND DISCOUNTS!
---
KULT OF ATHENA
In this current economy, everyone is looking for a bargain – so here's a few nifty tips and techniques recently submitted to me by a subscriber on how to easily find the hottest deals over at Kult of Athena.
It's a little bit technical, and not for everyone, but if you don't mind playing around with html a little bit it pays off in spades (and for everyone else, he also found a couple of Valiant Armory swords discounted from $220 down to $75!).
1/ Valiant Armoury Duke Of Exeter Sword
Was $219.99 then was $134.95 and now is $75.00
2/ Valiant Armoury Henry V Sword
Was $209.99 then was $149.95 and now is $75.00
A method to very quickly find discounted items on kultofathena.com
- display by price, by menu on top :
$20-$50
$50-$100
$100-$200
$200-$500
$500 & up
- open html source of the page (it is a big text file, might be quicker to save the page as html only then manualy change the .html extension part of the name, by extension .txt
- inside that html source, now opened as a text file, search for tag which is the html code for a striken price. Discounted price is after the next and name of the sword (as long as its reference #) is before the tag.
- go back to the page by price and search for the name of the sword
- if you're not frightened with html, copy reference #, open any sword then simply paste the reference # at the end of http://www.kultofathena.com/product.asp?item= to directly have the url of the corresponding discounted sword.
Pretty cool huh?
(And for those of you who DON'T have the skills to do it, you can always just check out their Sale page here which this month still sees a handful of serious bargains left over from the Hanwei super sale the last couple of months, including Raptor Katana at $160 and Tinker Pearce Medieval Swords at $149!!)
Always a great site for a SERIOUS bargain…
SBG SWORD STORE
Speaking of Tinker Pearce...
The last few months we have offered some great deals on Hanwei Katana, but this month we bring you a two for one deal on the Tinker Pearce Bastard Sword..!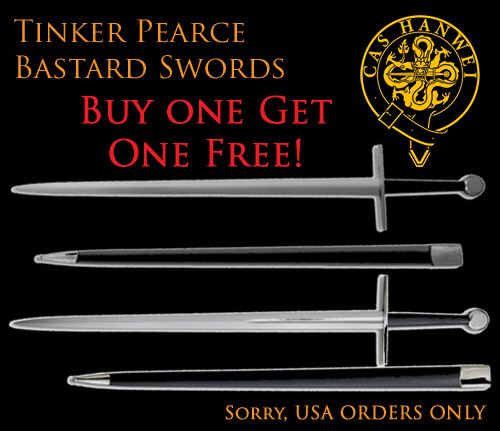 Order the SH2400 Bastard Sword and get the SH2411 fullered bastard sword for free (total cost only $269.99 SHIPPED, which is around $80 cheaper than Kult of Athena!! Now THAT's some serious value!).
---
Hope you enjoyed this edition of the digest and hope you'll find a good use for all those leftover pumpkins after Halloween (I know I will!) ;-)

Paul Southren
---