Hey,



It is that "scary" time of year again - and as always, we will celebrate Halloween 2015 with a selection of appropriately themed articles, videos and products.

This Halloween edition we take a look at some new offerings from Project X, frighten you with the horror that is the bad sword of the month, check out a video interview with the King of Fantasy Swords, Kit Rae, and take a walk through a zombie infested park to see some odds and ends for Halloween from our friends at Trueswords.com. So grab a blood pack or two and hope you enjoy this terrifying issue!
---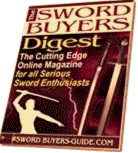 CONTENTS
1. From the Desk of Paul Southren
2. Bad Sword of the Month
3. Video of the Month
4. Best Forum Posts
5. Halloween at Trueswords

---
From The Desk of Paul Southren
---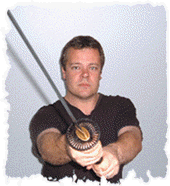 Last month was another busy one as usual - especially in the last few days of the month leading up to this issue.

While I considered holding it back to coincide with this issue - we introduced an appropriately themed Sword to our line up at the store - a trial run of the Ronin Dojo Pro Titanium Coated Zombie Apocalypse Katana - mean looking, 29" Black Titanium coated, differentially hardened sword that sold out in a little over a week..

As it seemed to be a very popular addition, we have decided the trial run was a success and will be bringing them back hopefully in time for Christmas.
In the meantime, we are gearing up for some new articles, pages and a final facelift - the current site as you see it today was only supposed to be temporary, so the plan now is to create a unified look and feel that we will settle on for at least the next couple of years or so. Not always an easy thing to accomplish, but that is the nature of websites - they are never truly "finished" and either evolving or dead - and while the economy is tough and the industry still struggles to find stable footing, the latter is not an option..

Speaking of evolving, our latest project X offering - Forge Direct - is stepping it up a notch or two this month with the introduction of 4 new models while we take 2 offline bringing the total number of heirloom quality traditional Chinese, mastersmith forged blades to 6 designs.

One of them is a variation of one of my favorite swords of all time, a sword I originally introduced to you all exactly 3 years ago in the 2012 October Issue of the Digest

The sword in question, the Sword of Emperor Yong Lo - of which the original we were shown had a price tag of over US$10,000 and which even rather inferior copies are being sold for $8,000 at (ahem) Ryanswords here is now available via Forge direct for just $1,200..! True enough, it's not exactly cheap, but our interpretation I feel is worth every penny and then some..
Check it out and the other 3 Forge Direct Swords HERE
Lovers of the highest quality Chinese swords will be especially delighted as there is a bit of a surprise and a return of an old favorite there. And even if you are not especially knowledgeable or interested in Chinese swords, you might be after you check these swords out..
The more I learn about traditional Chinese swords and their history spanning some 2,500 years, the more interested I become and the more there is to learn..
It really is a privilege to be involved with a project like this and to do my bit to clear up a lot of the confusion and price gouging that goes on with these kind of swords and while it is not the focus of our site (it is, and will remain, on sub $300 swords for as long as the market and inflation can sustain this magic price point) - it is an area that, due to unscrupulous sellers and many poor practices at this part of the industry, needs some attention.


---
Bad Sword of the Month
---
Now I don't have anything against fantasy swords - indeed, the best ones are some of my favorite swords of all time.. But the bad ones..

The bad ones are truly horrific - and not in a Halloween kind of horror but rather "what WERE they thinking?" kind of way..

This is firmly one of the latter category..
Supposedly a fantasy rapier - it looks to me more like a vaguely futuristic oversized dark, complete with stabilizer fins..! Yay?!

The challenge then becomes I guess - how far can you throw it? The answer - as far away as you can! :)

True enough, the oversized dart board does not come included - but it does come with a plain white scabbard, which sadly does not cover up the whole thing so it can be hidden away out of sight, but at least covers the sharp tip to avoid you succumbing to temptation and poking your eyes out to make it stop..




---
Video of the Month
---
When it comes to swords suitable for Halloween - apart from zombie related stuff - it is pretty hard to go past Kit Rae. Not only do they look the part, but being unsharpened - affordable and very detailed and ornate - they are a great choice for Halloween decoration and costuming.

In this video interview with BudK, Kit describes how he got started, how he finds gets inspiration for his designs, how long he takes to come up with them, his work with the Lord of the Rings Franchise and United Cutlery and more.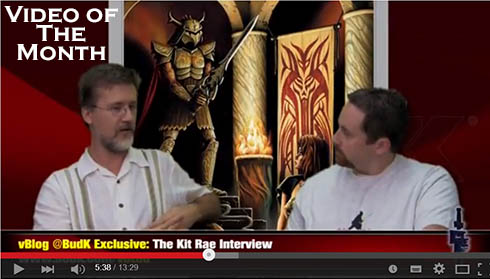 You can visit Kits' official website

here and his swords are available at the best prices here at Trueswords.com


---
Best Forum Posts
---

SBG Forum - How to Best Sharpen a Katana?
What kind of grit should you use? What techniques? This post offers some great suggestions and video links.

SBG Forum - Michael Cthulu - Making of a Huge Fantasy Sword
Amazing video of an appropriately Halloween themed sword.. While the sword may not be to everyone's taste, the video is well worth watching for insight into this talented artisans craft..

SBG Forum - Collectors who don't train.. Why and why not?
Most collectors don't train formally. But why is it so?

SBG Forum - Armored Waterbottles!
A great idea to up the ante - Gambesons for water filled bottles..! The waterbottle army prepares for war!




---
Halloween at Trueswords!
---

If you haven't visited Trueswords.com for a while, maybe now is a good time to pay them another visit. Why?

Well, for starters - they have a new responsive site that is a lot cleaner and nicer looking than ever before, and of course being responsive - you can shop easily using any device you happen to have at hand, mobile phone, ipad, PC, crystal ball or whatever - it will look good and be easy to navigate no matter which way you choose to browse.

But the other reason, they are the perfect site to grab some cool and inexpensive Halloween decorations, costumes, and more!

I spent a few hours going over their offerings and came up with some truly quirky, cool items IDEAL for Halloween. Starting with a suitable costume - such as this rather scary Adjustable Bronze Skeletal mask for airsoft made from ABS Plastic and covering the entire head for $24.95
Now why they also sell Airsoft products, instead how about a massive 8o inch Grim Reaper Scythe with 23 inch carbon steel blade for just $39.95?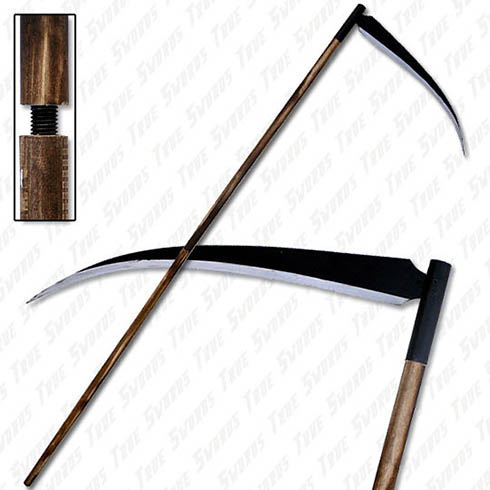 Probably not the best idea for carrying around going trick or treating unless you happen to live in a particularly bad neighborhood - but better to use to decorate your house for a memorable Halloween Party, speaking of which, perhaps adding this appropriately themed Wall display plaque by Kit Rae for $19.95 to your favorite medieval sword will spruce it up in time for the event.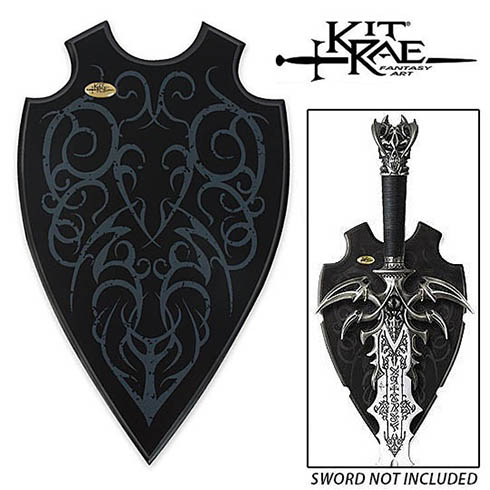 Or how about some delicious and nutritious high caffeine blood packs to embrace your inner vampire (AND stay up all night!)?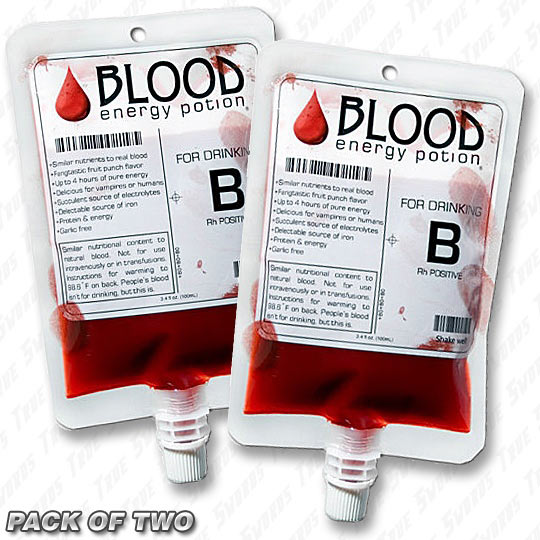 Add to this a skull themed tankard to quaff it, or something more tasty, down with an you are almost set!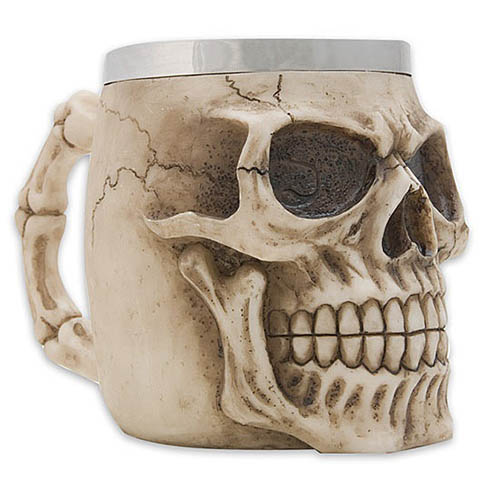 But it is all just the tip of the iceberg.. From cheap fantasy swords in many different styles and themes, to wearable Wolverine claws, Ninja costumes, zombie outbreak survival kits, yeah - it really is your ideal one stop Halloween shop - at the very least, you should get a chuckle - at the best, you may uncover something that you have never seen before or even suspected existed..!

I know I did.

Oh, and a quick heads up - from today to the 4th of October you can get flat rate $5 shipping for your entire order - just look for the coupon code right at the top of the page (and if you are patient, a little bird told me there will be a whopping 15% discount coupon code appearing from the 8th to the 11th, so a great time to save even more from their already low everyday prices..)

Have fun!
---

Well, that's it for this issue - have a fun, safe and enjoyable Halloween and talk to you all again next month! Until then, Happy Swordening folks!