Hey,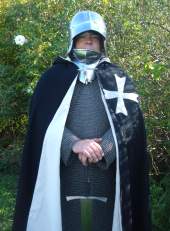 This month sees the completion of the secret Katana project that I alluded to in last months issue of the digest, and if you haven't seen it already – I think you will be pleasantly surprised...
Plus we also have the usual mix of mayhem and fun that the digest is well known for, so sit back , relax and enjoy!
CONTENTS
1. SBG SITE NEWS AND UPDATES
2. OFFICIAL SBG KATANA LINE: Grand Unveiling!
3. COLLECTORS CORNER: "When the Spending Must Stop!"
4. BEST FORUM POSTS
5. VIDEO OF THE MONTH – 'Messer Fighting'
7. FREE SWORD FLASH GAME – 'Worms II'
6. BARGAIN HUNTERS CLEAROUTS AND DISCOUNTS
---
SBG SITE NEWS AND UPDATES
---
I did make some significant progress on the new look site overhaul, though the second half of the month was dedicated to the final testing, review writing and general preparations for the secret Katana project I talked about in last issue (if you missed what all the fuss was about, you can read the back issue HERE)..

More work will be done on the site to have the overhaul completed within the next couple of weeks or so (there are a lot of sub pages that have already been coded, but I prefer to do it offline and then load them all at once so that it doesn't get too confusing for first time visitors).

Anyway, since the focus of September was done in preparation for the Secret Katana project – which I can now reveal to you is called the 'Official SBG Katana Line' – let's take a few minutes to see what all the fuss is about!



---
THE OFFICIAL SBG KATANA LINE
---
Finally, after one year of secrecy and several years of testing, trial and error and feedback from a team of 5th to 7th Dan Japanese Sword Art Sensei, I am proud to announce that the official SBG Katana line have launched and are now available to pre-order!
There are three main swords within this line.
The first is the basic entry level model – the 'Kuramono' (dark thing) Katana; a differentially hardened T10 tool steel blade with all black fittings: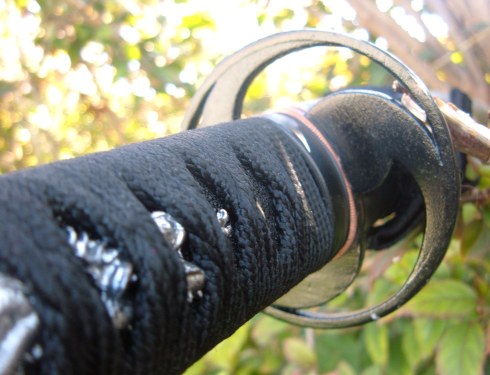 The second, and the one that I showed you all last month, is the Torakami or 'Tiger Spirit' – which has all brass fittings with a tiger theme, and a slightly higher level of sharpening (12 stage as opposed to the Kuramono's 10 stage polishing).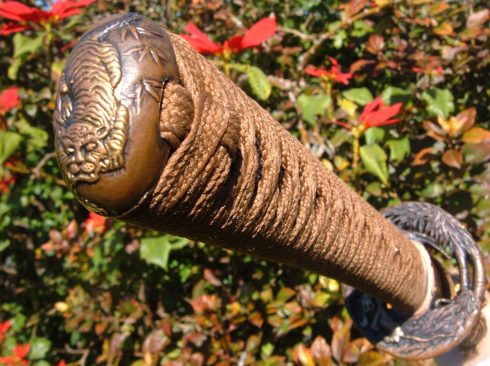 And the final one is - well, the final is UP TO YOU! In other words, a high quality blade with your choice of fittings (here's one of the sets that I really like, a Dragon/Musashi themed set).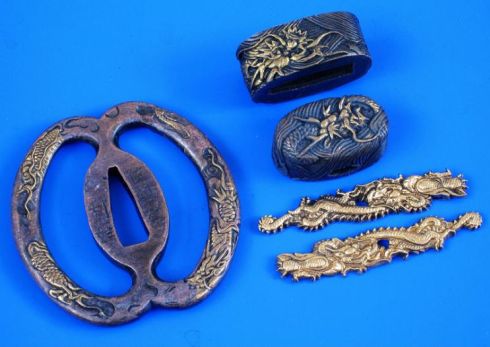 What makes these Katana so different from every other entry level Katana on the market is the level of attention to detail and quality control to ensure that they are completely free of the type of issues that plague entry level Katana...
Of course, because of this the prices are a bit higher than most entry level swords, but the extra money is VERY well spent.
Read the full review and test results here!
These are definitely the swords that fill the gap between entry level swords and high end production Katana at prices that are truly a fraction of what you would historically have had to pay for a Katana with the kind of attention to detail these swords have...
---
COLLECTORS CORNER By Daniel S. Dacombe
"When the Spending Must Stop!"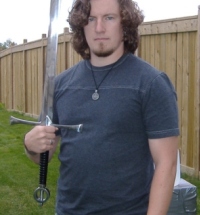 Every once and a while, there comes a sad day for sword collectors. At one time or another, we all experience it. As certain as the changing of the season (but alas, not always as predictable), it comes.

The day you hang up your credit card.

Or, you know, your Paypal account. Whatever.

The point is, we all have been there or will be there, even if it's just for a short while. At one time or another, we are faced with some life situation that requires us to set aside our frivolous spending, at least for a time, and focus on the task at hand. And depending on where you live, purchasing swords falls somewhere on the "Frivolity Scale" between eating at restaurants too much and buying limited edition gold-pressed Scratch-and-Sniff Pokemon cards. Unless of course you, the reader, are from the Middle Ages and a sword is necessary for your survival, but let's face it – if that's the case then you have bigger problems. Like being in THE FUTURE.

Anyways. We at SBG have, through a painstakingly scientific process of sitting on the couch watching House and pondering, uncovered the top three reasons why people give up sword buying – at least temporarily. And in no particular order, here they are.

1. Finances: Probably the most common reason for letting the Mastercard – er, card – collect dust, is not being able to pay it off. One way or another swords cost money, and when the choice is between getting that weird knocking sound coming from under your Chevy's hood looked at or a sweet new Atrim, I've got a pretty good idea which you're going to pick. Yeah, me too. The Chevy my not look like much but it's way easier to drive to work than that new longsword, Low Polar Moment or not. Car payments, new kids, medical bills, college/university bills – it all adds up and you need to pay for it. And don't even think about trying to deposit your new sword in the bank – they will really, really misinterpret the gesture. Trust me.

2. Spousal Support: The last thing you want, and believe me when I say this, is to tick off a spouse who lives in a home full of weaponry of ANY kind, let alone the kind that can, you know, chop stuff off. You know from experience to listen to them when they put their foot down, so when they put their foot down and it lands on a sword – they might have had enough. At some point they may realize that every wall and table has a bladed weapon of some kind on it, and when you tried to hang one above the crib you crossed a line. Best to just smile and nod, and try to wait out the storm as best you can – after all, eventually they will rack up a sizable bill in shoes or tools or hockey cards or whatever is their particular vice, and when they do you'll have all the leverage you need…

3. Change of location: Moving day might see you to a new house with that den/sword room you always wanted, or it might turn out that what you actually always wanted (and never knew it, and still don't know it now) was a sewing room. Or a scrapbooking room. Or something. Whatever the case, suddenly your sword collection no longer has a home, and adding to it would be a futile gesture. A change of location can result in you being in a location that is merely Inconvenient for sword collecting, like a smaller house, an apartment, or a place on Wisteria Lane (sweet Zeus I can't stop watching – what crazy shenanigans will those housewives get into next?), or a place that is Restrictive, such as prison. Allowing the inmates of a prison to run about armed tends to result in things like, I don't know, Australia. I think. I'm pretty sketchy on history, actually.

Thanks for reading this month's Collector's Corner – and don't worry, you'll have that Paypal account warmed up and buying something again in no time. If you're anything like me, it'll be much, much earlier than you expect, too…



---
BEST FORUM POSTS
---
Do you pre-drink your water bottles?
Those pesky little water bottles can sometimes be hard to gather all in one place (probably because they know what we will do with them). So where do you get yours from, and do you pre-drink or cut them before slicing to prevent them from getting away?
Daisho Remount
Forumite Kaijinbutsu remounts a pair of cheap ebay Daisho. While he only gets up to the same wrap, you see step by step how he got there.
Easy Way of Making Wood Core lined scabbards!
It may not be traditional, but it looks good and is easy to do! A GREAT post by a new member to the SBG forum family.
3 Keys to becoming a well rounded swordsman
Jason from Arms of Valor, who is also a truly formidable SCA fighter, shares the three key elements to becoming a well rounded modern day swordsman.
---
VIDEO OF THE MONTH
---
While most medieval sword fighting interpretations of the original manuscripts focus on the longsword, this EXCELLENT demonstration is of something very different – FALCHIONS!

Based on the works of Talhoffer, Kal, the Codex Wallerstein and Sigmund Emring – these two gentleman from the MEMAG (Medieval European Martial Arts Guild) show some real sophistication in bringing the ancient manuscripts to life and this video is extremely well put together.

You can check out the MEMAG website here: www.memag.net
---
FREE SWORD GAME – WORMS 2
---
Long time subscribers might remember the original free flash WORMS game for a Halloween edition of the sword buyers digest some 2+ years ago...

Well, it looks like level 2 of this game has finally been released – so with swords, guns and zombie worms – well, what more can you ask for!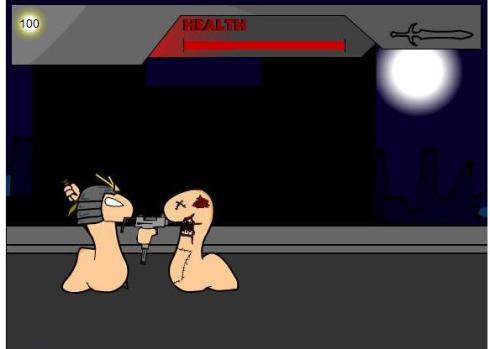 You have to shoot your way through a few worms to get to the sword, but hey – they did ask for it by being zombified now didn't they.. ;-)
---
BARGAIN HUNTERS CLEAROUTS AND DISCOUNTS!
---
A selection of hot product discounts and clearouts from our affiliated vendors. Grab a bargain and support SBG at the same time!

SBG SWORD STORE
Cheness Cutlery
Some of you may know that in mid September we offered a 10% discount on the entire range of Cheness swords, partly because the Cheness warehouse was closed during the entire month and all orders placed were a backorder, and partly because I discovered that Kult of Athena were selling them at an average of $10 less (once you factor in the shipping).
Of course, because of all the work being done on the site to update the review info, I might as well wait until all of the Cheness reviews that link to the store are updated before changing the prices. So until then, I'll still be offering a huge 10% discount off on the entire range.
To take advantage of this discount simply enter the coupon code CHENESS SPECIAL in the checkout and each and every Cheness sword will be available at a new super low price!
Cheness 9260 Monotempered Katana
Cheness Non Sharpened Iaito

Hanwei's Shinto Elite Katana
Until this month, when my range of Official SBG Katana were released, you may notice that in my caveat and final word on the Japanese sword page that discusses the common flaws present in entry level Katana – my recommendation for anyone looking for a decent mid level blade was to buy the differentially hardened 1065 carbon steel Hanwei Shinto Elite Katana.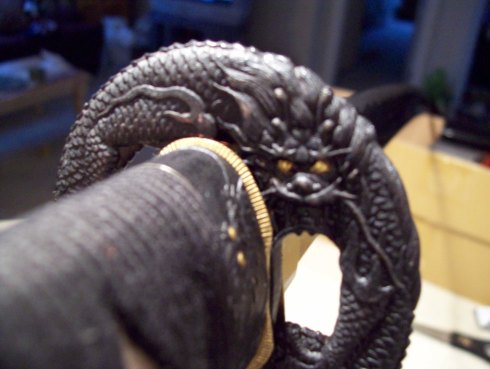 The full review of this sword is on SBG here – and as you can see from the review – this really is a very high quality blade with excellent quality fittings.
However, it would seem that it did not move as quickly as Hanwei liked – perhaps because originally it was one of their partner exclusive range and had a MSRP of $869 – though I used to sell them for $589 – which was the lowest price around for these blades...
However, after deciding to discontinue them, Hanwei dropped the wholsale price to a record new low – and I have passed on the savings by offering them for a ridiculous $379.99!
As stocks are limited, and once they are sold out they won't be making any more, this really is a great opportunity to grab a serious closeout bargain and a piece of Hanwei forge history at a price several hundred dollars under their true market value.
---
Well, hope you enjoyed the October issue of the digest – hope you all have a happy Halloween and see you all again next month!

Paul Southren
---