Hanwei Forge Shinto Elite
The Shinto Elite by the Hanwei forge may no longer be in production, but it was quite a fine blade - so much so that it was my referral of choice for individuals looking for a blade above the price point where we try to concentrate our energies at SBG (sub$300)..
Based on their very first design, it was eventually phased out after a couple of years, and towards the end was on closeout for less than half the price of it's usual $869 price tag in the Hot Specials Section of the SBG Sword Store (we sold it for $379, it really was an insanely good deal right at the end)..
So while you may no longer be able to buy it, at least this review gives you some idea of what to expect and what is better at the $800-$1000 Katana price range..
It's basically all about refinement...
---
Hanwei Shinto Elite Katana Review
Review by Kenny, Oregon USA
---
Steel

Weight

2lbs 11oz

Price Range

T-10 Tool Steel

2lbs 11oz

5" from tsuba

US$699 to $990

Oh gosh, where to begin. I'm so excited, I was listening to music and I heard a knock on the door, I had no idea who it was, I wasn't expecting this sword until monday; but I DID order a replacement tsuka from Cheness, so I figured that's what was in the mail. But to my sweet surprise was a huge box! AWESOME! It came three days early, well technically one minus weekend.
So I opened the box, very well packaged as pictured.
It came with a much different sword bag than what I normally get, much nicer feeling, I like it. And to my somewhat surprise, a sword cleaning kit, DOH!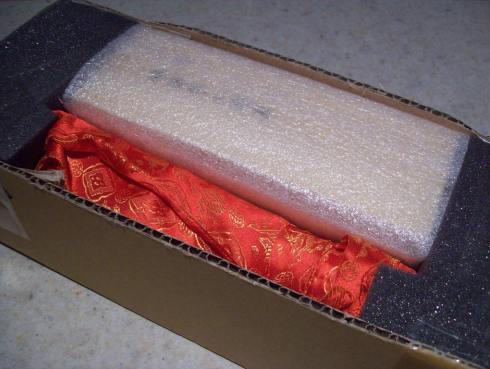 The kit is pretty nice, the first one I've owned, it's constructed well, comes with some nice looking what nots, and a wooden shim in case your sword is too loose in the saya.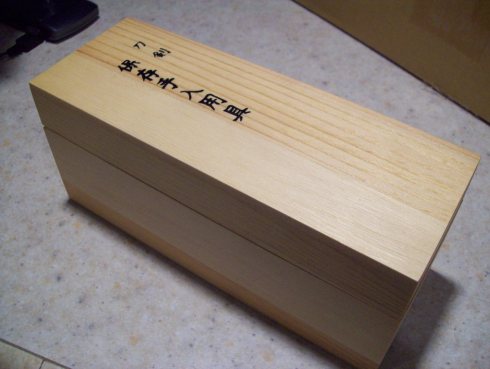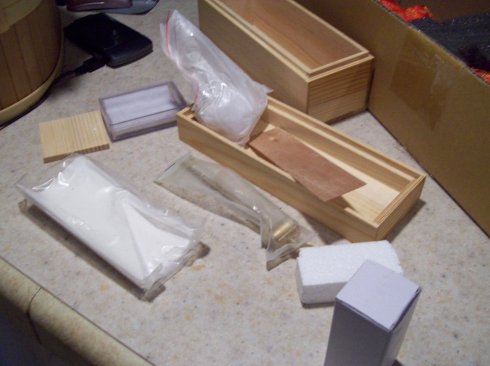 So I went ahead and RIPPED it out as quick as I could, took it out of the bag and was instantly satisfied with what lay before me.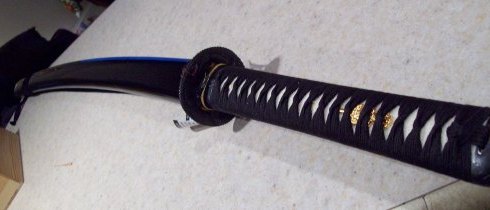 I was really astonished with how fat this entire katana is, but I was amazed because it was fat, but soo very light feeling! As a matter of fact, the saya itself feels heavier than the actual sword!
Upon inspection there was no damage or anything to the outside, there's two tags on the Tsuba, one shown below depicting various manufacture information and one regarding safety.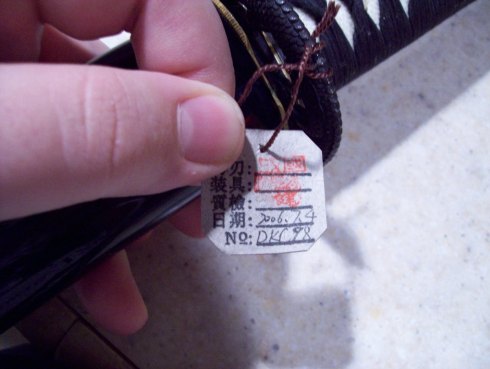 I then moved onto the handle, feeling it up like a hot date!..well yeah. The ito is tight as a bow! The menuki were, decent, I could see obvious clumping in the crevices from the paint but no biggie. The Menuki themselves are what I believe to be a sort of, shinto "chalice"? Perhaps that's the wrong word to use. The Koshirae (tsuba, fuchi and kashira) are of a Japanese dragon motif, accented with gold paint on the eyes of the dragons.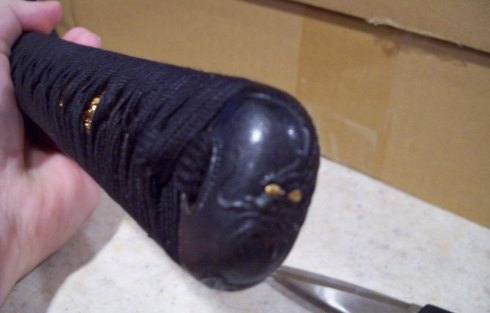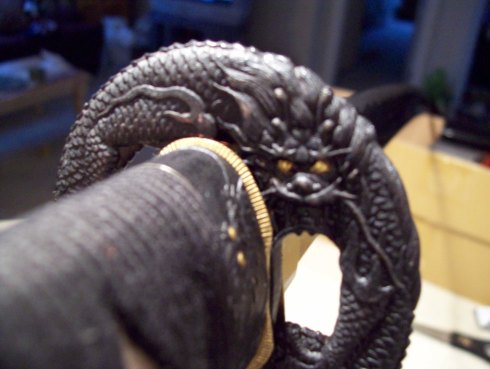 The Ito is cotton, very nice finely woven cotton, very tight. All of the Koshirae are tightly placed and there's absolutely no "play" in any of the fittings.
Moving up to the Seppa and Habaki, both are brass. Nothing too fancy, there were some bits of lint of something on the seppa but I just flicked them off no problem. The Habaki has a scratched design on it shown below, overall perfectly fine, perfectly tight.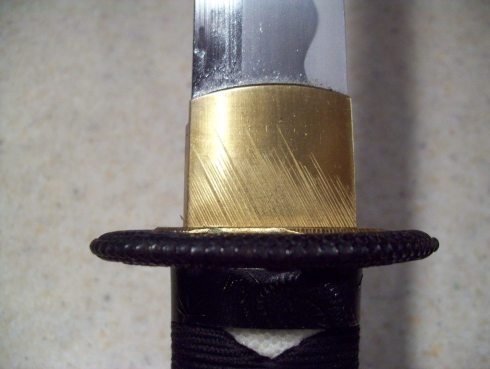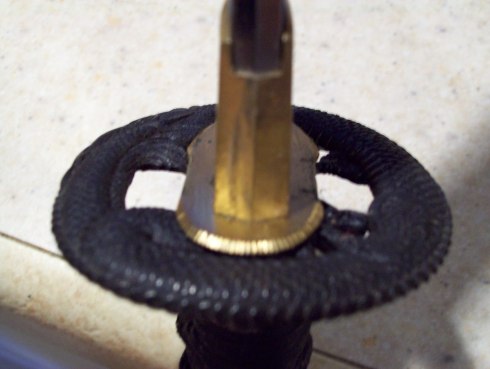 And finally, the blade. Goodness, I was very pleased and very surprised at how the blade is designed, I wasn't expecting it but it's a very wide and very thin blade. And yet despite it's wide shape, the balance and control you have with this blade is incredible to say the least.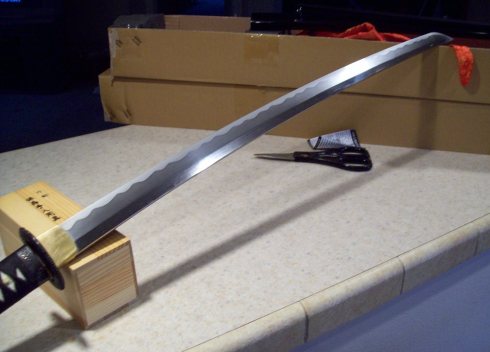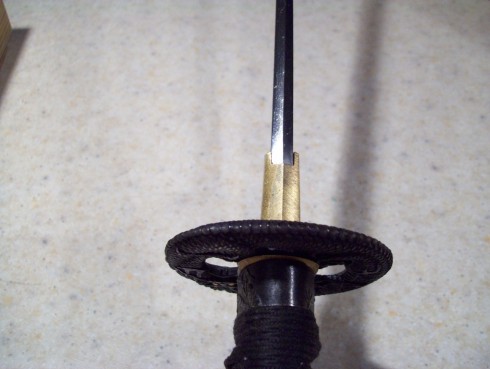 And from what I've been told and from what an amazing feature I can see, this blade has a real Kissaki/Yokote, which I absolutely adore! It's just so much better than the standard cross filed Kissaki we usually see, so beautiful looking!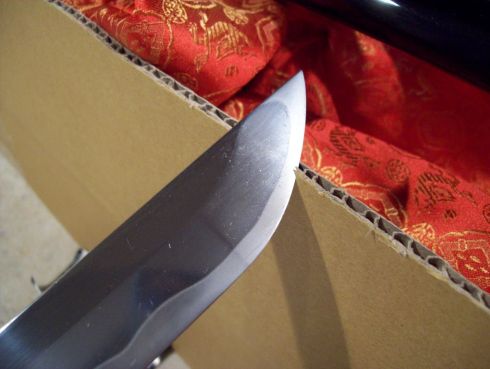 Handling, while Katanas like the Cheness Ichi Maru with Bohi feels light, and fast, this katana feels elegant and well beautiful is how I would describe it's handling. The three other katanas I have including the VA1601, Ronin katanas Wheel K. and the Cheness 30" nagasa, this Shinto just blows them out of the water in terms of control.
The overall fit and finish of this blade is fantastic, I love it and I would buy one again! This wonderful piece has raised my expectations, the blade is straight, the Yokote is real, high quality materials for everything! I just LOVE this katana!
Pros
Superior Handling and Control
High quality, well assembled iron components
Beautifully polished blade and real kissaski and yokote (tip)
Superior Quality T10 Tungsten Alloy High Speed Tool Steel
Cons
Not really a con, but you rarely ever really see any destructive tests of these kind of price tag swords.. I guess I know why, but one day we will put a few up against some lower cost models and see what happens..

WHERE TO BUY

The Shinto Katana sells for $990 at the Cas Iberia website, but we have made it available at the best price on the internet of just $699.99 here at the SBG Sword Store

---
I hope this review of the Hanwei Shinto Elite Katana has been helpful. To return to A Beginners Guide to Authentic Japanese Swords, from Shinto Elite Katana review, click here

Buying Swords Online Can Be

DANGEROUS!



Find the Best Swords in the:
Popular & Recommended ARTICLES

---
---