Hey,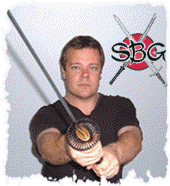 September sure was a busy month...
Lot's of new reviews were added, new competitions and give aways created, and a whole new page on the swords of the Vikings has emerged and is beginning to grow...
And this month's issue (with an occasional Halloweeny feel to it) is bursting at the seams – so I'm not gonna hold it back with any more boring preamble - just take a look inside...!
CONTENTS
0. HALLOWEEN INTERLUDE: Swords, Guns and Zombies...
1. SBG SITE NEWS AND UPDATES
2. SWORD INDUSTRY NEWS
3. GIFT VOUCHERS FOR REVIEWS BONANZA!
4. BEST FORUM POSTS
5. VIDEO OF THE MONTH – 'Zombies vs Swords'
6. BARGAIN HUNTERS CLEAROUTS AND DISCOUNTS
---
HALLOWEEN INTERLUDE
---
Swords and Zombies... It is a theme as old as the online sword community itself. But only the SBG Sword Forum created Giant Zombie Penguins. And now, gentle swordmen (and swordswomen!) the zombies have infected another species. In this case, worms – but not just any old worms. Giant, mutated zombified worms...!

And how to beat them?

Well, the answer should be obvious... A Giant mutated NON-zombified worm with a sword and a gun...! ;-)

Ok, it's just a silly game ('for now' he says knowingly) – but it should 'kill' a few mindless minutes... ;-) And even though it is short, it definitely has some replay value – so much so that this issue of the digest almost came out late... ;-)
---
SBG SITE NEWS AND UPDATES
---
There were that many new reviews on SBG in September that I think I may have lost track of what was added when..!

The review of Musashi's $2000 Yasha Katana, and its subsequent taking a nasty set, springs to mind... ;-) And I am pretty sure I reviewed a Cold Steel Scimitar in there (cutting the clothesline by accident isn't something your wife lets you forget quickly... ;-))

But perhaps most importantly we have a whole heap of SBG Forumite reviews that have come together on the new VIKING SWORD sub category page...! I have a few more Viking swords coming in that I will be putting through their paces. But overall, I like the direction this page is taking the site in – and will be adding many more visitor generated pages over the coming months.

So stand by: maybe YOUR review will be there next...!

To see the newest reviews as they are added take a look at the SBG News section or better yet – subscribe to the RSS feed for up to the minute additions.



---
SWORD INDUSTRY NEWS
---
MUSASHI SWORDS
They may be one of the newest companies to get their name in the Katana marketplace, but they have made quite a splash with their $180 mark swords made at the forge of Chris Zhou.
Well, it seems that there has recently been something of a price war – especially on the mid line range of Chris Zhou Katana like the Wind Katana I reviewed on SBG earlier in the year...
Not to mention several new designs in this range.
All my favourite sellers for these swords are in on the game. But Roger Caneda's official "Musashi Swords.com" website is currently offering the best deals - $159 SHIPPED in the USA on a range of what has been come to be called the "pro" line. However, when you use the Musashi SBG Discount codes, you can save up to 15% off these already ridiculously low prices. (Plus there is an even bigger saving on two specially selected designs, see the discounts/clearouts section of this issue for more info).
How long this will continue is anyone's guess. In the long term, this isn't a good thing for Musashi as it means that some vendors will eventually stop carrying them as they won't be able to make enough money to survive. And the vendor who sells the most may force the importer to sign an exclusivity deal – gaining a monopoly and then jacking up the prices.
But yes, in the short term, it is a great deal on these swords for Japanese sword enthusiasts. So you might want to snap some up while the price war is in full swing...
---
$$$ FOR YOUR REVIEWS
---
Since mid-September I decided to step up and reward people for submitting their reviews to the SBG Sword Forum with the new 'review points' rewards system...

Basically how it works is that if you follow the guidelines (i.e. reviewing functional sub US$300 swords that have not been seen on SBG before and adding some photos) you would get from 10 to 30 dollars worth of review points that you can cash in at ANY vendor that offers Gift Vouchers!

However, as an added incentive to write a 'really good one' – every review from the 1st of September to the 15th of October 2007 will be listed and voted on in a 'blind voting form' for a chance to win a BONUS US$50 Gift Voucher of their choice.

Voting will only be for 5 days to close on midnight the 20th of October (US EST) and the link will appear on the forum on around 1am on the 16th and on the main announcement board, so keep watch or subscribe to the RSS feed for details.

P.S. After the free for all review bonanza, review points will only be applied for specific requested swords or sword categories depending on the areas I want to fill out with reviews (SBG simply doesn't yet have the financial resources to sustain it for much longer I'm afraid).

But the free for all is open until the 15th, so if you have a sword that hasn't been reviewed yet – get writing!(P.S. Review points gained will ALWAYS be honoured and kept until spent, so no need to worry about that).



---
BARGAIN HUNTERS CLEAROUTS AND DISCOUNTS!
---
A selection of hot product discounts and clearouts from our affiliated vendors. Grab a bargain and support SBG at the same time!
MUSASHI SWORDS
At $179, these swords are a bargain. But at $155 with FREE Shipping in the USA, plus the additional 10 to 15% discount codes – well, this is just plain ridiculous!

In conjunction with Roger at Musashi swords I have picked out a couple of cool designs of their "Pro" series – made at the forge of legendary smith Chris Zhou. Like I mentioned earlier, these are exactly the same blades as those seen in my review of the Wind Katana, but with different fittings.
The first one, the FURAWA was selected for its balance and traditional design, while the second one – the AKUMA for its 'coolness' factor. ;-)
So one can be certain how long these will be in production now or what will happen next. So snap up a bargain while you can!
---
Well, that's all for the October issue.

Stay tuned for lots more reviews this month, as well as the review competition. And if you haven't submitted one yet, now is a great time to do so!

Until next time, stay safe and have fun with swords. (Or perhaps, I should say "Happy Swordening" – a cool term someone seems to have invented on one of the new SBG Ask a Questions Page. Let's see if it catches on...Lol).

Paul Southren
---