Hey,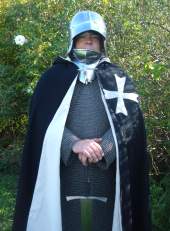 September is going to be a very busy month - you'll see why in the second paragraph.
So no pre-amble, let's just get straight into it shall we!
CONTENTS
1. From the Desk of Paul Southren
2. Best Forum Posts
3. Video of the Month: Weird Weapons
4. Sword of The Month
5. Bargain Hunters and Clearouts
---
FROM THE DESK OF PAUL SOUTHREN
---
As any of you have been following the digest will know, last month saw us officially launch Project X – and I am pleased to let you all know that the project is now officially underway, with several pre-orders secured and the master smiths are gearing up to start work as I write.

What I have not mentioned to anyone except people who have committed to the pre-orders is that Chris Scoggin and myself are actually planning a trip over to the forge in Longquan late THIS month to talk to the master smiths personally, inspect production of the Dojo Pro line and also check out some other forges and meet with various contacts over there!

I've never been to China before and it should be a very interesting trip – for those of you who don't know, Longquan (translated to mean 'Dragon Fountain') is a pretty small and isolated part of South Eastern China – not easy to get to as there are no airports or train lines and it is smack bang in the middle of the Phoenix Mountains. Here's a couple of pics from google earth: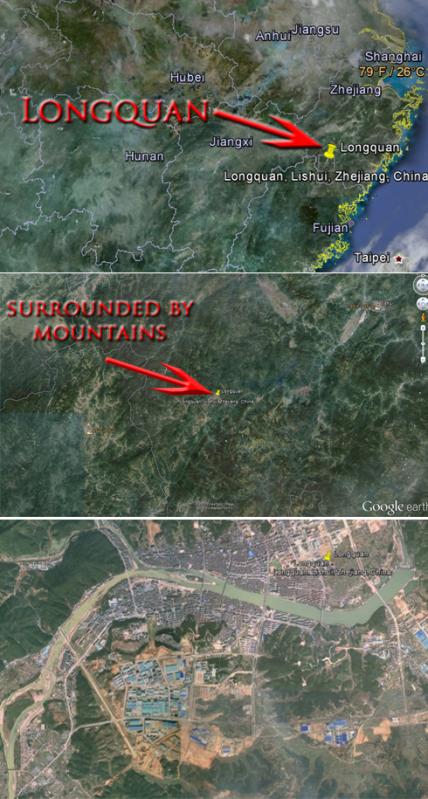 In this isolated region Longquan has been THE place where the best swords in all of China have been made since 500BCE – and these days the traditional methods are employed by families that trace back their sword forging history for many generations – with the most skilled specializing in traditional Chinese swords but some have branched out into the more popular Katana market.
And it is here that the vast majority of todays production swords are created – from wallhangers to true high end custom made swords for wealthy Chinese, European and North American collectors..
I have to say, the trip is a very exciting one. The only downside is that I'll be over there right at the time when I usually start writing the digest so it's a safe assumption that next month's issue is probably going to be a little light. But I'll do as much as I can before I go and I hope to include some teasers of the coming reports that will be compiled post trip and written up for the November issue (wow, hard to believe that November is only two months away! This year sure is going fast!).
Naturally enough with all of this going on, and while also working on getting the stragglers from batch 19 of the SBG custom Katana in (Canadian customs have been a serious pain again, despite the fact that we were confident that this time we would not have a repeat of batch 18 – it happened again) – other parts of the site have been fairly quiet.
But there have been a couple of (I hope) interesting posts on our facebook page– most notably a quite recent one showcasing some of the tsuba from Kyoto based Yamato Budogu.
While Japanese sword laws are very restrictive (i.e. you cannot own production swords, only unsharpened aluminium alloy or stainless steel blades without a special permit) the fittings these guys offer are exceptional. All made in Japan, I only highlighted the tsuba on the facebook page – but they have a lot more to offer that make their site something of a dream for people who customize their own Katana..
Here's a link to their collection of fittings.
I hope to actually work a bit closer with these guys over the coming months, naturally enough being in Osaka Japan while some doors are shut, other rare opportunities are right in front of me. Some of the ones I desire the most are hard to access due to the language barrier – so right now I am concentrating on unlocking the language and the Kanji to get much closer to the source than what I could if I use a translator.. (getting there slowly but surely)..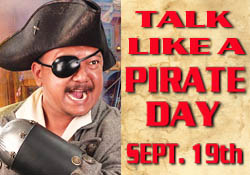 More on this later guys.. ;-)
Anyway, speaking of languages – a quick and very important reminder that that September 19 is 'Talk like a Pirate Day' - and the best way to celebrate it is to  visit the official Talk like a Pirate supplies page at Museum Replicas (don't forget to use the 10% SBG discount).
Easier to learn than Japanese I would think (For my fellow students of Japanes:日本語は本当に難しいですよ。漢字は無理と思います!), but just as much fun (me hearties).
---
VIDEO OF THE MONTH
---
Now this video isn't ONLY about swords, so for those of you who are offended by axes, maces, morning stars and other medieval weaponry – you might want to avert your eyes at some points in this video..

But with this disclaimer out of the way, you will find plenty of examples of how swords evolved over the years to take on armor, some cool sword testing with swords, falchions and estoc, and some rather decent looking modern repros in action – all presented in a light and enjoyable format.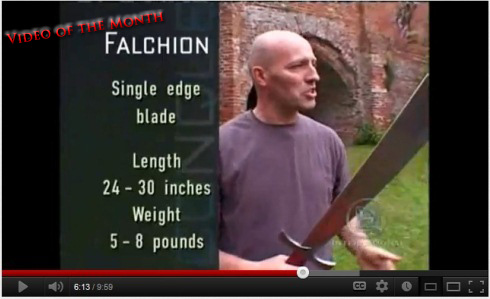 ---
SWORD OF THE MONTH
---
For September we have selected a sword that is unique, Patriotic, affordable and perfect for display while remaining eminently functional – the USMC Sword by Cold Steel.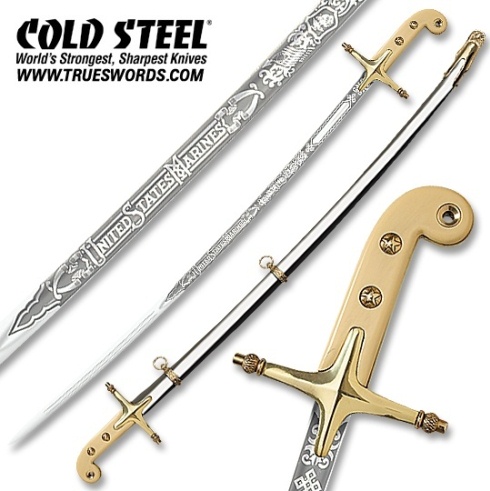 Most USMC swords on the market are stainless steel knockoffs – which when you think about it is rather insulting to the Marine Corps – but this sword is anything but. While the sword is licensed by Cold Steel, I strongly suspect that it is made to their specs by Windlass Steelcrafts, who produce swords for the USMC (reference – Windlass Steelcrafts Site).
As such, you can a see a youtube video of the sword being subjected to (and passing) the British Proof test, as well as the usual kind of cutting that Cold Steel are well known for in their promotional demonstrations.

Normally $329.99 you can pick it up fully sharpened and ready for action right here at Trueswords.com for just $198.99 – which at this price is a true bargain for such an attractive and powerful piece.



---
BARGAIN HUNTERS AND CLEAROUTS
---
SBG SWORD STORE

The famous 'Black Dragon' SBG exclusive design is back!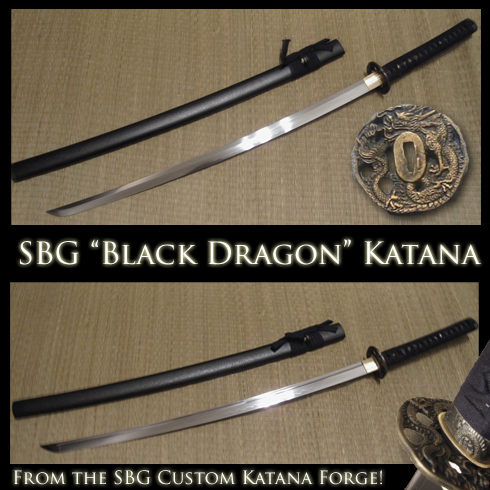 We have had these in stock for a while now, but due to issues getting the last of batch 19 cleared out from customs, I have been sitting on them (not literally of course) for several weeks now. But now that finally the last of batch 19 has come in and is being shipped out over the weekend we should be able to get these moving without interfering with the custom Katana shipment.

As you probably know, these are made by the same forge that makes the SBG customs – but unlike the customs the waiting time is only the time it takes to ship from our Canadian based warehouse to you instead of 3+ months (thanks Canadian customs!).

At $329.99 with FREE SHIPPING in the USA and Canada, these swords are heavily discounted (unlike the SBG customs, which are paid for upfront by the customer who designs them, we finance these ourselves) and as this is an extremely popular design and stocks are quite limited, if you want one you had better get in while they are still in stock!

Check them out for yourself here

.
---
Ok guys, see you all again next month when I get back from my Longquan trip! In the meantime, stay sharp, stay safe and Happy Swordening!

Paul Southren
---