Hey,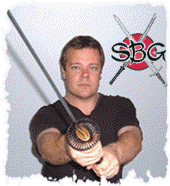 This issue is seriously jam packed (your gonna want to grab a coffee or your favorite beverage for this one)...
We have all the usual stuff (such as industry news, site updates, video of the month, best forum posts, etc) of course.
But we also have an article from Jason at AoV as he discusses how they are moving forward to become even more responsive to the individual needs of the sword community, some HUGE discount offers from 15% to 25% of a selection of Medieval and Japanese swords – and a no-strings attached gift voucher giveaway FRENZY made available on a first come, first served early-bird basis (not to mention my ebay listings of ex-demo and new swords for Aussie enthusiasts, with everything starting at $0.99!). .
So with that all in mind, let's jump on in!
CONTENTS
1. GIFT VOUCHER GIVEAWAY FRENZY!
1. SBG SITE NEWS AND UPDATES
3. SWORD INDUSTRY NEWS
4. ARTICLE: 'Keeping Up with the Joneses' by Arms of Valor
5. BEST FORUM POSTS
6. VIDEO OF THE MONTH – 'Master Korodo Sensei'

7. BARGAIN HUNTERS CLEAROUTS AND DISCOUNTS
---
GIFT VOUCHER GIVEAWAY FRENZY
---
Ok, here's the deal.

If you are one of the first people reading this message, you have a nice opportunity to save some serious money – or even get some items for FREE...

Below you'll find $80 worth of Gift Voucher coupon codes below to our friends at Reliks.com website – but each one can only be used ONCE. Here's how it works:

Visit the Reliks.com website here.

Have a look through some of their lower priced items – daggers, books, knick nacks -whatever it is that takes your fancy, and select something that you like. Then try to use some of the discount codes below – you don't have to commit to the order in the checkout, but if you are fast enough and some of the vouchers work – you can pick up some cool items for nothing more than the shipping cost (if you are too slow and someone else has beaten you to it, then the voucher will simply have no effect and you won't be charged a cent).

Sound like fun? I sure hope so...! ;-) Here's the codes – each one is worth $10... And yes, if you are fast enough, in theory – you could use them all...!

THE CODES:

83E11NX4EQ
RFT1E3MRLQ
HRD2BVK5DQ
M80FBJ6J76
B2LH7DQ1C8
KHAV5MNMCM
9J7MEEYHHV
J39MHYL6JT

By the way, don't think that they have all been used if you read the digest a little late... You just never know how many other people might well be thinking the same thing – and if you open it REALLY late, well – maybe from now on you should open it as soon as you notice it in your inbox. ;-)

Have fun, and if you DO win, I'd love to hear of your successes and what you managed to score...



---
SBG SITE NEWS AND UPDATES
---
January didn't quite see as many additions as I was hoping for review wise – though the ones I did manage to do were fairly substantial – including a particularly enjoyable test of the Cheness O-Katana which involved cutting the biggest darn water filled target short of a plastic water tower. ;-)
However, I also decided to take a bit of a much needed change in direction to create some general informational articles on authentic swords and a links page on the best Japanese informational sword sites, which was especially enjoyable to put together.
This month, I plan to continue this trend, adding more articles as well as reviews to create a series of primers to help beginning to intermediate enthusiasts create a solid foundation to build upon their sword knowledge with. But trust me, the reviews will not be taking a back seat – I've some very good ones planned for the next couple of months, as well as some interesting tests... ;-)
To see the newest reviews and articles as they are added take a look at the SBG News section or better yet – subscribe to the RSS feed for up to the minute additions.
---
SWORD INDUSTRY NEWS
---

Well, I am pleased to say that the SMG newsfeed is now officially up and running to deliver hot off the press sword news as it comes in.
In January, we saw the long awaited official announcement that the tempering issues with Generation 2 have finally been 100% resolved, with some hard testing by the AoV team and along with a sneak preview review of the Gen2 Riding sword prototype.
Towards the end of the month, we also had an update on the long awaited Valiant Armoury Signature series line with Christian Fletcher, and introduced a new sword – a Roman sword and scabbard combination called the Actium (pictured below).
Plus, we also got the scoop that Cheness will be producing a 9260 Spring Steel Tanto due to popular requests (I know a lot of people have been waiting for this one!).
To check out all these news articles and more - visit the SMG newsfeed here
UPDATE ON CHENESS KAZE KATANA AVIALABILITY
Before we finish the industry news for February, I should mention that the long awaited and ever popular Kaze Katana (pictured below) will be back in stock by the end of the month.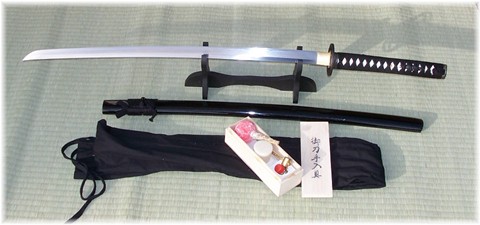 So if you are one of the people who have been asking me 'when will they be back again' – this is the announcement you have been waiting for. ;-) So now would be a great time to pre-order to get one shipped out as a priority.
---
ARTICLE: Keeping Up with the Joneses...
By Jason from Arms of Valor
---
With over 10 years in the sword business I would have to say that the sword community has made substantial leaps forward in the last 10 years. With the growth of the internet it is so much easier for sword communities to communicate and share ideas.
It is almost ironic to think that the lynch pin of the modern age has been a boon for an ancient weapon like the sword. The speed in which feedback can be shared has changed the face of sword manufacturing. Thanks to sites like Sword Buyer's Guide and other sword community forums, individuals can provide their finding's to the companies selling the swords and 1,000s of potential buyers within minutes. This has lead to some significant improvements in the $300 sword market.
Sword manufacturers can no longer sit back and let their products sell. They need to continually strive to make them better, or get pummelled by the competition. This has always been the case, but I have seen things speed up over the last few years with the faster communication. If a company produces a sword with issues the sword community (world wide) knows about it within hours. And as stated above this has spring boarded some huge improvements on many lines of swords.
Peened pommels, lighter blades with better balance, nicer scabbards, better tempering, more flex, larger variety, and the list goes on. If you would have told me 10 years ago that you would be able to get a sword with a peened pommel for $219 I would have told you that you were crazy.
So with the continuous improvement in mind I would like to point out some of the improvements that AoV (Arms of Valor, Ltd) is working on to help make those final steps in creating the ultimate sub $300 sword. From the feedback I have personally received, AoV appears to be one of a very few sword companies that actually test their swords.
After all, I am a sword enthusiast re-enactor first, and a business owner second, so any chance to swing a sword and I am going to take it. Our findings combined with customer feedback have lead us to work on some exclusive projects to further improve some of the standard off-the-shelf swords.
Most recently we started offering an improved "custom" grip. Members of the AoV test team and sword community (including myself) all agreed that the majority of black leather "slick" grips were very hard to keep a hold of once you worked up a sweat. So we custom designed a grip with a leather wrap that included risers to allow the hand to stay in place during use even when wet from sweat. To further add to this feature we will be offering different colors to allow the customer to customize their sword even further.
Essentially we take swords directly from the manufacturer and design each one to not only achieve more of an authentic look, but perform the way we expect our swords to perform. Each hilt is unique to the sword, and each sword demands a unique style to bring out it's maximum performance. We do all this & sharpening too for a price that would be considered ridiculously low by any other vendor! Not to mention, we're the only vendor in the sub $300 market that offers customization!
We strip the old grip completely off and re-shape the hilt to meet our specifications. When the hilt is ready for dressing, we wrap it in premium leather, and carefully inspect it so that each and every sword that goes out would proudly represent our custom collection.
Not only do we strive for a better visual appearance, but we also assure of actual improvement in sword usage with a grip that allows you to command the sword to it's fullest potential.

The next projects we are working on are three new designs to be produced by Darksword Armory. Two of the designs were winners from our sword competition and the third is a request for an independent film being shot this year. Sorry, we can't give too many details about the film or sword, but keep an eye out for details on the sword and film in the future. We can say; however, that working directly with Darksword on new products gives us the opportunity to make some improvements over the existing models. We stayed away from thinning out the blades as that is what makes the Darksword different from the other manufacturers (designed for heavy use). What we did do is work on ways to counter balance the heavier blades. We will also be offering the sharpening service for them, which is an option that is available with all Darkswords from AoV. The first prototypes of our new designs are due in March, so be sure to check out SBG as that is the first place the pictures and specs will be posted.
For the future we are looking into doing some work on existing scabbards for all the sub $300 sword brands. Currently standard off the shelf scabbards are black leather or black leather over wood. If we can find a way to cost effectively change the scabbards to match our custom grips you will see those offered at AoV as well.
As I wrap this up I would like to congratulate the SBG community on a job well done. You have had a direct impact on creating a better product. Keep it up! Some of us on the selling end are listening and will continue to work towards improving the swords we offer.
---
VIDEO OF THE MONTH
---
Never mind about the rather irritating English host - he sure as heck isn't what this video is about (though if you have seen the series in its entirety, you might start to wonder)...

Instead, concentrate on Koroda Sensei's frightening Kenjutsu skills as the Master reveals some secrets of Japanese swordsmanship and demonstrates what a life time of dedication can achieve...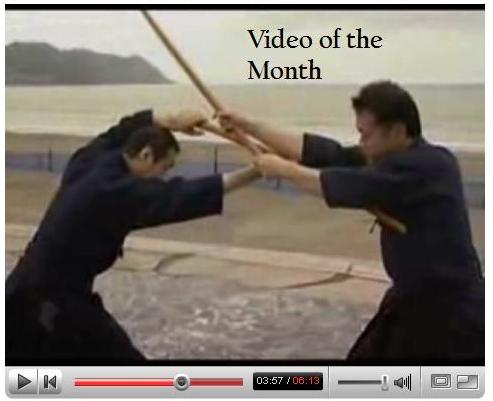 SORRY - VIDEO HAS BEEN REMOVED
Just fantastic.
---
Well, that's all for the February issue – it sure was a big one!! (I think I need a lie down)...
Hope you enjoyed reading it as much as I did putting it all together. Until next month, stay safe and have fun with swords...
Paul Southren
---