JAPANESE SWORD SITES DIRECTORY
The Japanese sword sites linked to in this directory are not particularly numerous, but there are no dead links or useless one page sites here - just the very best ones...
There are many, many more sites out there of course - but if you don't want to hunt everything down in bits and pieces, the following links are for you!
Japanese Sword Sites for Information

links open in a separate window
Richard Stein's Japanese Sword Site
If there is anywhere you should begin your journey into Nihonto appreciation it is here.
Dr Richard Stein's Sword Index is one of the oldest Japanese sword sites on the net, and definitely one of the best and most respected. While their focus is on traditionally made and antique Katana, the information there is pure gold for all levels of Japanese sword collector and enthusiast.
Presented in a questions and answers format, this site may be fairly short, but after reading it you will have a solid understanding of what Japanese swords really are, as well as what they can and cannot do. A great foundation to build upon written in an interesting and easy to read style.
Toyama Ryu - Japanese Swordsmanship
This would have to be one of my favourite Japanese sword sites.
Toyama Ryu is one of the most practical, battle tested Japanese Sword Arts around and these guys frequently USE their blades for Tameshigiri, so they certainly know what they are talking about. Lots of reviews of higher end blades (particularly Hanwei Forge pieces), information on blade geometry, maintenance and much more (as well as links to other sites on sword repair and maintenance).
Usagiya: Information Index (From Japan, in English)

The information pages of the Kashima sisters respected Usagiya (lit. "rabbit shop", though they don't sell rabbits...) have a whole heap of excellent articles on the Japanese sword. While English is not their first language, it really doesn't matter: the quality of the information here makes it one of the best Japanese sword sites around.
While this website is also that of a reliable seller of papered Nihonto, there are also some excellent and very interesting articles as well as truly beautiful high resolution images. Nicely laid out site and a very enjoyable read.
Japanese Sword Sites for Sales

The following list of Japanese sword sites is graded primarily to the collector's budget: from light duty cutters all the way to high end papered Nihonto...
But they all have one thing in common, like the informational Japanese sword sites listed above - these Japanese sword sites only link to tried and tested sellers...
Trueswords.com (cheap replicas)

Trueswords sell a large variety of inexpensive replicas, from $20 wall hangers to low and mid level Musashi swords ranging from the $50 to $180 price point, many of which have been proven to be considerably more reliable than many people have expected them to be. The best place for an enthusiast on a real shoe string budget or the backyard sword enthusiast looking for a light duty cutter.
Bugei Trading Company (high end Katana)

James Williams Budgei Trading Company takes Hanwei blades are considered by many collectors to be the pinnacle of the production sword market. Their Katana are customer made for them by Hanwei and feature some of the most stringent QC inspections in the business. While there can often be lengthy wait times, most agree that it is well worth it for the final result.
Japanese sword.com (Affordable Antiques)

Trusted sellers of actual antique Japanese blades at relatively low prices (many are within $1,500 to $3000). While many of the swords are in need of some serious TLC, they are a great source for anyone who is looking for an antique Japanese sword at an affordable price. They also offer a consignment service for anyone who is looking to sell a genuine Japanese antique.
Aoi Art (based in Tokyo)
Based in Tokyo, Aoi-Art is a premier source for authentic and flawless NBTHK papered Nihonto blades. You could have one of these antique bare blades shipped and fully insured for around the US$15,000 mark, which is quite a reasonable price for an antique bare blade...
Samurai sword.com (Elite)

These guys specialize in higher end pieces for collectors and investors, including antiques and new swords hand made by 'National Living Treasure' level sword smiths: ranging from $20,000 to $100,000 (though they also have other swords priced under $5000)... Of all the Japanese sword sites, this one must be one of the most 'drool worthy'. They also give Free evaluations and fee based insurance appraisals.
Finally, there is the: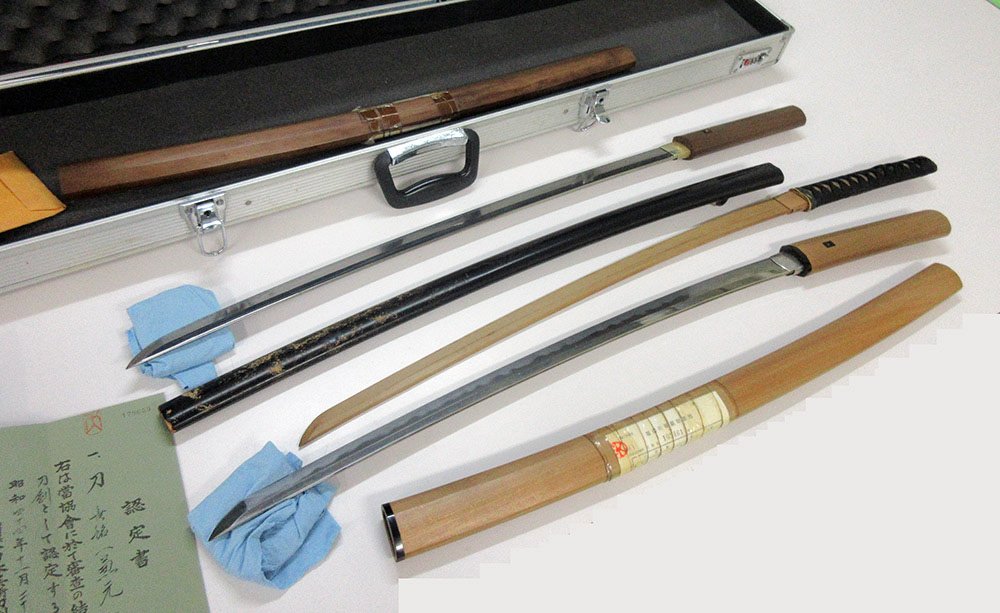 Some of the antique blades we have offered at the SBG Sword Store. Both blades here are well under $5000 (actually, most are around $3K).
In addition to selling a wide range of affordable and practical Dojo quality blades from a wide variety of manufacturers - we also have our own source of antique Japanese Nihonto - and being a relatively new comer to the scene, have shaken things up a bit with a new pricing structure - offering a wide range of antiques at previously unheard of prices.
You can read more about how this project came about in my featured article 'Antique Samurai Swords: A Personal Journey' - otherwise, simply click below to see what we currently have on offer:

Want More?
While there are many (many) more Japanese sword sites out there, what is listed above is a solid foundation and definitely some of the best around in terms of both information and places to buy Japanese swords at just about every end of the spectrum.
You can find a slew of Japanese sword sites listed here at swordlinks.com though it will take some wading through not all of these are guaranteed to be particularly comprehensive or reliable as the lists above.
And of course there is a great deal of information to be found at the various Sword Forums such as SFI, the SBG Sword Forum, etc.
While the amount of information available in all these Japanese sword sites is quite impressive, the best works are generally to be found offline.
Personally, my favorite book on Japanese swords is The Craft of the Japanese Sword.This book is an absolute font of knowledge on how these beautiful swords are made and a real insight into what makes them so special: the Nihonto enthusiasts bible if you will...
---
I hope you have found the Japanese Sword Sites Directory helpful. To return to A Beginners Guide to Authentic Japanese Swords from JAPANESE SWORD SITES DIRECTORY, click here


Buying Swords Online Can Be

DANGEROUS!



Find the Best Swords in the:
Popular & Recommended ARTICLES

---
---