Hey,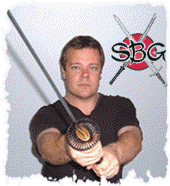 Welcome to the September edition of the Digest!
As most of you will know by now, August was a HUGE month in the 'evolution' of SBG. Not only was there a complete overhaul of the sites basic appearance, but there have also been a few very interesting developments to make the main site even more interactive, turning it into a SBG 2.0 kind of thing...
Very exciting, and the new possibilities this opens up are pretty amazing! So lets 'cut' to the chase...
CONTENTS
1. SBG SITE NEWS AND UPDATES
2. SWORD INDUSTRY NEWS
3. GIFT VOUCHER GIVEAWAYS
4. BEST FORUM POSTS
5. VIDEO OF THE MONTH – 'Chinese Swords: Sword and Saber'
6. BARGAIN HUNTERS CLEAROUTS AND DISCOUNTS
---
SBG SITE NEWS AND UPDATES
---
Well, by now you've all probably seen the 'new look' SBG. Gone is the old Windlass European Sword logo (a little sad to see it go, but it served its purpose), and in its place – a crossed Japanese and European 'East Meets West' kind of themed design, which is much more representative of what SBG is about.
With the logo design and background created by talented artists Steven Kernan, Steve and I are planning on collaborating on quite a few more projects over the coming months – so what we are seeing really is just the tip of the proverbial iceberg!
But the changes to SBG are not just cosmetic.
Throughout the site, you'll see a steadily growing amount of web 2.0 style links, where visitors are able to directly submit their own content and comments. But unlike most other web 2.0 free for alls and spam fests – all of these submissions must be manually approved by me before going live, so we get the best of visitor input – with the crap filtered out! ;-)
You can see a few early uses of this new approach in the Sword Buyers Directory (where your feedback, recommendations and horror stories with online vendors can be told).
You'll also see it in use in the Ask a question page (where each question asked gets an answer and forms a kind of FAQ) and in reviews such as the Kaze Katana review, where people who buy a sword reviewed can comment on what they think of it!
There are more applications of this web 2.0 stuff planned for September, so to keep abreast of this expansion take a look at the SBG News section or better yet – subscribe to the RSS feed for up to the minute additions as they happen.
---
SWORD INDUSTRY NEWS
---
VALIANT ARMORY REVOLUTION
If you are into medieval swords, Valiant Armory are rapidly becoming THE company to watch in the latter half of 2007...
Ever since Sonny Suttles took over the company late last year, his dynamic approach has breathed fresh life into this company. First off, when you look at his new designs compared to the old ones than CAS Iberia used to sell – there is a world of difference.
Out with the clunky, contemporary blades – and in with a new line of much sleeker and more attractive swords that are as different as night and day.
But that is just the beginning. Because the most exciting development is a collaboration between arguably some of the best performance sword designers in the industry, Angus Trim, Christian Fletcher and a Chinese forge to create the signature line and practical lines.
They say a picture is worth a thousand words.
So here's one of the Christian Fletcher Signature line...
While it is unlikely that any of these swords will be sub US$300, my understanding is that they will be just enough over this price point to make it worth while relaxing the $300 price cut off a little...
Very exciting stuff, and even fans of Japanese swords have not been left out in the cold, as they are also introducing a signature series of Katana and other Japanese blades called 'Imperial Arms'.
A lot happening over there at Valiant Arms, I can't wait to get my hands on some of them to see how they perform!

CHENESS CUTLERY: KAZE KO AND WAK
After numerous requests, the Kaze Katana finally has a couple of very attractive companions: the Kaze Ko and Kaze Wakizashi!
Made of the same clay tempered 9260 Spring Steel as the ever popular Kaze Katana, with a beautiful natural hamon rarely, if ever, seen on a sword in this price range – these one handed and two handed blades are a steal at US$219.99.
Both are in stock and good to go from the SBG Sword Store.
---
MINI COMPETITION WINNERS!
---
It was a close one...

But the winner of the 'which sword to review next' competition was Sept of the Clan Sinclair with his suggestion to review the Generation 2 Chaos Fantasy Sword.

An un-announced second prize went to 88mm for a generic Nagamaki.

And the randomly drawn winner was (drumroll) – Rammstein (who is now officially the luckiest dude on the SBG forums, having now won a total of 2 swords and quite a few Reliks Gift vouchers..!).

Speaking of Gift Vouchers...

The SBG review drive is on! If you are not a regular at the forums, you might have missed the announcement – but the Gift Voucher give away frenzy is reaching fever pitch! So far in August I have given away close to US$400 in Gift Vouchers – with $10 for a basic review, another $10 voucher for a head and shoulders shot of the reviewer, and if you post a vid of the sword in action on youtube, that's another $10 Voucher on top of the other two!

The only conditions are that the sword must currently be in production and retail for under US$300. So send in your reviews, benefit the sword community and reap the rewards!



---
VIDEO OF THE MONTH
---
A very cool mini documentary on the use of Chinese Jian (straight sword) and Dao (saber) by National Geographic, this months selected video is truly 'edutainment' at its finest.

While it is short and sweet, it serves as a great introduction to these ancient weapons – as well as some handy tips and pointers on how to best use them (not to mention, some excellent National Geographic 3D Animations of the swords lethal cutting and thrusting power respectively).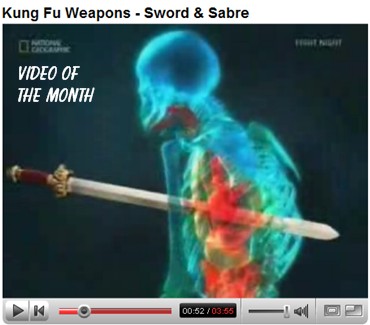 A+++
---
Well, that's it for the September edition.

This month, I'll be focusing on building up more reviews to the main site – so stay tuned, SBG is really starting to snowball!

Until next time, stay safe and have fun with swords.

Paul Southren
---