Your Journey Into Sword Collecting Begins
HERE!
"Sword Buyers Guide really makes it easier to buy a sword on the internet. I've bought three Katana based solely on the reviews and forum of SBG. Thanks again."
- Dave Garret, Arizona, USA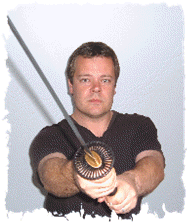 Trying to find good quality REAL swords for sale online (at a reasonable price) can often be a bit of a hit and miss affair...

There really are so many crappy, fall apart "replicas" out there it's just not funny.

And it's not always easy for the beginning to intermediate enthusiast to safely navigate all the marketing hype and identify a half decent blade that you can use and enjoy for years to come...
BUT Sword Buyers Guide.com
MAKES IT EASY!
(

Oh, and did I mention it's 100%

FREE!)

You see, our job here at 'SBG' (Sword-Buyers-Guide) is simple...
 
...to help YOU save time, money and unnecessary hassles in your search for the best quality yet affordable swords for sale!

This site isn't about $40,000 antiques or even $1,000 "performance" blades (though we do dabble there from time to time).

And it certainly isn't about those ever growing piles of cheap "wall hanger" replicas that break off at the handle just swinging the darn things around...

Instead we specialize in trying to identify the best value for money 'entry level' functional replicas, in other words:

"Sword Buyers Guide is all about finding you the best REAL (Fully Functional, Battle Ready) swords for sale at a reasonable price point of between around US$100 to just over $300 at the upper end..."
As avid collectors and sword enthusiasts ourselves, the SBG team and I spend our time searching for bargains that we review and test out, and then report back our findings and results so that YOU can make an informed buying decision.

Simply use this FREE review guide and you're guaranteed to be able to select quality swords for sale online! (I just wish there had been a guide like this when I first started my collection!!)

Awesome 5 Star SBG Member Functional Sword Collections!!!
Also known as the "It Starts With One" Sword (Addiction) Collection Gallery...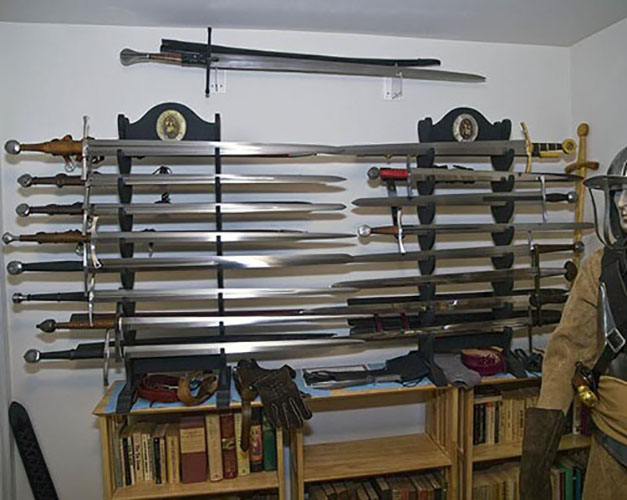 ---
By the way, when you see a bunch of pictures in a cluster like this - it might be a gallery (if you hover your mouse over a picture, you will quickly figure it out as text will appear)- in which case you can click it to bring up a larger picture and browse the gallery. (It could also be a link or, well, just a picture! Links to non SBG sites always open in a new window and its safe to click anything, try it and see!)

 SO, WHERE TO BEGIN?

Navigating SBG is, I hope, fairly self explanatory and intuitive. Throughout each major page you'll find numerous "in context" hyperlinks to other pages and in depth articles on SBG. If you visit our official Sword Store (and we hope you will) just click the SBG logo and you will navigate back here to the homepage and table of contents below.

If you don't know anything much about real swords, I recommend you start your journey with my basic guide and overview here - otherwise, if you want to jump straight in and have a look at hands on some sword reviews and cutting videos within your favorite types of swords, have a look through the Nav bar for the category that tickles your fancy.

There really is too much info here to go through in one sitting (basically, there is enough information to take you from complete 'newb' to intermediate level 6 sword geek!), so I recommend you bookmark this page now so you can find us again on your next visit. Happy surfing, and I hope that SBG helps you find the deals and information you are looking for!

Sincerely,

Paul Southren
Site Owner, Sword Reviewer, Editor in Chief and Your Host!
Table of Contents

Support SBG and grab yourself a bargain with the best deals online on a hand picked range of high quality functional swords that I have selected as the best in their class
DISCOVER the real deal on how to buy swords online that some unscrupulous sword merchants would prefer you didnt know
Before you buy swords online, have a look at our comprehensive best sword sellers directory. It could save you alot of money and hassles.
Discover the basic sword care techniques used by the pros in this straightforward, no-nonsense guide to keeping your replica swords in tip top condition.
3 basic tried and tested techniques on how to sharpen a sword
An overview of Sword Fighting and training methods, both Eastern and Western, with several free instructional ebooks, training tips and further resources
Check out our comprehensive guide to buying replica Ancient swords of the Egyptians, Greeks, Celts and Romans.
Replica Viking Swords and Dark Age Swords reviewed
There is a huge range of medieval swords on offer, but not all of them are created equally. Find out how to pick the best ones here...
Renaissance swords may not be as popular as Japanese or medieval swords, but there is still a decent enough selection to choose from, if a little on the pricey side nowadays
Welcome to the wonderful world of the chop and slice, the world of replica Falchions, Scimitars and Sabers
Are you looking for authentic Japanese swords? This guide shows you the essential qualities of a real, practical samurai sword - and how to buy one without breaking the bank.
A brief look at the different types of Ninja swords on the market today. From cheap Tactical swords to authentic Shinobigatana.
The market for Chinese swords used to be really cheap rubbish or opulent, extremely expensive stuff with nothing in between. But for the kwoon or the collector, there is a small but decent selection.
Don't buy fantasy swords until you read this first. Some are functional, more are NOT - and unless you know what to look for, the chances of ending up with a piece of crap are fantastically high....
Are movie replica swords really worth the price tag? Find out the secrets hollywood licensing departments would prefer you probably didn't know
The ONLY Sword Forum on the internet solely dedicated to finding the best value for money sub US$300 fully functional entry level swords and beaters...
Subscribe to my monthly ezine and recieve all the latest site news, tips and reviews PLUS access to my members only stash of sword fighting, buying and customization ebooks!
Check out our facebook page here!
The SBG Blog page keeps you up to date with all additions and changes to the sword-buyers-guide.com Web site. Subscribe to the RSS feed here.
LEGAL DISCLAIMER:
Sword Buyers Guide (SBG) advocates safety and common sense and does not condone violence in any way, shape or form. Staff and management of Sword Buyers Guide are committed to responsible sword ownership and use, and under no circumstances condone the use of a sword on another living being or any unsafe practices with live blades. The destructive tests shown on the site are done under controlled conditions and should never be replicated. SBG is NOT responsible for the abuse or improper application of information contained herein, nor is it responsible for injury, loss of health, or loss of life.
(c) Sword-Buyers-Guide.com 2005-2014