A Knights Sword: Arming swords and longswords

The knights sword is the most popular style of medieval sword and comes in two primary configurations - the single handed "sword and shield" style arming sword and the later medieval hand and a half style longsword.

We have already looked at some of these blades under the $200 price point, so here we will look at the mid-tier price point - between $250 to $500 and see what, if anything, makes them a more worthwhile purchase if you have the funds to do so.

The Classic Knights Sword: The Single Handed Arming Sword

The most common type of knights sword was probably the arming sword, also known simply as a "knightly" sword, and was a single handed sword usually used in combination with a shield or buckler (though it could be used without one as circumstances determined).

One of my personal favorites is the European sword by Windlass Steelcrafts.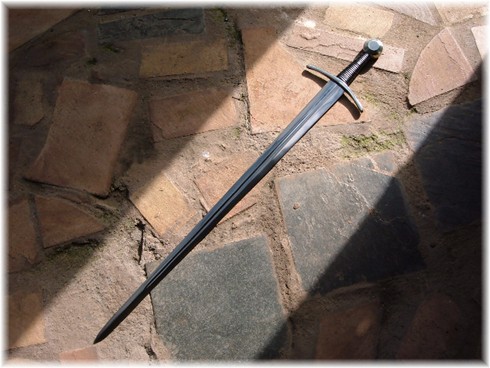 One of my favorites, the Windlass "European Sword"
It is a great example because it is so well tempered, handles well and is available for under $200.
Above this price point, the swords do not necessarily get better. Though many get beefier..
The sword reviewed next by the Hanwei forge is an example of a beefier blade - and does not do so well on light targets, but is sturdily constructed.

"Marshal broadsword"
Hanwei Forge
Price Range: $264-440
OVERVIEW: It's not a bad attempt, but this replica of William Marshal's sword just doesn't make the cut - any kind of cut.. Quite sturdy, but just not exciting enough considering what else is on the market at a similar (or much lower) price point. 

Other brands make a more refined fully functional replica knights sword that is better balanced between durability and handling. A little on the expensive side, and not perfect by any means, they have their fans. Myself included..
Here's one of them..

"Castile"
Valiant Armoury (Signature Series)

Price Range: $530
OVERVIEW: The Castile was the first sword in the Signature Series, and I signed myself up and bought one to be one of the first guinea pigs. While it needed some refinement, once it received what it was lacking it proved itself quite nicely.

And the next Knight Sword, this time by Darksword Armory - is tough as nails, as you can can plainly see by our destructive testing.


HEAVY testing. Click the image for the full test results.
"Medieval Knight Sword"
Darksword Armory
Price Range: $409
OVERVIEW: The sword from my Darksword Test to Destruction review, this was my first Darksword Armory purchase and is still one of my favorite designs. Check out the pre-destruction review of this exceptional piece here.

Longswords
Towards the end of the medieval period, the Knights sword began to change, as did the techniques of using them, into what we today commonly call longswords - though the same basic design includes "bastard swords" and "hand and a half swords".
This was a knights sword designed to be used without a shield or buckler and for which there developed two main schools of use - the Italian and the German schools.

The techniques of wielding this swords are quite sophisticated (read more about the sword fighting schools here) - and as such, the best of these swords need to be well balanced, durable and fast in the hand.
Here is an example of a fairly average longsword. Good value, but it is possible to get better..

"15th Century Longsword"
Windlass Steelcrafts
Price Range: US$220-245
OVERVIEW: A well balanced sword that is a decent historical replica, though with a somewhat 'whippy' blade and there is some sloppiness of the intricate fittings close up. But overall a good sword for the price, just nothing exceptional.
The next Knights sword is head and shoulders better - but also about twice the price..
It is also customizable, though as such takes time - and is technically a "War Sword" so is closer to a two handed sword (which we discuss elsewhere on the site) but let's take a look at it here.

"
Kriegschwert"
Valiant Armoury (Signature Series)

Price Range: $550
OVERVIEW:  The Kriegschwert is in a class of its own and has many of the characteristics of a much higher end sword. So despite being relatively expensive, it's actually quite a bargain - with an extremely strong, fast handling and deadly blade...

In the middle ground, there were TWO main medieval swords that were designed to handle, perform and cut like the historical originals.
I say were because the one that was probably the better of the two has not been available since 2010 or so - simply because, it was too expensive to produce and the company behind it - Valiant Armory - decided to concentrate on their higher end medieval swords like the Kriegschwert reviewed above.
Here is a review of that famous longsword, the Practical Longsword, which was based on a design by the legendary Angus Trim.
"Practical longsword"
Valiant Armoury (Practical Series)

Price Range: WAS $239.99

OVERVIEW: The Practical Long sword was something special. I saw WAS because this low cost, high performance sword cost too much to produce is currently impossible to buy, but is reviewed here as a kind of "pinnacle" of sub $300 medieval swords.

Luckily, a second collaborative project with another legendary sword maker, Michael "Tinker" Pearce, was organized at around the same time by the Hanwei Forge.
Because the Valiant Longsword was first and less expensive - and had some teething troubles in the early stages, the Tinker sword ended up somewhat in it's shadow (even though, striking them edge to edge reveals the Tinker has a harder, stronger steel!)..
Since then, a bastard sword has also been added to the line up - the price has come down from the MSRP of $465 (if you know where to look, you can get them for $249!), and they have gone from strength to strength..

"Tinker Longsword"
Hanwei Forge
Price Range: $249-465
OVERVIEW: Like it's close cousin the Tinker Bastard Sword, the Tinker Longsword had a somewhat troubled birth, which is a shame as it is actually a very well made and advanced high performance blade. Check out 'Shooter' Mike's review for the low down.

"Tinker Bastard Sword"
Hanwei Forge
Price Range: $240-363
OVERVIEW: These simple looking swords are actually some of the most dynamic, advanced swords to ever be sold under the $300 price point. But they got off to a somewhat troubled start. However, despite a few minor shortcomings, are still exceptional value for money.

Side by Side Comparison

Gus Trim
Michael "Tinker" Pearce
Now while the Gus Trim designed Longsword is no linger available, side by side, how did it compare with the Tinker -line medieval swords?
One of our members had a chance to compare them. His conclusion? See below for the short answer..


Click the image for the side by side comparsion
Further Resources

You can find a whole host of great information on mid to high level production and custom made medieval swords and armour at www.myarmoury.com including numerous cool articles, hands on reviews, wallpapers, forums and much, much more.
Highly recommended and a very nicely laid out and professional site.
It's also recommended that you check out anything written by the late great master sword Scholar, Ewart Oakeshott - in particular his signature work "Records of the Medieval Sword" (pictured right).
Finally, we have a whole plethora of information and additional user submitted reviews on our very own SBG sword forum - be sure to drop by, I think you might like your stay..
---
I hope this information on the medieval knights sword has been helpful. To return to Affordable Replicas of Medieval Swords from A Knights Sword: Arming Swords and Longswords, click here


Looking for honest, trustworthy sword sellers? Look no further than:


Sword Buyers Digest Newsletter!

Sign Up to Our FREE Monthly E-zine for all the latest sword news, info and much, much more! Click Here for more info..