Battlecry Agincourt Sword Review

The Battlecry Agincourt Sword is part of the Battlecry series designed by head of the ARMA (Association for Renaissance Martial Arts) John Clements and manufacturerd to his specifications by Windlass Steelcrafts of India.


The Battlecry Series Line Up
Here is the short promotional video for the Battlecry Agincourt:

Battlecry by Windlass - Testing the Agincourt War Sword from Atlanta Cutlery on Vimeo.
---
Battlecry Agincourt Sword Review
Review by SBG member pgandy

---
I received my Battlecry Agincourt Sword today and needless to say I've neglected all else today. Overall I must say I really like it and am excited with my new toy. There are a couple of rough spots that bother me but nothing to distract from the functioning.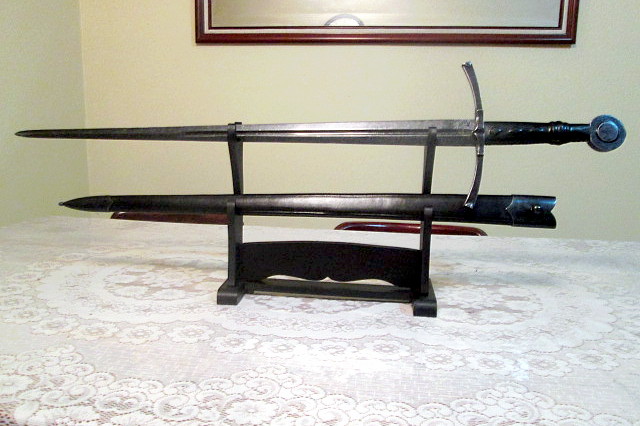 Specifications
Overall length
Blade    
Weight     

POB           

COP                

Thickness

Blade Width

Grip


 Official         

38.87"
30.125"         

2 lb 8.9 oz    

2.75"             

N/A                      

4.3-3.7 mm   

45.3 mm

6 ½"              "

Mine      

38.87"
29.93"

2 lb 8.2 oz    

2.5""

~18.5"

4.1-3.8 mm

43.5 mm              

6 ½"
The two are closer than I normally find on a Windlass and that indicates to me that the Battelcry Line is being made to a closer tolerance. This sword certainly feels a notch above Windlass normal work.

I chose the Agincourt because according to the specs and regardless of what Windlass is claiming this appears to be more of an arming sword than a hand and a half. And I thought that I would have good control using one hand giving me a free off hand to fill as desired. It handles beautifully with one hand. In fact from what little I've been able to do with it the sword handles better with one hand. Keep in mind that this sword is completely new to me and I haven't learned its secrets.

With its blade shape I am not expecting it to be a great cutter. I am able to half medium wall plastic 1 litre juice bottles and cardboard juice containers one handed. I was having some problem using both hands. One issue I spotted was that I tend to come in a bit high, nothing that more familiarity won't handle. It does give excellent point control and penetration, which is great as I like sticking and was a large factor in my decision.
That part I couldn't be happier with. It came paper cutting sharp. The grind on the edge is polished smooth. I far cry from the $20 sharpening jobs offered by MRL and KoA, although they both put a sharp edge on the sword. The angle of the grind is almost equal that of blade. This blade is lacking the peaks and valleys associated with Windlass blades, making it fairly flat. However the fuller is typical Windlass with its well defined edges rounded and washed away.
The blade is stiff. I suspect that it will do fine on light targets but have no hopes of severing a leg like my German Bastard Sword, nor giving blunt trauma behind a good quality Gambeson like my 4.2 lb. German Bastard. While it cuts light targets it appears to be a thruster with reasonably good cutting ability especially on a lightly armoured or an un-armoured opponent.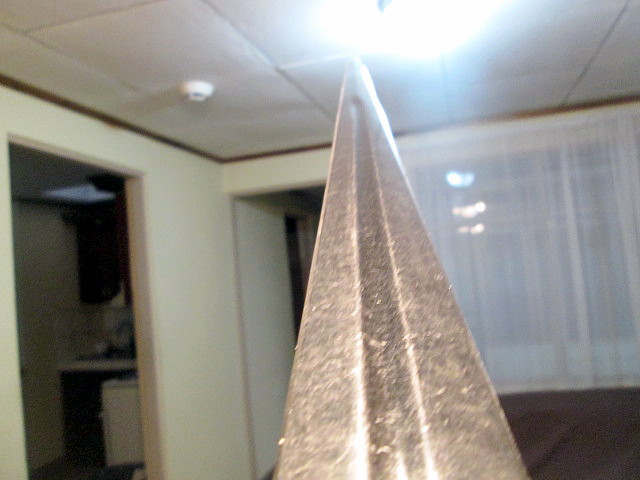 It feels lighter than 2 ½ lbs and is very nimble. No doubt due to the large pommel giving a 2 ½" POB. It is fast and can be flipped around any ol' way making it a joy to handle.

The sheath is several steps above what I have come to expect from Windlass. There is no wood core, unfortunately, but it is stiff. There is a frog stud that I am glad to see. They throw in a frog that I think will be popular although I don't like it as it carries the sword an angle and will use one of mine. I prefer a vertical carry. It also fits my baldric. The leather appears to be of good quality and well made and gives a very secure fit. It's possible to invert the rig with the sword showing no signs of wanting out.
However the fit of the sword at the throat is not the best, even for Windlass. Of the four quadrants at the throat three are uniformly distant from the quillon. The fourth is high stopping the sword. I have hopes of correcting this.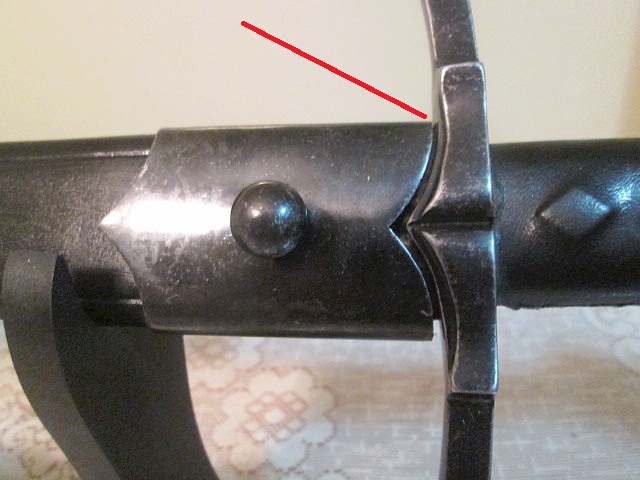 There were some disappointing features. My biggest disappointment is in the leather wrapping of the grip. Windlass' photos show the leather to be form fitting following the contours of the raisers underneath. With what I received the leather appears to be just stretched over whatever and by no means forming to what's below. I am going to have t think a bit but I do believe that I will wrap thread over the leather. At first I thought of rescue tape and mostly in order to protect the leather but the more I think on it I'll be happier with thread that I'll have to order as it gives a better appearance and better friction than rescue tape.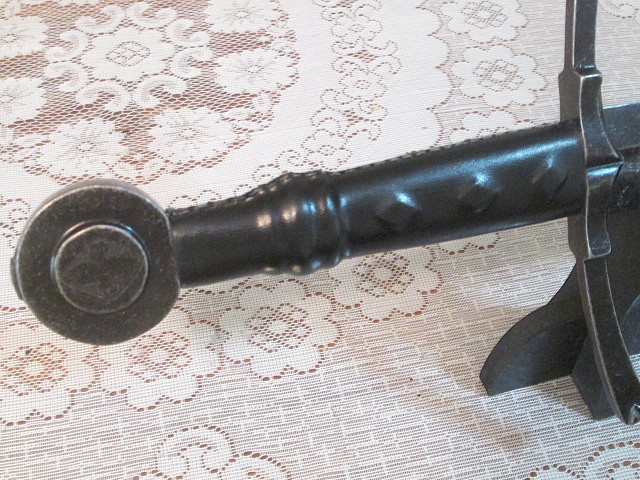 The second is that in their ad photo Windlass shows the pommel with a Fleur de Lis well defined. What I receive is anything but.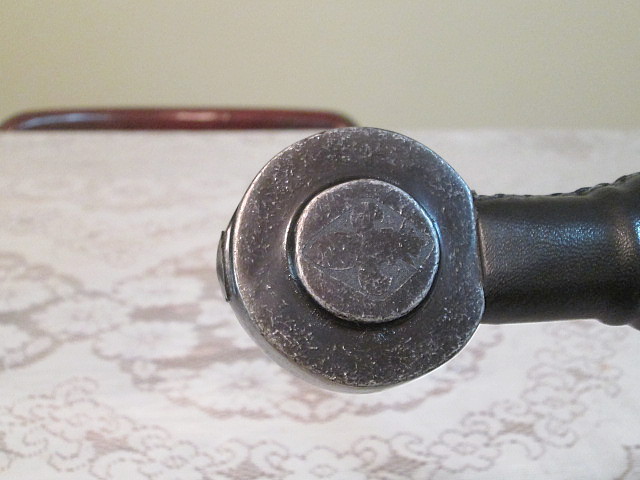 As for the guard the typical generous hole exists. In this case it is filled with a hard black substance, probably epoxy, that colour wise blends in with rest of the sword making it hardly noticeable.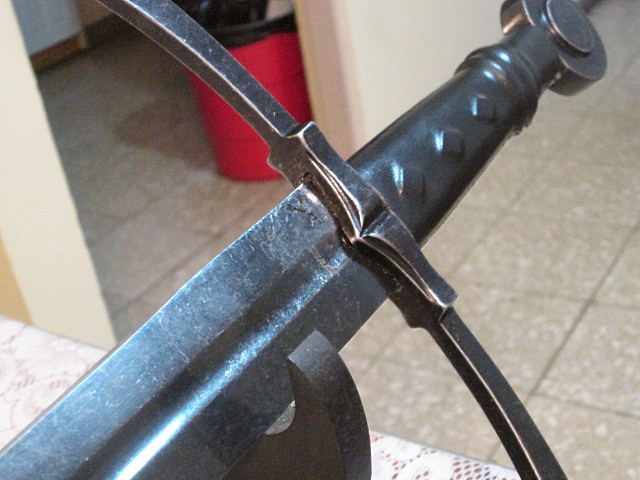 As for the dark finish, I have mixed feelings and suspect it will be only a matter of time before I remove it. On the positive side I do not object to the finish as such and believe that it will give needed added protection against rust that is such a problem in the tropics. My concern is that I am unsure how durable it is and suspect that in time due to scratches and wear it will become an eye sore.
On a white blade I can polish those inevitable scratches out. On that blue, for a lack of a better word, that won't be possible without removing the finish. Further more, any pistolero knows about holster wear. Sliding that blued blade in and out of that leather sheath especially with those two opposing "fingers" grabbing the blade is sure to cause wear. Perhaps I'll have a mishap while sharpening and scratch the blade, it has happened.
With a white blade I can polish out my mistake. Something else that is tempting me, but not enough to run out and remove the finish, is that the angle of grind to the edge feels very similar to that of the blade. By removing the finish come sharpening time I can put a convex edge on blending everything together.
I am convinced that I made a good decision with the BattlecryAgincourt. I haven't had time to order the thread to wrap the grip nor make a better fit between the sword and sheath.
It's been a while since I've enjoyed a sword this much. I enjoy comparing my other hand and a half sword which is slower and heavier with better hand protection but delivers powerful cuts to the Agincourt which is almost the opposite in every respect.

WHERE TO BUY
The best deal on the Battlecry Agincourt is to be had by combining the price of $314.95 HERE at Museum Replicas with the 10% discount coupon code: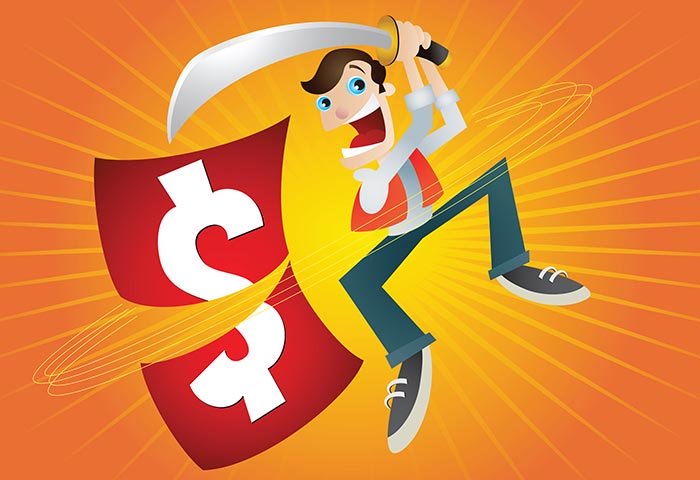 Save 10% off all orders at Museum Replicas with the Coupon Code: SBG2023
which brings the price down to just $283.45 - quite a deal for such a well made and decent sword.
---
I hope this review of the Battlecry Agincourt Sword has been helpful. To return to Affordable Replicas of Medieval Swords from Battlecry Agincourt Sword Review, click here


Buying Swords Online Can Be

DANGEROUS!



Find the Best Swords in the:
Popular & Recommended ARTICLES

---
---