Battlecry by Windlass - an Overview

Battlecry by Windlass Steelcrafts are a new line of medieval and dark age swords released in April 2016 quite unlike any other swords around the $300 price point sword on the market - and they promise to be quite revolutionary.
In this article we will take a behind the scenes look at this line to see what makes them different than the competition, and how they stack up to other swords at the same price point..

Battlecry by Windlass were a project that had been in the wings for a while now but was only officially released in April 2016. One of the things that makes this line special is it is a direct collaboration with John Clements, founder of the Association for Renaissance Martial Arts (ARMA), sword researcher and sword historian who you may recognize either from his ARMA association or from numerous appearances testing swords and discussing sword history on the discovery channel.
John Clements
John is not the kind of man to put his name and a reputation he has worked hard to build over the last 35 plus years on a product line that will do him disservice and his testing and feedback in the development and then promotion of this line has been quite extensive.
Because these are a relatively inexpensive line of swords, John and the team at Windlass had to concentrate on the basics, that is to say, hardiness, agility and cutting power to as closely as possible match the performance of the original swords they were based upon.
To achieve this, some sacrifices need to be made somewhere - and the approach they took is innovative and, at least to me, very honest and unique.

Battlecry by Windlass - quick overview

Probably the first thing you notice about these swords is their darkened fittings and darkened blades. This is not the first time a sword manufacturer has used "bluing" to create an economical line, and while it saves money as less polishing is required, it has rarely been particularly popular with most collectors as they often want a "shiny" sword..
However, here is the twist, Battlecry by Windlass have opted for a unique stonewashed look that makes them low maintenance and somewhat battle hardened, which very much suits their goal of producing tough, no-nonsense swords.
Below is a comparison of how this finish looks next to the Cold Steel "Man at Arms" line which followed a similar principle of "bluing" the blades to keep production costs down.

As you can see, the Battlecry by Windlass model looks somehow less "modern" and more like with a patina you might see on a sword found lying in a battlefield.
The advantages to this finish is that it protects the blade from rust and requires little oiling or maintenance, and also makes any dings or scratches it may receive from use and abuse less obvious than with a pristine, mirror polished or evenly finished blade.
The disadvantage is of course that not every collector wants a sword that looks "rustic" and prefer a nice shiny new sword. But here is the rub, quite often these nice shiny new swords are, by the nature of their pricing, subject to cosmetic flaws. And you can see that the money saved is put into other areas..
For example, each of these swords is tempered by Windlass Steelcrafts state of the art ovens to a HRC in the low 50s and made from 1065 carbon steel. The result is a perfectly flexible and tough sword that can absorb quite an amount of abuse - and is further strengthened by the peened pommels, which you can see on the sword below.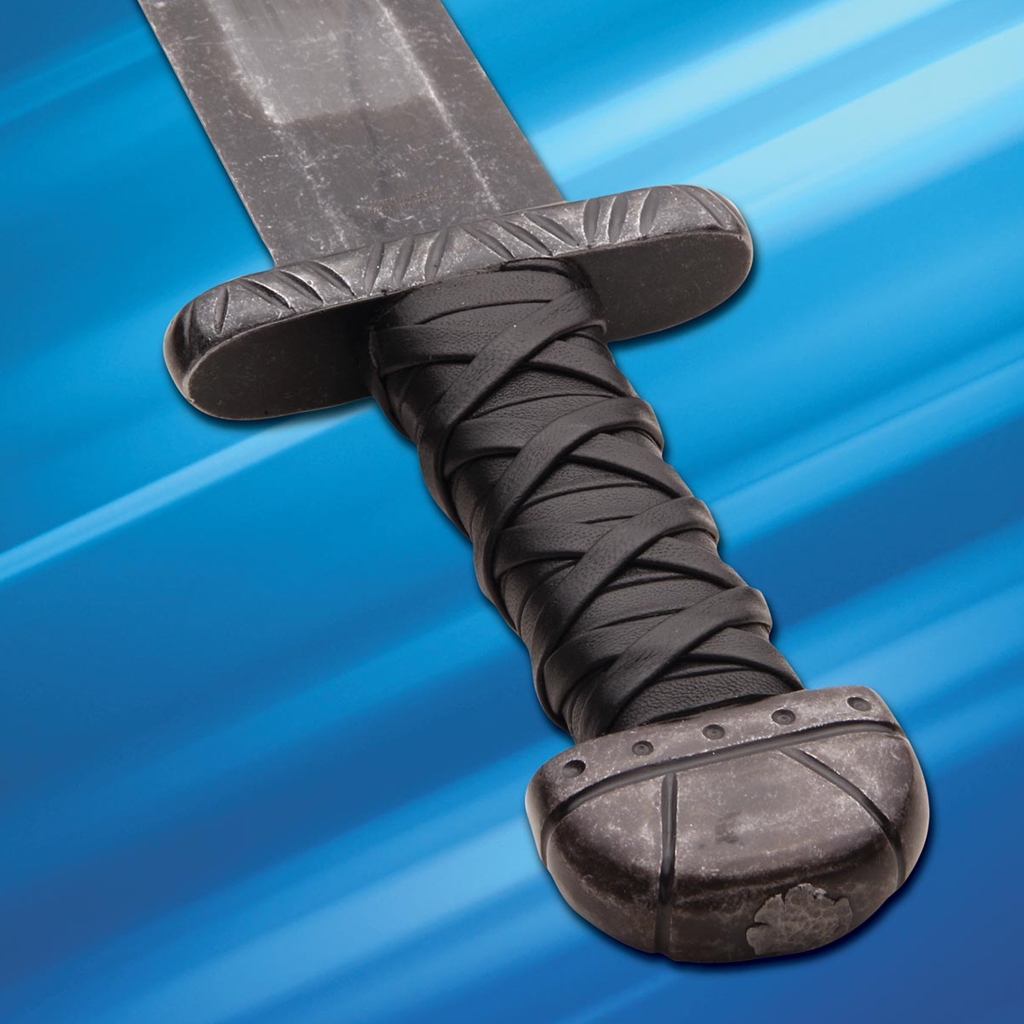 Additionally, unlike all other Windlass Steelcrafts Swords, the Battlecry by Windlass series swords come sharpened by default to what would be considered to be "historically appropriate to type".

First Swords in the Lineup

There are 5 swords in the initial Battlecry by Windlass lineup.


There is also a Viking Seax, a battle axe and a buckler - but we will concentrate only on the swords in the order they appear and were released.

Acre Crusader Broadsword

Blade Length: 32-3/4"
Weight: 3 lbs / 6 oz
Grip Length: 6-1/2"
Point of Balance: 6" Below Hilt
Basically a typical single handed Knightly Arming Sword with cruciform hilt, and peened disc pommel.
Priced at $325 - introductory price $245
AGINCOURT WAR SWORD

Blade Length: 30-5/8"
Weight: 2 lbs / 8 oz
Point of Balance: 3-1/2" Below Hilt
A versatile, hand and a half sword with distal tapering.
Priced at $350 - introductory price $245
Bosworth Longsword

Overall Length: 47-3/8"
Blade Length: 36"
Weight: 2 lbs / 14 oz
Point of Balance: 3.875" Below Hilt
Johns favorite type of sword, a classic two handed Longsword.
Priced at $350 - special introductory price $256
Hattin Falchion

Overall Length: 30-1/2"
Blade Length: 24"
Weight: 2 lbs / 14 oz
Point of Balance: 4-3/4" Below Hilt
A fast yet powerful cutting blade and perhaps one of the best replica Falchions on the market.
Priced at $325 - special introductory pricing $235
Maldon Viking Sword

Overall Length: 36-1/2"
Blade Length: 30-5/8"
Weight: 2 lbs / 6 oz
Point of Balance: 6-1/2" Below Hilt
This is my personal favorite of their line up, and the accompanying Saex makes for an excellent sword set.
Priced at $350 - Special Introductory Pricing $245
Final Thoughts

To me, this line holds some considerable appeal, and while I realize that not all collectors relish the blued stonewashed battle hardened looking blades, there are many - including myself - who think it is perfectly suitable for a "beater" style sword, especially as they tick so many other boxes..
John Clements is a man who knows a thing or two about Swords and would not lend his name lightly to a line unless he was genuinely pleased with the products themselves. And these are swords designed to be tough, fun, entry level blades you can use and abuse and not worry about.
The MSRP is, in my opinion, a little high. But the sub $300 introductory pricing, pretty much spot on. Naturally Windlass will continue to produce their more traditionally finished "shiny" swords - but it seems to me that Battlecry by Windlass appeals directly to those who want a true, battle hardy sword ready to use straight out of the box, and I applaud the direction Windlass have taken with this new line. Can't wait to see what is next.
And read some articles on the MRL site by John HERE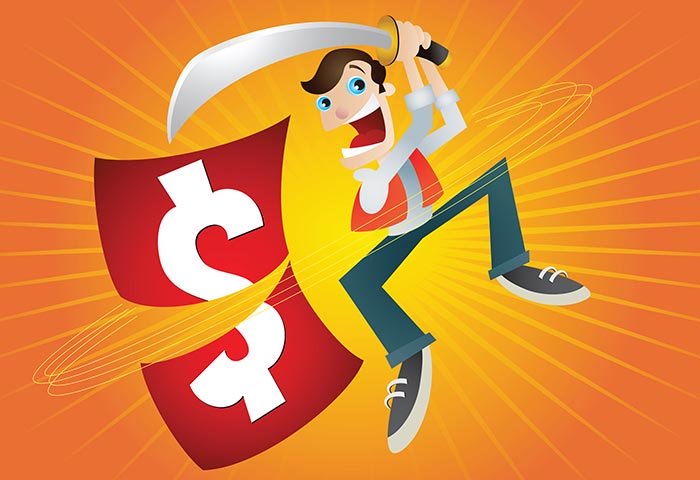 Save 10% off all orders at Museum Replicas with the Coupon Code: SBG2023
---
I hope this information on Battlecry by Windlass has been helpful. To return to Affordable Replicas of Medieval Swords from Battlecry by Windlass - an Overview, click here


Buying Swords Online Can Be

DANGEROUS!



Find the Best Swords in the:
Popular & Recommended ARTICLES

---
---