The Sovereign Sword Review

The Sovereign Sword by Darksword Armory shows just how far this company has come since I first reviewed their swords in 2005 or so..
The medieval sword market demanded lighter blades, faster blades and historically accurate designs.
Darksword listened, and no sword better exemplifies these changes than the Sovereign Sword.

---
DSA Sovereign Sword Review

Review by SBG Editor in Chief, Paul Southren
---
Steel:

Weight:

Point of Balance:

Price Range:


5160 Spring Steel


2lbs


4.5"

US$655

Upon opening the box, the first thing I noticed was that the Sovereign Sword was essentially mummified in plastic wrap.

It took on average about 20 mins to unveil as the cling wrap is so tight you cannot risk using a knife scratching it up. It is an interesting, if somewhat frustrating process, giving you tantalizing glimpses of the sword as each part peeks out bit by bit.
But when finally free, and in the hand, this is a sword that cannot fail to impress..


Pics actually do not do this sword justice.

The Hilt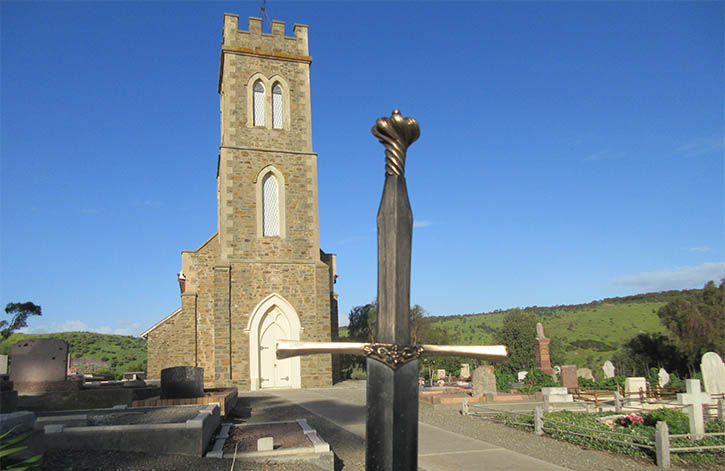 There is little doubt that the hilt of the Sovereign sword is both ornate and extremely attractive to the eye.
Made with dark stained, slightly diamond shaped oak handle and beautiful cast bronze fittings, the fittings of this sword are breathtakingly beautiful.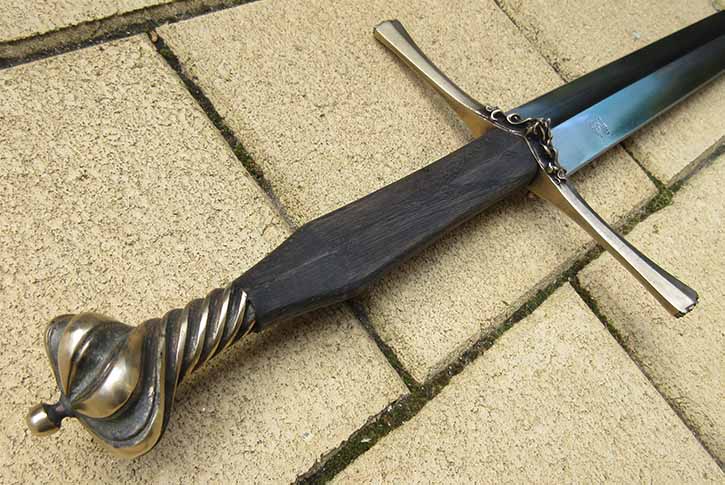 The brass and dark, almost black oak combination is particularly fetching. The pommel itself, which flows smoothly onto the handle, is extremely ornate and is a direct casting of an actual antique pommel that the owner of Darksword has in his personal collection - so there is no question as to its authenticity.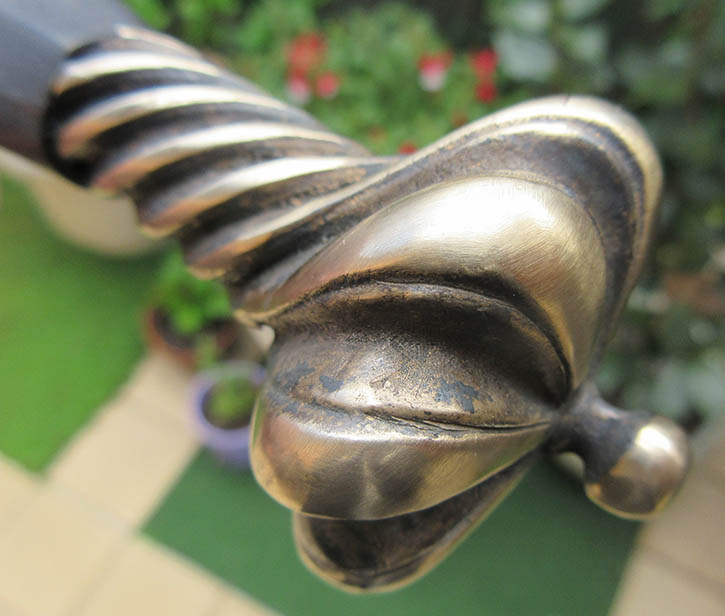 The cross-guard has a matching French style motif with similar patterning and the detail is exquisite.

The only thing I could fault with the cross-guard was that the alignment of the central ridge of the blade and the point of the guard was slightly misaligned as you can see from the picture above.
However, this is not unusual on actual antique swords either - many swords in museums or private collections have this same cosmetic flaw, so if anything, it makes it even more genuine and adds a little character..
The fit between the guard and the blade is otherwise excellent, there is no wiggle, 'tink-tink' sounds or movement and the entire construction feels extremely solid.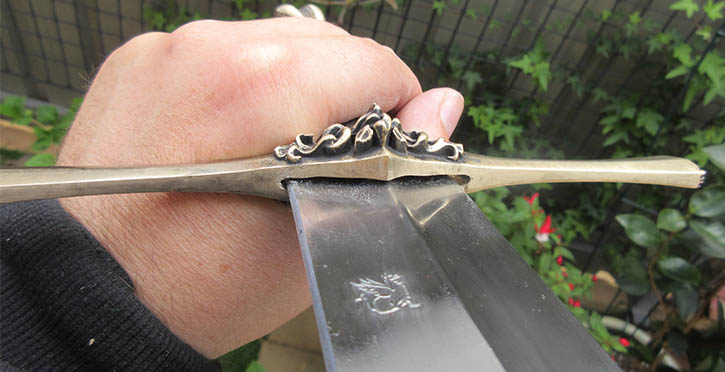 Overall, an excellent start. And it just keeps getting better..

The Blade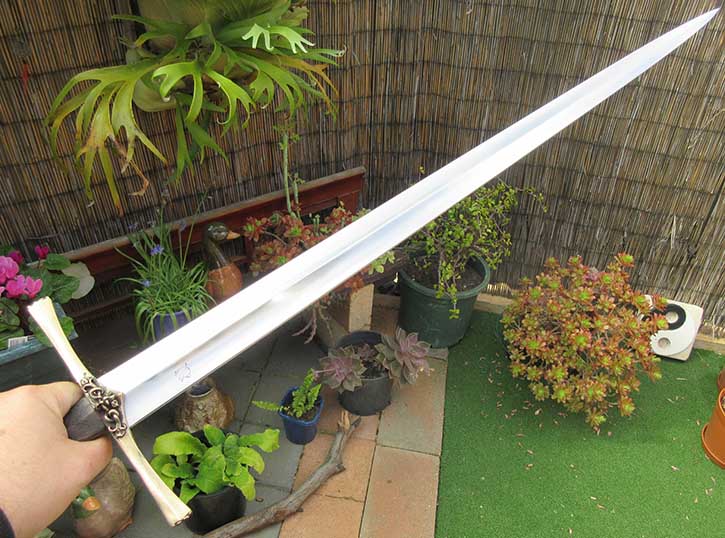 The Sovereign Sword has a blade hand forged in Canada from 5160 Spring Steel.
One notable feature is the hollow ground blade - that is to say - a cross section something like a flared diamond.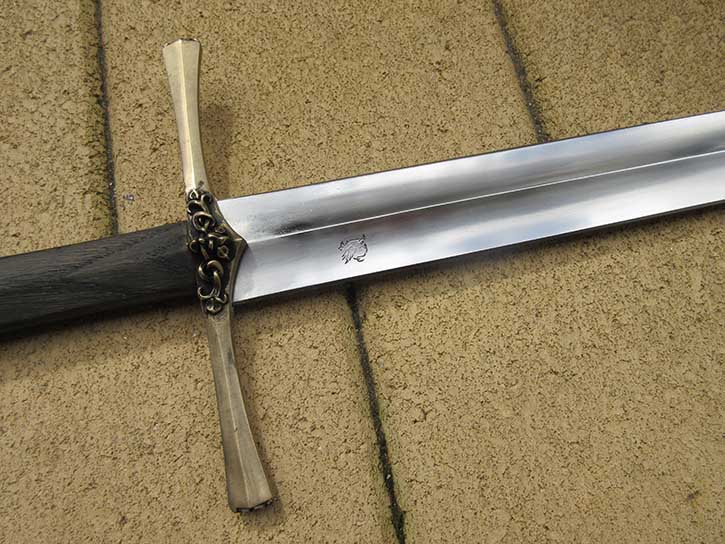 This kind of design is kind of like a reverse fuller - making the blade lighter and giving it better balance than it would otherwise be.
This central ridge line extends all the way to the tip, which is extremely acute and designed to optimize the thrust against gaps in armor commonly used in the 15th century.

As you can see from the picture above, the ridge line is perfectly formed and flows into the tip, reinforcing it for even more durability.
You can also see it has a very slight secondary bevel - and even though this is the 'unsharpened' version, it is only a hairs breadth away from being sharp - and would be extremely easy to sharpen to a razors edge if so desired.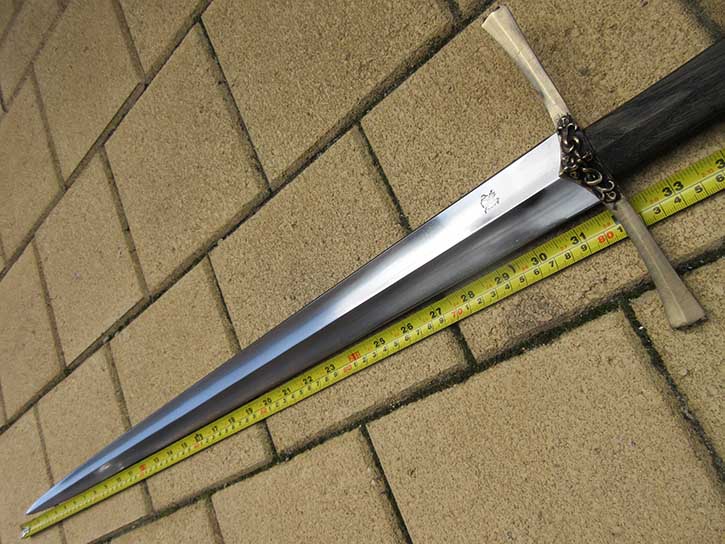 The sword measures exactly 32" long from tip to the cross-guard, and while ostensibly an arming sword, there is enough room on the handle to hand and a half it for extra speed and power.

Balanced at around 4.5" from the cross-guard and weighing only 2lbs, the way this sword handled has to be experienced to be believed.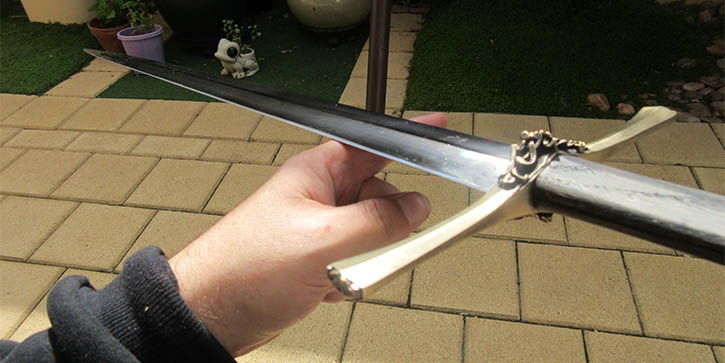 It was literally hard to put this sword down - I just kept coming back to it time and time again.
Testing

The first test is an important one for a medieval sword - and that is the ubiquitous flex test.

Unlike Japanese Katana, which do not tend to flex or move much during cutting, double edged medieval swords tend to flex mid strike, sometimes dramatically so. So it is critical that they are through tempered and able to flex without taking a set.
I have been a bit confused about how Darksword describe their swords as 'heat treated to a Rockwell of 53 at the core and 60 at the cutting edge', as this would suggest that the different steel hardnesses would work against each other like they do with a Japanese sword and if flexed, it would stay bent..
Only one way to find out - and as you can see from the test below, it passed the test with flying colors.

Note how you can see the hammermarks, showing clearly it was indeed hand forged the old fashioned way. Some people prefer the smooth perfection of CNC lathing, but I much prefer the old way - hammer and anvil - and if you want to call this imperfections, you might as well scoff at a genuine medieval antique..
So far so good - the sword looks awesome, seems well put together, handles like a dream and flexes with the best of them.
Being unsharpened, cutting tests were out of the question - but thrusting tests on water bottles, some attempted cuts (as the blade seemed just a cats whisker away from sharp by default) and durability testing was in order.

And here is where it got interesting..

As you can see from the video, it not only thrust easily into a water bottle, it also cut them (granted, not laser clean - but it did cut them) - made short work of watermelons and took on a permapine post/pell (which is considered to be extremely abusive testing and NOT recommended due to the shock transferred into the handle).
Even after such abusive testing, this lightweight sword came away unscathed and the fittings were rock solid, where another sword I tested on the same day developed a case of hilt rattle..

Conclusion
The Sovereign sword is very hard to fault..
About the only thing bad I can say about it is that the hilt is ever so slightly off center. But the positives far outweigh this (historically accurate) imperfection.
Like I said, I found it very hard to put down - and having owned and handled literally hundreds of swords over the years, this is not something I say lightly.
With the Sovereign Darksword redefine what they are capable of.
Is it worth the $650 price tag? For the handling and durability alone, the answer would have to be yes. Added to this it looks stunning and Darksword are on a winner with the Sovereign Sword.

PROS
Beautiful and ornate, high quality fittings.

Expertly tempered 5160 Spring Steel blade.
Hollow ground with central ridge.
Great fit and finish. Solid construction.

Amazing handling. Very hard to put down.

Precise and easy to use, even for an absolute beginner.

Incredibly durable for such a fast blade.

CONS
Minor misalignment between cross-guard and blade (cosmetic, but historically accurate, imperfection)

WHERE TO BUY

There are a couple of places we recommend you can get Darksword Armory Swords - which one you decide upon depends upon your location and intended use.
If you are in North America (USA and Canada) we stock a selected range of Darksword Armory Blades with free sharpening service upgrade and free shipping as standard here at the SBG Sword Store.
If you are based outside of North America or want the unsharpened version or basic scabbard option, check out the range of Darksword blades here at our friends at Kult of Athena
---
I hope this review of the Herald Series Marquis Sword has been helpful. To return to Affordable Replicas of Medieval Swords from Herald Series vs Darksword Armory, click here


Buying Swords Online Can Be

DANGEROUS!



Find the Best Swords in the:
Popular & Recommended ARTICLES

---
---