Hanwei Sword of Saint Maurice
The Sword of Saint Maurice, a Christian martyr believed to have been executed in ancient Rome, is similar - for this Oakeshott Type XI sword was originally made in either the late 11th or early 12th century and has been in Real Armenia Museum of Turin since the mid 19th century.
Whatever it's origins, it is an excellent example of a Knightly Cavalry Sword that may have seen action in the hands of a Knight Templar or Hospitaller - and this replica by Hanwei is one of their most detailed to date.
So how does it stack up? Read on and find out, as the story of this replica sword has more twists and turns than the legend it is based upon..
---
Hanwei Sword of Saint Maurice Review
Review by Bryan Heff, senior SBG forum moderator
---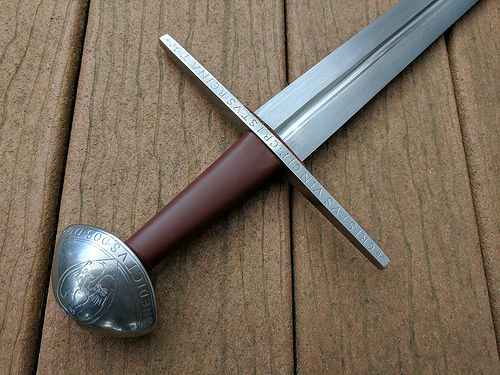 This is a long type XI sword from Hanwei based on the Coronation sword of the Holy Roman Empire. Its one of those "famous" swords that will show up in many a book, it has a long and storied history I am sure. Its also a very good example of the XI type. 
Read more about it and the other Saint Maurice sword...here (real nice article) www.foxtail.nu/bjorn/h_stm_e.htm

The sword is very new to the market at the time this review is being written. 
The Blade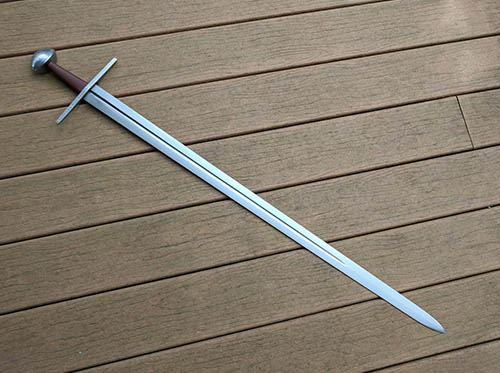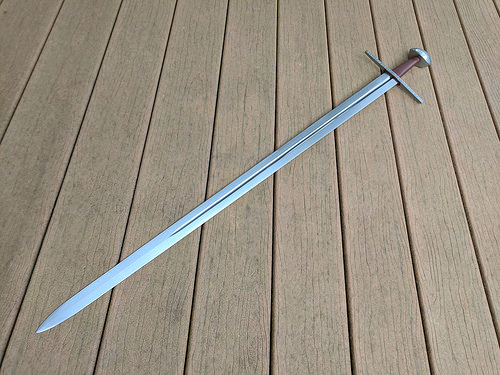 Sweet, sweet lines
Very long Type XI blade, narrow fuller.  Blade is straight and fairly stiff.  I was concerned it might be a bit flexy being so long and thin but its actually quite stiff.  The finish on the blade is uniform but not in any way mirror or even satin, a bit rougher as my experience with other Hanwei's has been. 
I have no problem with the finish, just don't expect a mirror or Albion satin like finish because that is not what this one has. The blade is very uniform in its edge lines, basically a straight line from end to end, very even, no subtle convex curve that some swords have. I like that subtle convex curve but this one is straight. Its sharp but not super razor sharp or anything. Its fine for me as is. I imagine backyard cutters would want to work the edges finer.
Specifications
The stats for this model are very close to the swords actual stats.
Overall Length: 43"

Blade Length: 37 1/4"

Handle Length: 3 3/4"

Weight: 2lb 13oz

Point of Balance: 7"

Point of Harmonics: 25"
The Grip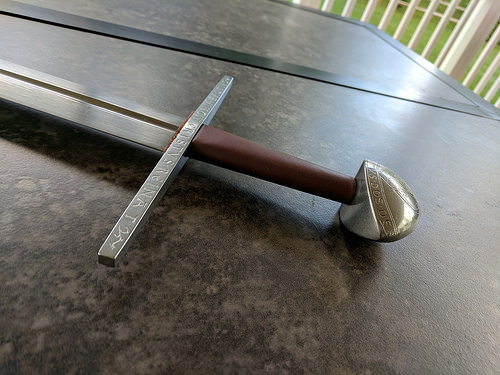 Thin. Brown. Plain. I could leave it right there and it would still be a GREAT summary of the grip. But allow me to add a bit more.
It has a uniform taper, thickest near the guard and thinnest at the pommel. The color is a milk chocolate brown and is very uniform in color. The grip is wicked thin...too thin for me. I have 8-9 Albions and they tend to have thin grips, this one is thinner and with no risers, it feel very thin in hand. This is definitely a gloves needed type sword for me. I will probably re-do the grip at some point.
The Pommel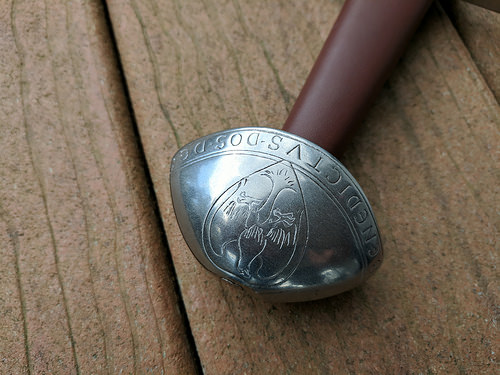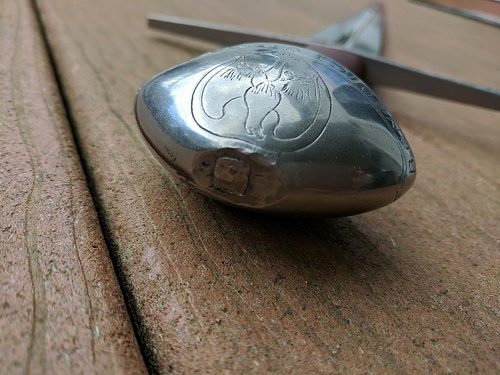 Peened. Somebody got a little loose with the hammer....not a big deal for me
Bulbous. That's right, bulbous. Its a brazil nut shape closer to the "tea cosy" type than to the more elliptical shape. While bulbous (who doesn't like that word BTW?) its not overly large in any way and fits right in with the overall lines of the sword. It has a fairly simple engraving of an eagle on one side and a heraldic symbol on the other (something to do with the Holy Roman Empire I am sure) and some Latin. I am not in the mood to dig it up for this review, feel free to google to your hearts content though.
Cross Guard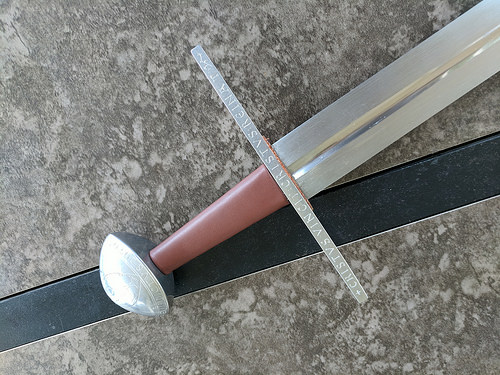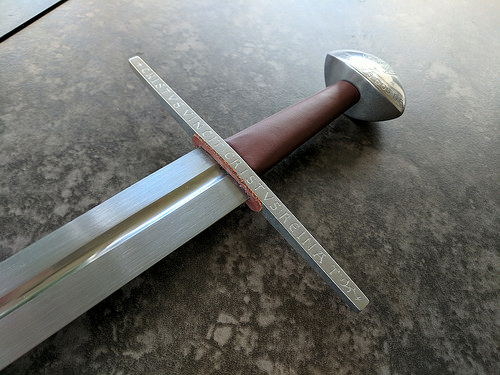 Straight. Tapers to the ends. Basically a "spike-hilt" cross. Overall like the pommel, very nicely done, clean and well executed. It also has Latin inscriptions. Not sure if the original has this or not, but Hanwei elected to put a little bit of leather on the cross where it will meet the scabbard throat. Basically a little cushion or bumper to dampen the impact of steel guard hitting steel throat. I could honestly do without it, but is fine. Not a big deal (editors note - it becomes one alright, see the annotation after this review to find out why..)
Performance
For its size, it handles nicely. Its not quick but its not slow and lumbering either (see Albion Sword of Saint Maurice for examples of "slow and lumbering"). Its in my mind (and XI are in their design) a cavalry weapon swung from horseback, busting heads and taking names. 

Conclusion
This is a nice pierce for the price, very nice. Easily worth every penny.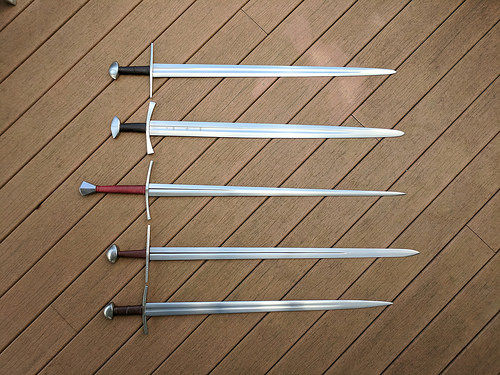 And the winner by a nose....Hanwei SoSM (Sword of Saint Maurice).. Other swords pictured Albion SoSM, Albion Sempach, a custom Macierj type XI and Albion's Gaddhjalt

---
Annotation: Trouble in Paradise
Looked like good sword, no - an exceptionally good sword - especially for the price. After all, in that last picture it is in company of Albion and Custom Swords 4 or 5 times the price.
But then another member, who had a loose leather bit pulled it off and found..
Well, he found THIS: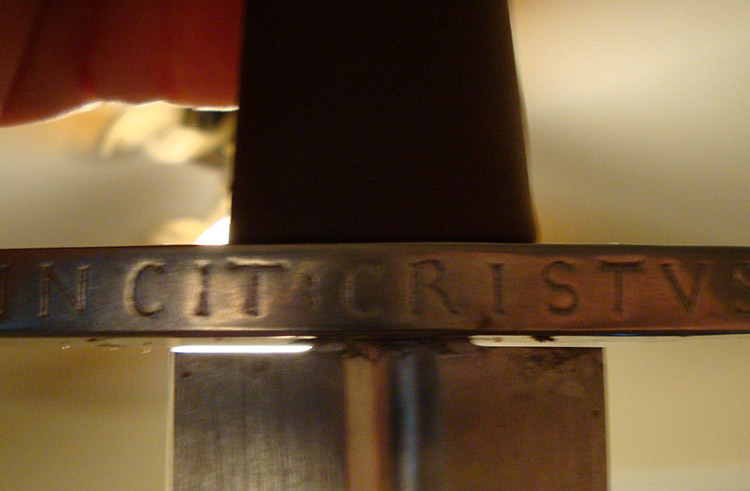 THAT - IS - NOT - GOOD
Bryan checked his sword, and was disgusted to see such a shortcut had been taken and his sword that he had just so glowingly reviewed had exactly the same problem.
Looks like the old adage you get what you pay for and that the swords that are 4 or 5 times the price are priced so for a good reason, right? Not so fast!

A Happy Ending
Luckily, the communication channel between forum members and the sales and marketing manager for Hanwei, Blake Pogue, is an open one. Contact was made with blake who had the following to say about it (including the picture).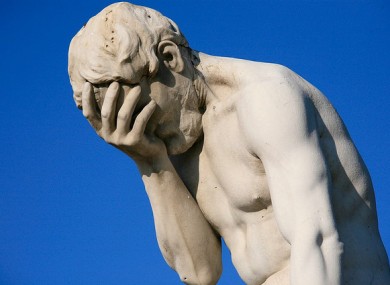 Yeah I don't have much good to say about that.

Two points:

Hanwei shouldn't have done it
We should have caught it

Below are photos of the last prototype sample that was approved for production...
of course without the leather. When these were received and photographed I didn't question the leather bit and I should have. I noticed it to be sure, but I didn't question it. That's on me.

We'll get the next batch right or we won't be selling any more.

If you've bought one of the new swords and have any issues with this please return it. If you have any trouble making that return email me: bpogue@casiberia.com. I'll do what I can to make it right.

Blake
Well, the next batch is in - and the good news is, after a long and twisted way to get there, this sword is back as an exceptional buy.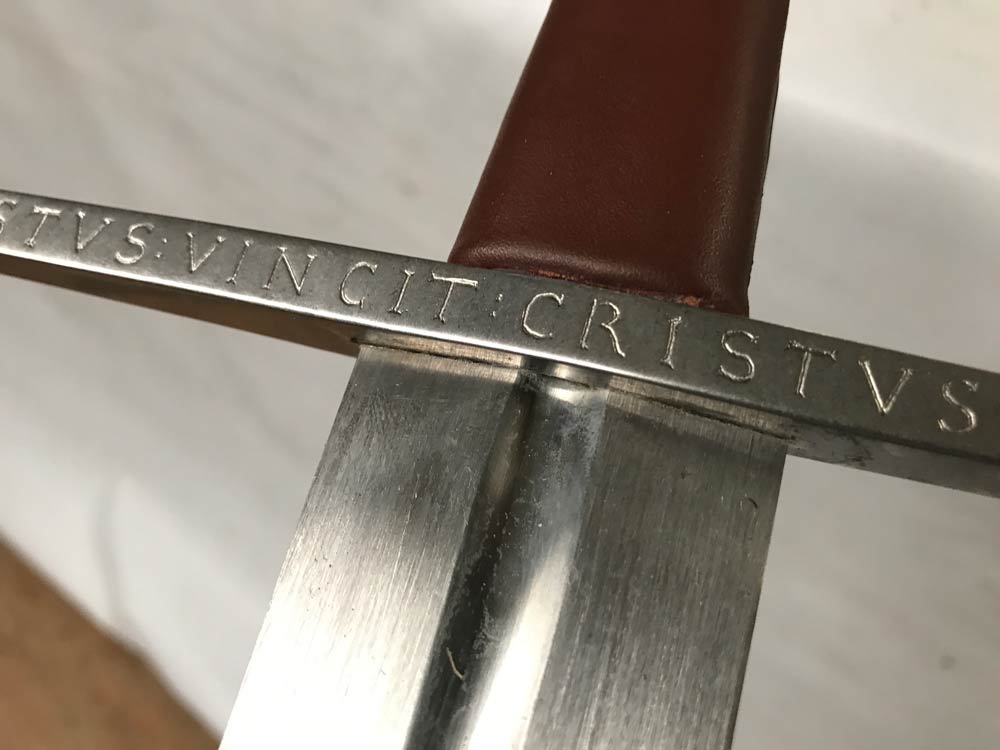 WHERE TO BUY

With two versions now floating around the place it is important to make sure you don't end up with the old version.
However, not only do we stock this sword here at the SBG Sword Store at the best price on the internet at just $362.99 - we also ship direct from the manufacturer, ensuring the very freshest stock (though without the manufacturers price tag, which is $449.99) - so you can get the best version of this sword AND get it at the best price for total peace of mind!

---
I hope this review and information on the Sword of Saint Maurice has been helpful. To return to Affordable Replicas of Medieval Swords from Hanwei Sword of Saint Maurice, click here


Buying Swords Online Can Be

DANGEROUS!



Find the Best Swords in the:
Popular & Recommended ARTICLES

---
---