Albion Swords

Albion Swords Ltd. originally began in 1999 as a retailer of other products, before beginning to produce their own line two years later. While this puts them as a relative newcomer in the sword manufacturer market, they have quickly established themselves as the high-end standard for exacting historical recreations of popular medieval and other sword designs.

Manufactured in: USA by CNC Lathe
Steels Used: Unspecified Carbon Steel
Price Range: $389 – $3,200
Official Website: http://www.albion-swords.com/

Started and owned by husband and wife team Howard and Amy Waddell, Albion works closely with some of the best smiths in the business and sword historians like Peter Johnsson to produce products that are widely regarded as the best modern replica European swords in the world.
Their website states that, "All Albion Mark swords are guaranteed for life against defects in materials and workmanship". This obviously does not cover all calamities that can befall a sword, and for that they offer a maintenance plan for $100 a year, detailed here
However, this maintenance plan does not cover damage that can occur with use. Repairing severe pitting, blade damage such as nicks, chips and broken tips, and reworking the grip, are all extra and done on a case-by-case basis.
Albion swords can sell for prices as low as $389, to upwards of $3219. These prices do not include the cost of a scabbard, which can sometimes be up to $2000 on their own.
MAIN PRODUCT LINES
---
MUSEUM LINE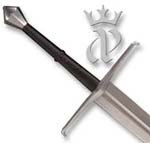 This is the high end of Albion's production. It features historic recreations of swords from European history designed by Peter Johnsson from his research spanning museums around the world. These swords are made exactly like specific swords in museums down to every last detail except they use modern methods of construction. They can run from $1332 to $3219.
---
NEXT GENERATION SWORDS
These swords are original designs by Peter Johnsson, based on historical period types and their characteristics. Oakeshott typology is used to categorize these swords, which are the most common of Albion's line and also the most popular.This large line covers everything from the Roman Gladius to later Medieval designs. They retail for anywhere between $666 to $1421.
---
SQUIRE LINE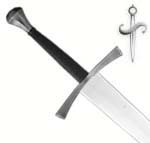 This is the entry level category for Albion swords. They are based on very simple designs and feature few frills.Intended for the beginning sword collector or reenactor, they come unsharpened but can have sharpening applied for an additional cost of $25. Squire line swords sell for $389-$444.
---
MAESTRO LINE

The Maestro Line was designed by Peter Johnsson for a very specific purpose; "provide sparring swords that are traditionally constructed, sturdy and safe, with a durable finish and a rugged, attractive look… " They are meant for WMA training, stage combat, and have models available from $411 – $566. They are not designed to take an edge.
---
How They Are Made

The blades of Albion swords are CNC lathed to ensure a very consistent product. After heat treatment and belt grinding, the individual pieces are then carefully assembled by hand, with the wooden grip glued to the tang and the handle peened on the pommel to create a very sturdy piece.
The short video below details the basic process.
The main issue that people seem to have with Albion is the price and the wait time involved. Despite less than 10 years of experience, they have the most expensive production European swords by a long shot. Not only that, but charging between $1000 and $2000 for a scabbard makes owning one prohibitive for many.
While they may be the most historically accurate, the difference in price between their pieces and a "somewhat historically accurate" piece such as a Windlass may lead beginning or intermediate collectors to believe that they cannot afford a true historical sword. The Squire line will hopefully fill that middle ground for many, but the consistently high prices mean that Albions are out of reach for sword enthusiasts with shallower pockets.
Sharpness can be a contentious area for medieval swords generally - and it appears that sharpening is not particularly consistent - with some swords coming very sharp and others rather dull. Most Albion Swords however are correctly 'sword sharp' - not sharp enough to cut paper (get some scissors!) but sharp enough to cut and yet survive edge contact with hard targets such as shields, armor, etc.

The only other reported 'issue' with these blades is that they do not have the overall edge durability often seen in the sub US$300 product line. For example, in this thread on my armoury there are a few stories of Albion swords taking damage that quite a few cheaper lines would shrug off. However, as they make an effort to replicate the approximate hardness of a well made version of the sword their recreations are based upon in all areas, this is not truly an issue but definitely deserves a mention.
Finally, there may be extensive wait times between ordering a model and receiving one - they are often made to order so while most would agree they are worth the wait, a wait is definitely on the cards - typically 9-12 months (despite stating on their site, the typical wait time is 3-6 months).
If this is an issue, such as the sword is needed for an event or by a certain date, etc - it is recommended to contact them to determine the approximate lead time or look for an 'in stock' item from one of their retailers such as Kult of Athena recommended below.

WHERE TO BUY ALBION SWORDS

Albion swords are primarily only available direct from the manufacturer's official website – though they have a branch in Europe HERE and in the US they are also stocked HERE at Kult of Athena (who sell around $20-$30 less, and keep a good selection IN STOCK and good to go, without having to put up with the usual waiting period - which is currently around 1 year!).
It should also be mentioned that Albion offers a generous 10% discount to all Active, Honorably Discharged and Retired US servicemen and women.
Finally, there are occasionally excellent deals on Albion swords on the secondary sword market, including eBay and the various sword forums – though this should always be tempered with a large dose of Caveat Emptor (buyer beware).
OFFICIAL SBG REVIEWS
Albion Ritter
Almost perfect, maybe too perfect, and a fairly typical example of a high end Albion Sword. $880


Albion Bayuex
Most Albion reviews are done by raving 'fan boys;. Instead, this is an impartial review by your average sword collector. $880


---
I hope this information on Albion Swords has been helpful. To return to the Sword Manufacturers Dossier from Albion Swords, click here


Buying Swords Online Can Be

DANGEROUS!



Find the Best Swords in the:
Popular & Recommended ARTICLES

---
---