Christmas Sword Buying Guide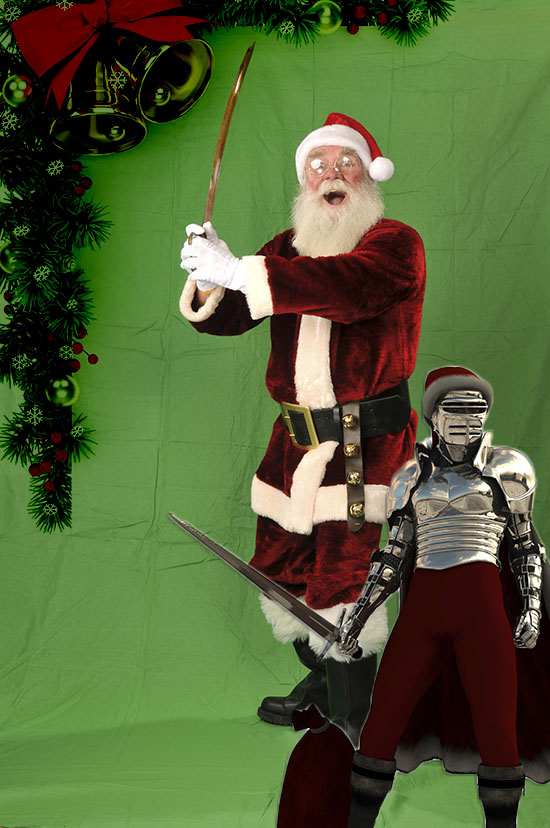 Our Christmas Sword Buying Guide is designed both for experienced collectors looking for the best bargain buys this Christmas season, but also for people looking to buy a gift for someone they know loves swords, but has absolutely no idea what to get them or where to begin looking..
So with this in mind, let us begin with how to ensure if you buy a sword for someone else this Christmas, they actually appreciate it..

Buying Swords for someone else 101

Probably the easiest way to buy a sword for Christmas that your friend or loved one will actually really appreciate is to see if they have created a wishlist..
The SBG Sword Store Wishlist
If your friend has visited the SBG sword store (and chances are if they are a serious sword collector they probably have) you can search for their wishlist here

Of course the difficulty can be actually FINDING their wish list - they could have put it on amazon, eBay, or an online store you have no idea about so the best option is check social media such as their facebook or twitter accounts as many stores (ours included) allow wishlists created at the store to be posted to their social media account(s).
Now if you have done a bit of a search and come up with nothing (or you know your friend or loved one does not use social media) and they have not told you specifically what sword they would like, it gets a little bit harder..
The absolute worst things you can do is to either:
A) Buy them a sword they already have (easy to do if they have a large collection already) or
B) Buy them a sword they will not like.
The easiest way to avoid buying a sword they already have is to buy the latest product (if you know they have not purchased any swords recently, you are guaranteed to buy one they don't have) or to buy a sword outside of what they usually collect.
For the collector who has everything accessories are a good option
For example, if they collect Katana, buying them a Chinese Dao would be a novel and appreciated gift.
Or you might want to consider buying them some accessories, such a cleaning kit, sword stand, etc - or a complimentary collectible item such as some affordable armor - i.e. a helmet or a buckler (small shield) - something that is relatively inexpensive but useful and will definitely be appreciated.
However, if you are buying them their first real sword or know they only have a small collection, the trap to avoid is buying a cheap "Sword Like Object" that will fall apart or result in a strained fake smile at best or a diatribe against cheap swords at worst.. (personally I think it is the thought that counts, but not everyone is so gracious.. And after all, it is better to delight them than disappoint!).
The entire site is dedicated to reviewing and finding the best real swords and avoiding Sword Like Objects, so feel free to browse around to find something suitable. The best place to start is our introductory article Do Not Buy Swords Online Until You Read This and then browse the categories of interest such as Japanese Swords, Ancient Swords, Medieval Swords, Fantasy Swords, etc.

Where to Buy the Perfect Sword?

Basically, to keep it simple, I recommend buying from one of three online sword stores, depending on when in the month you buy and who you are buying for/what you intend to buy.
The first place to check out would have to be the old standby, Kult-of-Athena - not only do they have a massive selection of swords, but they make it easy by separating the wallhangers from the functional swords - just look for the "battle ready" logo and you pretty much can't go wrong (true, it is debatable that some of their sub $100 swords are battle ready, unless by battle you mean taking on some LARPers with a steel sword! But at least it is clearer than most other sites with such a large and varied range).
Apart from the fact that they have such great pricing (few, if any, competitors come close) but they clearly label what is in stock and what is not, ship super fast, and inspect each sword before it goes out to minimize the odds of a Christmas day unboxing disappointment.
And for those of you who aren't sure what to get that special someone, check out their NEW PRODUCTS section as chances are the items there haven't been seen anywhere else yet and are very unlikely to already be in someone's collection already. Kult-of-Athena While Kult of Athena have something for everybody, at every possible price point, the second old standby would have to be Trueswords.com - especially for lovers of Japanese styled Katana.
They have been restocking like crazy the last few months and introduced literally hundreds of various grade carbon steel swords that you can find Here in their Hand made Swords Section Again, whether or not an item is in stock is clearly marked and kept up to date, shipping is LIGHTNING fast and they also have many special offers coming and going as we get closer to the big day. Furthermore, the vast majority of the swords they have restocked are new products that have not been seen before and come in a wide variety of styles and colors - so there is most definitely something for every Katana enthusiast.
Finally, well, I guess I should mention the SBG sword store - we don't have as many swords in stock as KoA and Trueswords but we only stock proven quality real swords so you don't have to worry about sorting out the jewels from the junk as we have already done it for you (in our own words "if we would not buy it for ourselves, you will not find it here").

The BIGGEST Mistake

If it is a Gift for yourself, then it's no big deal - but if you are buying swords for someone else, the biggest mistake is to leave it until the last minute and count on overnight shipping to save you..
Why?
Well, for a start - especially at busy times of the year like Christmas, the number of parcels flying around all over the place dramatically increase the chances of the sword being lost in transit, damaged or arriving late..
This is especially true with international shipments, delays at customs, who are overwhelmed - could easily cause a sword to arrive in New Years rather than Christmas, and the chances of damaged items skyrockets..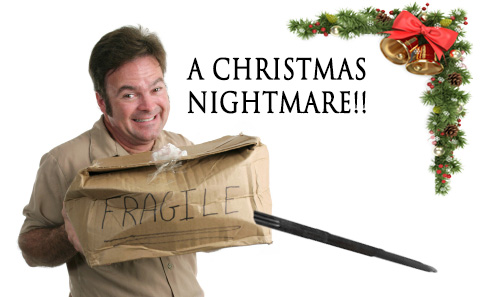 Secondly, many items start to sell out as the holiday season approaches, and if you leave it too late you could easily end up missing out..
The best time to order is NOW - get it in early, take advantage of any sales you can - but for US orders you would not want to leave it any later than the 15th of December.. After this date, pretty much all bets are off..

However another reason to get in early is, what happens if the sword is D.O.A. or has a quality issue that you weren't expecting? With no time to arrange a return, you could well end up getting a lemon - which is all the more reason to only buy from vendors and brands known for consistently good QC. You can find a list of such vendors right here in our Sword Buyers Directory

Last Minute Gift Ideas..

What can you do if, at the last minute, you realize that you have forgotten that someone special who happens to be a sword lover? We don't recommend placing an expensive last minute rush ship order - chances are it will get mixed up, delayed or destroyed. Instead, how about considering some Gift Certificates so that the recipient can buy a sword of THEIR choice at THEIR pace!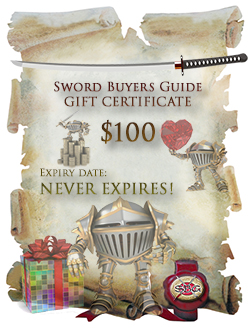 Indeed, Gift Certificates are a great and inexpensive way to ensure a perfect outcome and send the perfect gift to be shipped at a safer, more leisurely pace.
Most sword stores offer them, all of our recommended vendors do - and can even be purchased right on the day itself so you don't need to plan ahead..
Whichever way you choose, happy sword shopping - I hope this brief guide has been of some help to make Christmas sword buying easy and fun instead of frustrating and annoying!
---
I hope our Christmas Sword Buying Guide has been helpful. To return to the Sword Buyers Guide Homepage from Christmas Sword Buying Guide, click here


Looking for honest, trustworthy sword sellers? Look no further than:


Sword Buyers Digest Newsletter!

Sign Up to Our FREE Monthly E-zine for all the latest sword news, info and much, much more! Click Here for more info..