New product from Quebec Canada
by Ray Lyell
(Dunnville On Canada)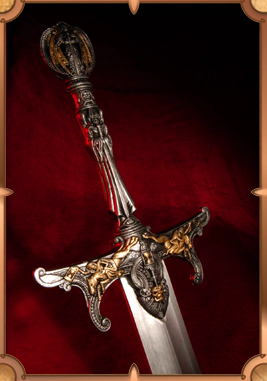 QUESTION: Paul have you ever heard of Calimacil? They are a latex foam sword company which I believe sell cream of the crop practice swords. I have heard through the grapevine that Darksword got a hold of one of their swords to examine it, then started their own line of practice swords at half the price! However I have also heard that the foam is of much less quality.


I have purchased a few of these swords from Calimacil and found them fantastic for full contact sparring. Here is the web site if you want to check them out.
www.calimacil.com
ANSWER:
Hi Ray,
Yes indeed, I have heard of them and must say that their swords are very impressive, not just from a practical view point but also from aesthetics (which is pretty obvious from the picture!).
There are indeed the cream of the crop as far as LARP swords go. I have not heard this rumour about Darksword copying them, and indeed, I don't believe that there are many similarities other than the durability levels of both are very high, but as with all things - you get what you pay for, and it is no surprise that these are much prettier and a bit tougher, but also more expensive...
That said, I am quite smitten with this sword! Thanks for reminding me, I will look more into their product range in the future.
- Paul

Sword Buyers Digest Newsletter!

Sign Up to Our FREE Monthly E-zine for all the latest sword news, info and much, much more! Click Here for more info..