1/3 of the price of a Hanwei Great Wave but just as good!
by Brandon Bentley
(Cincinnati OH)
Got my sword today! It is so cool. I didn't hesitate to try it out. cuts like a dream. To top it all off my girlfriend got me this sword and my parents also suprised me with a Hanwei great wave katana. I was suprised to see how the cutting ability of the Kaze compares to the great wave even thought it cost like a 1/3 of what the great wave did. Also i like that the Kaze is lighter than the great wave . Don't get me wrong hanwei is awesome as well but its just nice to know that you can find lower costing swords like cheness that's functional ability compares with the higher priced ones.


Extremely satisfied and looking forward to purchasing more cheness swords! ( Ie: tenchi,shura and the Oniyuri just to name a few from the wish list! :o> )
Thanks so Much
Brandon Bentley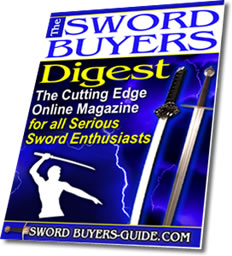 Sword Buyers Digest Newsletter!

Sword Buyers Digest Newsletter

Sign Up to Our FREE Monthly E-zine for all the latest sword news, info and much, much more! Click here for more info.