APOC Tactical Swords Interview with Blake Pogue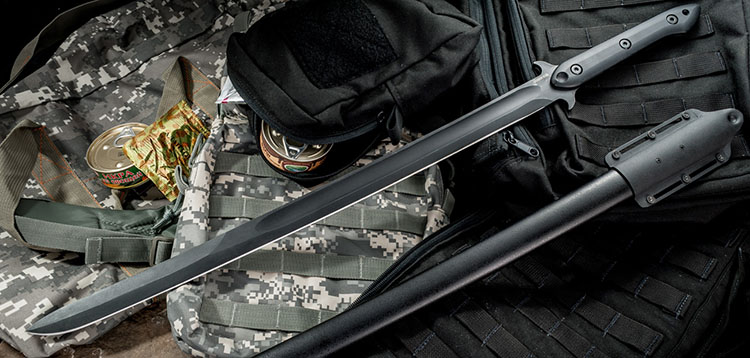 Background: The APOC Tactical Swords series was first announced at the 2017 blade show and is destined to be a very popular and affordable line for preppers, survivalists, hunters, backyard cutters, martial artists and sword collectors in general.
Made from ultra durable 9260 Spring Steel, one of the strongest sword steels currently available – the designs and original prototyping were the brainchild of the legendary Gus Trim and the final product made by Dragon King, who under the leadership of famous Chinese artisan, Frenchie Jin, ensures the highest standards of quality.
In this article we interview the product manager of Cas Iberia, Blake Pogue to get the lowdown on the APOC Tactical Swords line and find out why you need one in your 'break glass in case of zombie apocalypse' kit..
Q&A with Blake

SBG: First off, congratulations on producing such an innovative and cool looking sword line..! While this is not Cas Iberias first venture into producing a Tactical Sword, the first two blades in this series are pretty awesome.. Can you shed some light on the design concepts behind these swords?
Blake: Thanks Paul! I'd have to defer to Gus on the finer points of his design on the individual swords… But I will say that when we first started discussing the possibility of bringing back his tactical designs we talked a lot about how swords are designed as weapons first, with characteristics more in line with traditional swords than what is typically seen on the market. We settled on 4 swords to start; 3 short and one long. We've kept all of Gus's main design ideals in place (weapon first mentality, proper distal taper, full tang, etc.) and, dare I say it, improved them in some other areas. The grips on these sword feature more of a rounded profile for comfort and we've included a scabbard with each that can easily be used as part of a bug-out system. The shorter cutlass and future swords are a bit more useful for use in enclosed spaces; corridors, entry ways, low ceilings, etc. while the longer katana packs the biggest punch.
SBG: How was the APOC Tactical Swords received by the public when they were first unveiled at the 2017 blade show? What was the most common reaction or comment about them from showgoers?
Blake: The majority of people to this day have a pre-conceived notion of how a sword should handle… Gus's designs usually throw that pre-conception out the window. You see a variety of reactions to any of his sword designs; from wild amusement to mild befuddlement to looks of relief. Same is true for the APOC swords.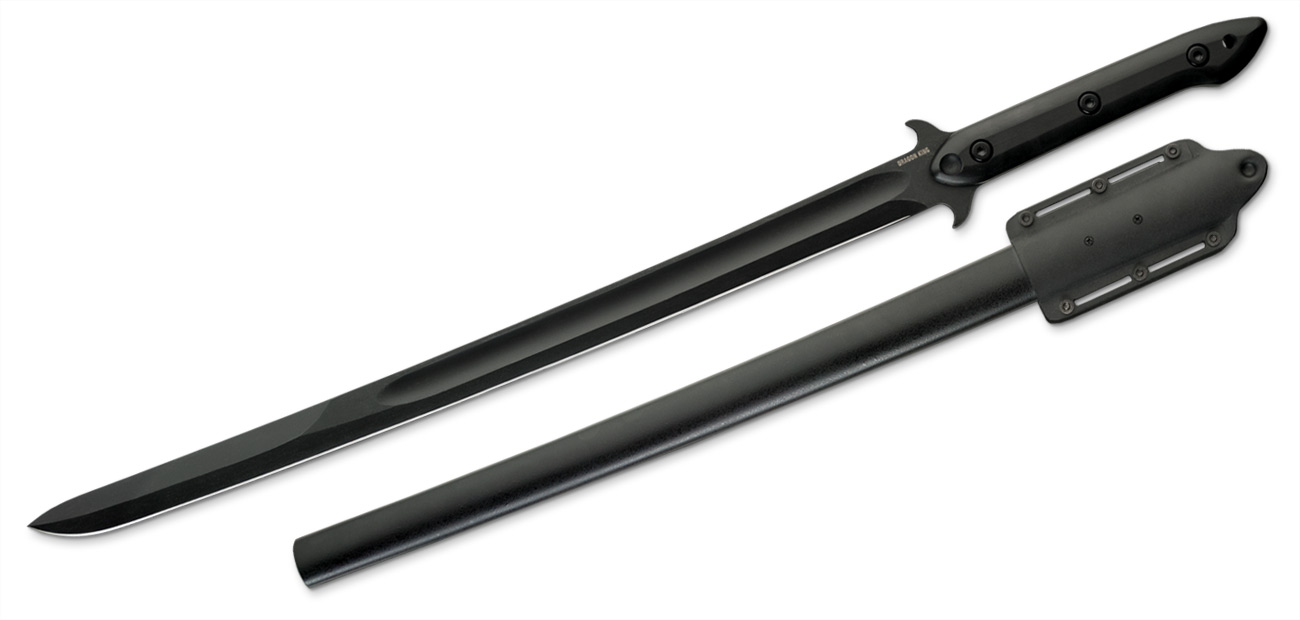 The A.P.O.C. Cutlass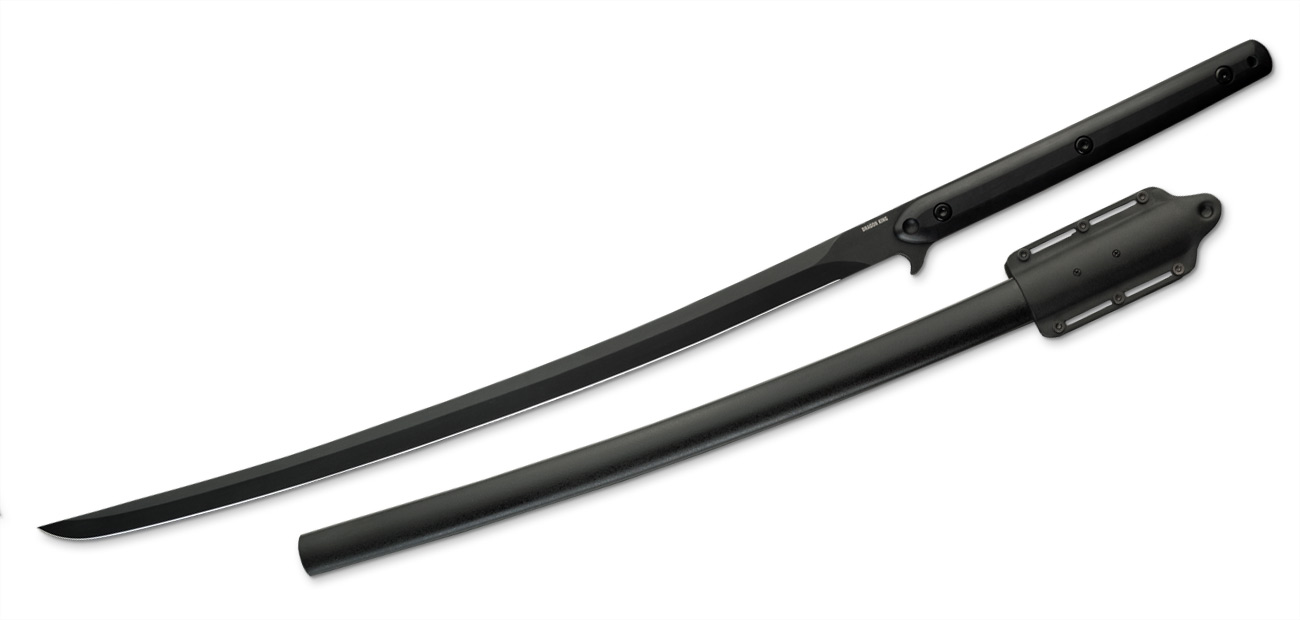 And the A.P.O.C. Katana
SBG: At first glance, the two APOC Tactical Swords look fairly similar – but have quite different price tags. What is the main difference between the Saber and the Katana, and why is the Katana around $60 more than the Saber?

Blake: Well, of course there is a little more material cost in the katana simply due to the length of blade, handle and scabbard. But the real reason for the cost difference is the labor in grinding the katana bevels. Not only does the blade change thickness towards the point (distal taper) the back is one long swedge creating a rhomboid type cross section not unlike higher end Japanese katana. This cross section lightens the blade just enough to give it that exceptional handling that Gus is known for. The difference is subtle to the eye but not in the hand. We could have made this section flat like everyone else of course and saved some money… but that's not what we were aiming for.

SBG: How would you describe the handling characteristics of the APOC Tactical Swords line? Fast and agile, powerful and authorative or somewhat neutral?

ANSWER: I would put them in the fast and agile bracket – though we deliberately kept them with a slightly thicker edge to take some heavy use they are thinner in overall profile to make them quick in the hand.

SBG: The choice of monotempered 9260 was an excellent one in my opinion. The raw tensile strength of these steel when combined with the simple, robust design seems to eliminate the weak points inherent in most swords with more complex components. What are your thoughts on this swords durability? Has there been any destructive testing?

Blake: We've done some destructive testing at the forge and here at CAS. Gus wasn't married to any one steel and after seeing what the forge did with the thin cross section of the historical medieval swords in 9260 designed by Gus it was an obvious choice.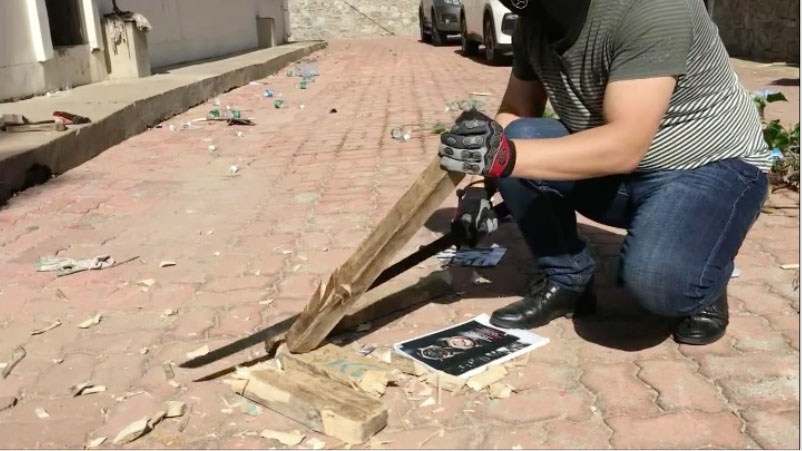 Chopping a 2x4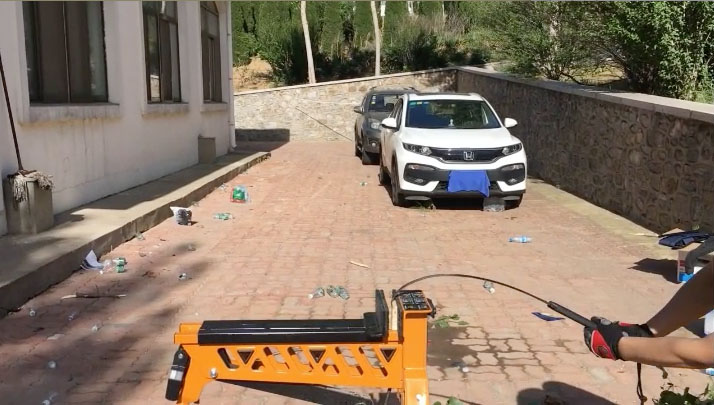 Flexing well beyond 90 degrees. Gotta love 9260 Spring Steel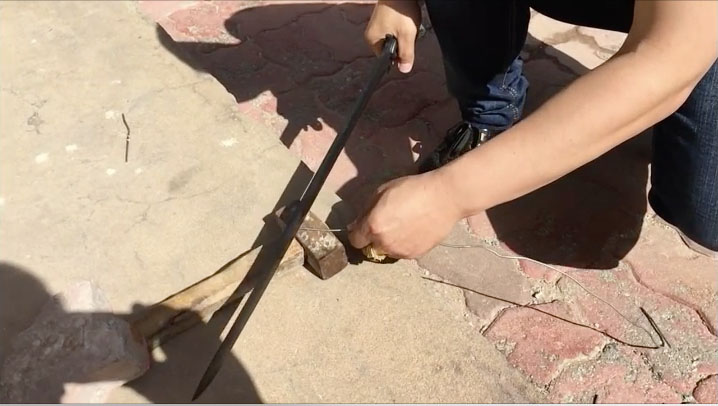 'Chopping Iron' to test the durability of the fine edge. Held up with no problems..
SBG: Can you describe some of the features of the APOC Tactical Swords – for example, the lockable scabbard mechanism and removable G10 handle (and what exactly is G10?)

Blake: So first of all the swords have a durable black oxide coating that should help with long-term oxidation and corrosion but should still be oiled. Oiling this coating should keep them rust-free under even the toughest conditions (except probably salt air/water… that stuff is hell on steel). The lockable scabbard was my one contribution to the project… we wanted kydex for its overall durability and ability to be reformed easily if the lock became loose. So I designed this sort of beefed up scabbard mouth out of kydex with the lock and belt mount slots. G10 was an easy choice for the grips… though a costly one. G10 is a glass reinforced resin that is basically impervious to change over time and condition. At the same time it can be given a sort of satin texture that aids grip and feels good in the hand.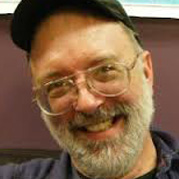 Gus Trim
SBG: What was it like working with a legend of the sword industry, Gus Trim, on this project?

Blake: Gus gets up early! I mean he's on the west coast and we frequently have a chat about 8 AM ET… and by that time he's already made a few swords. I don't think the man sleeps. Gus is an incredible wealth of knowledge and gives it freely. It's been more than a pleasure working with him and hope to continue doing so for many years to come.

SBG: Are there any plans to add more designs to the APOC Tactical Swords line up?

Blake: After initial reaction to the first swords we immediately green lit the next two and started drawing out about 11 more designs (and not just swords…). Some will be designed by Gus, others internal and I have some hopes for more collaborations as well.

SBG: Finally, we do live in 'interesting times' to put it mildly.. Do you think that the need for these swords as a practical last line of defence is imminent? If so, what scenarios do you personally think will arise in which the APOC Tactical Swords would actually be of practical usage?

Blake: I certainly hope not. I guess it comes down to that saying; "Hope for the best, prepare for the worst". The reality is that we live in a world dominated by guns and in a SHTF scenario it's certainly going to take some time before those bullets run out. But in a practical sense there are situations where a short range weapon is just as viable if not downright better than a firearm. It reminds me of that internet meme with the little girl with outstretched arms; "Why not both?".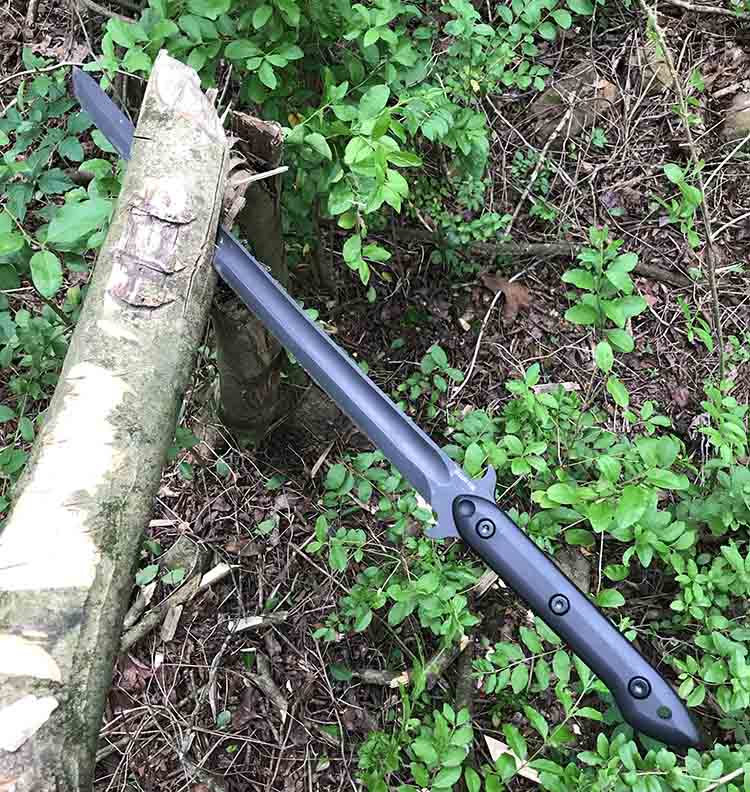 The APOC Tactical Swords Series

CLICK HERE TO ORDER YOURS AT THE SBG SWORD STORE

---
We hope this information on the APOC Tactical Swords series has been helpful. To return to Tactical and Zombie Swords from APOC Tactical Swords Interview with Blake Pogue, click here


Buying Swords Online Can Be

DANGEROUS!



Find the Best Swords in the:
Popular & Recommended ARTICLES

---
---