Ronin Dotanuki Katana Review
The Dotanuki 'Dojo Pro' line of swords by Ronin Katana are one of the most exciting new styles of sword to hit the market in quite some time.
In this hands on review, we take a close look at one of these swords to see exactly what to expect when opening up the box.


---
Ronin Katana Dojo Pro Dotanuki Katana
Review by Sanchezero, USA

---
Steel    
Weight    
Point of Balance    
Price Range


1060 Carbon Steel
2.6lbs
5"
US$294-344

This is my first sword in almost 20 years and as my only other sword was really an olympic-style epee, I don't think it really counts in this context. In my late teens and early twenties I dabbled in a buncha 'ninja skills', studying kendo, fencing, wushu, etc and was exposed to some kinds of long blade techniques. By my late twenties, I'd seen the light and began to study 'practical combat' in earnest. I've been to a buncha shooting schools, competed in IPSC and IDPA and BJJ.
But over the last few months I've been drawn again to the old samurai and kungfu stuff. I started poking around on the internet and after much research I decided that it didn't really matter what I got as I had no idea what I was looking for.
My requirements were simple - an affordable katana that I wouldn't be able to break very easily. There are plenty of manufacturers for this, all with plenty of positive and negative reviews, so it just came down to aesthetics.
I picked the Ronin 003 because I liked the tsuba and the brown itomaki. The little dash of red on the saya was kinda nice too, nifty without being gaudy.
I did some brief research into the dotanuki style of blade that the dojo pros are supposed to be based on and didn't come up with much. Most of what I found was actually on SBG, possibly because of Ronin Katanas' business relationship with SBG. I did find the following tidbit about Dotanuki:
Dotanuki is the nickname of Masakuni, a resident of Higo. He originally signed his blades as Nobuyoshi, and had the name of Oyama Kozuke no Suke. He worked at the very end of the koto period, and had a reputation for very sharp blades gaining the rank of Wazamono...Often he only signed his work Dotanuki Kozuke no Suke. There are other swordsmiths in the Dotanuki school, and Fujishiro lumps them together as having similar style and quality characteristics, so little effort is made to distinguish them.

This katana is a wide shape which came back into fashion in the Momoyama period when earlier styles were being copied. It is markedly sakizori though, and deeply curved, so it is easy to reference it to its time. The jigane is itame hada mixed with mokume, and the hamon is midareba mixed with notare in ko nie.
I'm pretty much lost after 'deeply curved.'
The sword was shipped from Ronin Katanas (via the SBG store) in a timely fashion (not quickly enough, of course) and arrived in about a week; tracking info was provided in a confirmation email.
It was packaged in what seems to be the typical budget sword 2 box configuration with styrofoam bumpers for additional protection. One of the reasons I selected Ronin was that they didn't spend money on a presentation box or a fru-fru sword bag, preferring instead to invest in the fittings.
Turns out there were a coupla freebies thrown in anyway – a vertical sword stand, a rubber mallet, and a pair of rubber coated cotton gloves. I'm not sure what I'll use the gloves or the stand for. It would've been nicer to have a punch to go along with the mallet, but it's a freebie and I'm not usually one to complain about free stuff.
(EDITORS NOTE: Additional items are sometimes included with these swords, but only if stock is available).
Now, I'm basing almost all of my impressions on other people's impressions of their swords since I don't really have any experience with these things. So, when I say the ito is tight or the sword is shiny or whatever, realize I have nothing to compare it to other than what you guys have been writing about your swords. That said, I'm not a complete moron and feel that I can describe most things adequately.
Wrapped in a simple black linen (?) bag.
The sword fits securely in the saya, though if you give it a shake there is ONE 'thunk' as the tip of the blade moves from side to side.
The saya is glossy and unblemished. The koiguchi, kurigata, and kojiri are all finished in a transluscent finish that ends up looking like dark amber, which I guess is the natural appearance of buffalo horn. This looks like a red lacquered piece in their photos, but has a much warmer feel in person. There is no gap between either of the seppa and the tsuba, nor between the seppa and saya.
The tsuba is attractive with no sharp edges, but feels insubstantial. The fuchi and kashira are plain, flat black and secure. Hard twisting on the kashira reveals a tiny bit of movement. The ito is tight and alternately wrapped. They advertise it as synthetic silk, but it could be polyester or hemp for all I know. It feels comfortable and secure in the hands. The menuki are shiny brass lions (?). I think an antiqued/distressed finish would've been a better choice aesthetically. They're arranged to lie under the fingers. The same looks uniform; there are no emperor nodes. I have average sized hands (size 5 gloves) and the tsuka feels maybe a touch thin.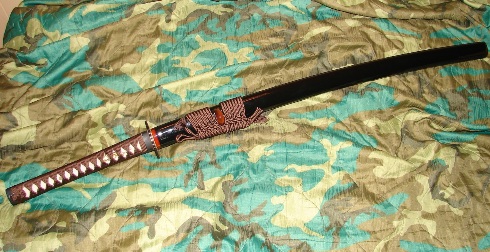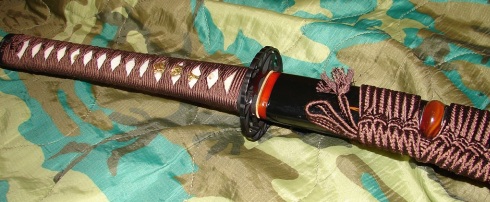 The blade was covered in gunk and enough of it is still in the saya that I get some residue on it every time I draw it. The blade is through hardened 1060 steel and has no hint of a hamon, fake or otherwise.
The yokote/kissaki/boshi (whatever, so confusing) is counterpolished. There is some 'off' blending of the mitsukado. One side of the blade has a couple of spots that have a bit of an uneven polish under the right light (I tried to get a pic of this but was unable. all of the 'flaws' in the pics except the one I marked, are just goo.).
The blade is straight, even, and sturdy feeling. The habaki seems to be well fit - it's centered and doesn't hang off anywhere or catch in the saya. The edge is sharp enough to slice up several sheets of paper without any trouble.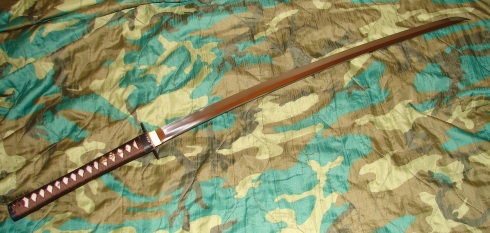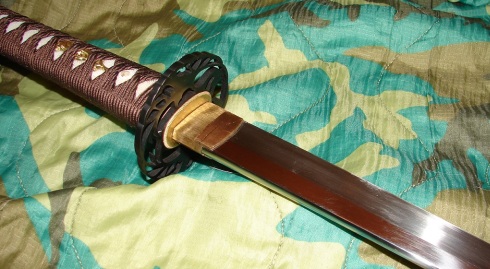 Red is the weird grid line. Yellow is some of the goop that i didn't notice in time.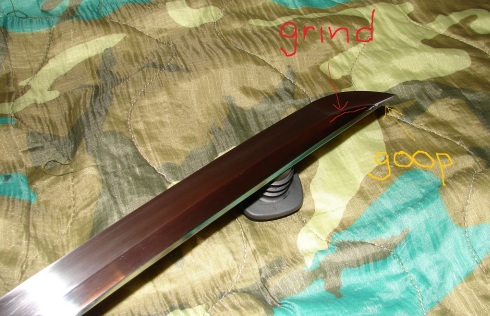 Statistically speaking - these are the measurements from SBG's site. I don't have a way to accurately weigh or measure this.
BLADE LENGTH - 28"
HANDLE LENGTH - 11"
OVERALL - 39"
WEIGHT - 2.6lbs

I tested the blade under the most unforgiving conditions known to man - the zombie apocalypse!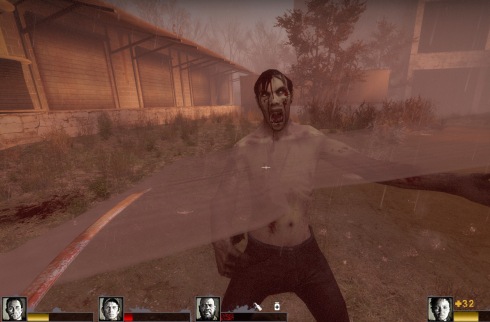 While a lot of these are kinda squishy I did get a few fresh ones and didn't have any problems with them at all. Severed heads, arms, and cut a few clean in half with no nicks and only some minor scratching of the finish.
Ok, actually...
I was surprised by how heavy 2 and a 1/2 pounds is. Everyone talks about how light their swords are, but this thing feels quite substantial. I don't really know how to describe it's handling, being essentially untrained. It moves easily, even considering it's heft, but I'm a pretty fit guy with excellent grip strength from grappling. I'm not gonna spend a helluva lot of time swinging it around for awhile as I'd hate to cut my leg off (I have a cheness iaito on the way to train with).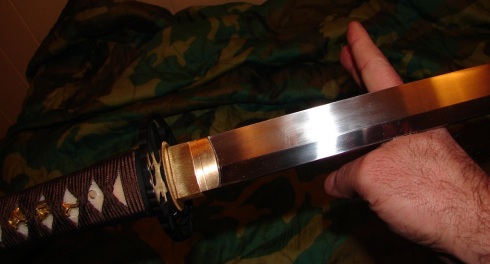 Point of Balance 5" from the tsuba
Of course, that said, I did go out back in the snow and butcher some Mountain Dew bottles and a few soaked and rolled newspapers. The rolls of newspaper were secured vertically and cut very cleanly and evenly, also with no resistance. I just whacked 'em one handed like I was swinging a tennis racket.
After I spend some time with my incoming iaito I'll wrap up some proper tatami and update this post.
Overall, coming from my noobish perspective, I'm very happy with this purchase. It's a good looking (even without a hamon) sword that seems tough and well constructed. It was a smooth transaction with clear and copious communication from both SBG and Ronin.
It seems like it'll be perfectly suited for me to shred a buncha random junk in the backyard and when the zombies come, I'll happily carry it alongside my shooters to help conserve ammo.
CONCLUSION
I have read plenty of reviews about the poor fitment of the budget blades but from my significantly significant sample size of ONE I can certainly say that this is not an issue with this piece. Therefore, I give my unreserved endorsement to the Ronin Dojo Pro 003 model and would wholeheartedly recommend it to anyone looking for a good sub $300 kat.
PROS
Nicely waisted, properly shaped tsuka (handle) for tactile and ergonomic grip
Tight SILK ito and overall very well assembled
Very durable, scratch resistant blades
IRON tsuba, fuchi and Kashira (NO ALLOYS)
Buffalo horn tipped saya, proper grooved habaki, traditional seppa - in short, no shortcuts!
CONS
Polish not as nice as it could have been

WHERE TO BUY
You can buy the Ronin Katana 'Dojo Pro' line of Dotanuki blades is here at the SBG Sword Store for just US$294.99.
We stake our sites reputation on their quality and performance.

---
I hope this information on Ronin Katana's Dotanuki blades has been helpful. To return to A Beginners Guide to Authentic Japanese Swords from Ronin Dotanuki Katana Review, click here

Looking for honest, trustworthy sword sellers? Look no further than:

FEATURED ARTICLES AND REVIEWS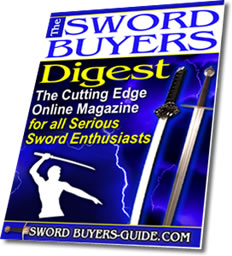 Sword Buyers Digest Newsletter!

Sword Buyers Digest Newsletter

Sign Up to Our FREE Monthly E-zine for all the latest sword news, info and much, much more! Click here for more info.