Hanwei Godfred Viking Sword
Hanwei Godfred Viking Sword Review
The Godfred Viking Sword by Hanwei has always had something of a slightly tarnished reputation, primarily because one of the first models at least 7 or 8 years ago ended up being broken in half due to a manufacturing flaw in the Damascus steel, and this one photo was trudged out time and time again, making the problem seem worse than it was..

While a broken sword is clearly no laughing matter, many years later - after refining the process used to make them - it was clear that a second opinion was in order.. So here it is..
---
Hanwei Godfred Viking Sword
Review by Marc Ridgeway Atlanta, GA, UNITED STATES

---
Steel    
Weight    
Point of Balance    
Price Range


Folded 'Damascus'
2.5lbs
4.0"
US$419-765

Statistics

Overall Length: 34 3/4 inches
Blade Length: 28 3/4 inches
Handle Length: 5 3/4 inches
Weight:2 and 1/2 lbs
Point Of Balance: 4 inches from guard
Center Of Percussion: 20 inches from guard
Width At Guard: 1.9 inches
Width At Tip: 1.2 inches
Thickness At Guard: 0.22 inches
Thickness At Tip: 0.14 inches

There have been a few requests for review of the Hanwei Godfred. I have decided to do a quick, dirty and ever so humble review of this sword. I'd like to apologize for the quality of the pictures... I do not have the sword in hand at the moment, its at another house, so I had to use older , scavenged photos from my hard drive.

I am not much qualified to review this sword, I know very little about western swords, and when people start talikng about Oakeshotte or Peterson typologies my eyes just glaze over.

Also, I'm not a big single-hander guy, but among single-handers, the Viking pattern stands out to me...

Scabbard
The scabbard is fairly decent. It has wood core covered in suede leather , with bronze chafe and rings, and belt hooks on straps. Really , in my opinion the scabbard is a bit of a weak point for this sword, though it is certainly as good or better than the majority of scabbards in this style and price range.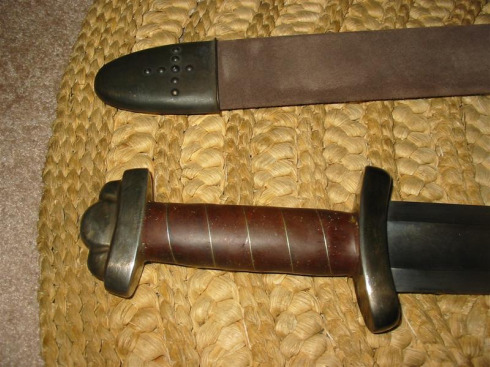 Construction : Fit and Finish
Hilt and Cross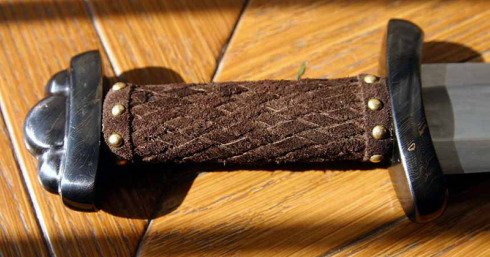 Above is an image of the grip and hilt from the factory. Mine has been modified. The braided leather grip is comfortable, but not so attractive, really IMO. Fortunately its easy to customize.

The curved guard and type 2 pommel (someone correct me if I'm wrong) are folded steel, and VERY attractive. They are well proportioned and nicely fit.

The handle is a bit long for a Viking sword, which are known for small handles, but it in no way bothers me.

The pommel is a bit ... crooked... its hard to notice, and again, I'm not especially bothered by it. As a whole, the hilt construction is solid and functional, and pretty attractive.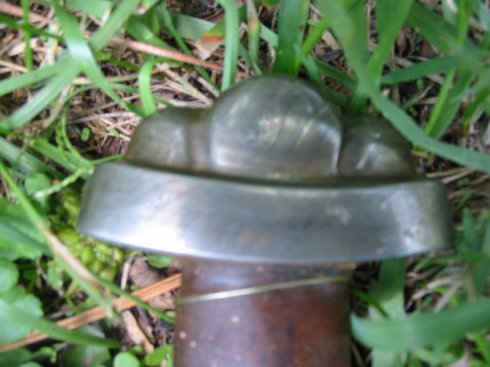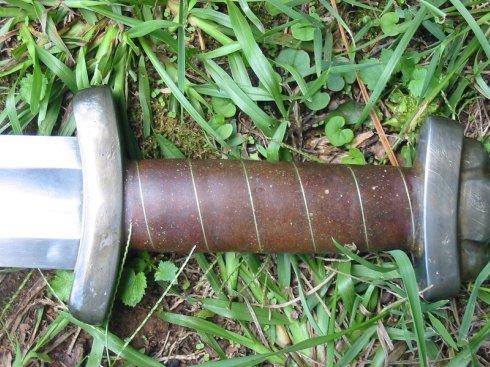 Blade
The blade is I believe a type 2, however I welcome correction on that from one of you Euro types out there. Its just under 29 inches long, with a bit of profile taper, and decent distal taper.

The blade is folded steel, with a nice damascene pattern in the wide fuller.

I've heard some complain that the Godfred was not sharp, but mine came sharp enough, on the tipward 2/3s of the blade. Not scary sharp but sharp enough.

The tip is a bit odd shaped, and not what I'd say is really indicative of the viking form, and this might be a turnoff for some, but not I.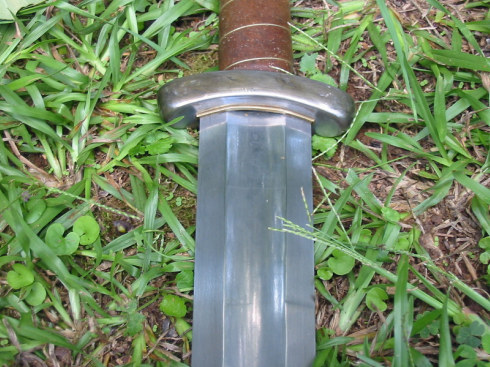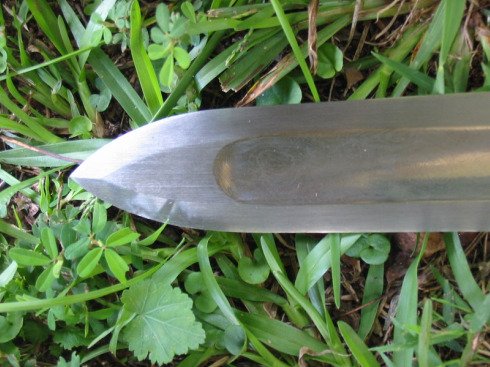 Handling Characteristics and Cutting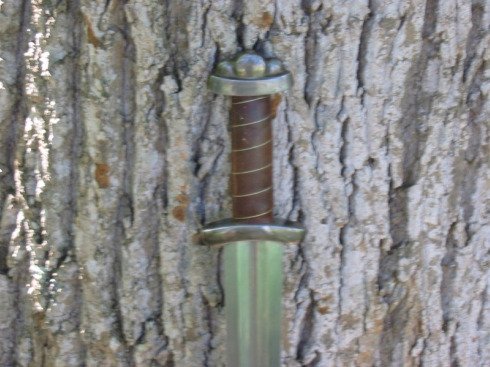 The handling on this sword is a bit surprising to me. At just under 2.5 lbs, with a balance point of 4 inches this is a nimble sword for the viking pattern.

With the weight, the taper and the extra long grip, the Godfred hits one out of the park on handling, simply the best handling viking type sword I've used, and one of the better handling single-handers I've seen. In fact I'd put it on par with my AT1315.

As a cutter it performs pretty well also. The wide , relatively stiff blade cuts water bottles and small diameter bamboo well. I haven't tried any other targets.

The Good, The Bad and The Ugly
This section is where I like to get critical about the sword. Sometimes its a stretch. On the Godfred I have to work to find problems, because I really like the sword, but there are weak points, for instance the crooked pommel on my sword. My observations of the model as a whole based on this sword are as follows:
PROS
Superb handling


Decent Cutting


Attractive Hardware


Decent Scabbard


Longer than average grip for big hands
CONS
Handle wrap a bit unattractive


Tip is little funky


Fuller termination a tad rough


Longer than average handle if you are a historicity stickler



BOTTOM LINE
In my opinion this is the most attractive Viking pattern sword offered in our range. I know it is the best handling one I've ever used, and is a pretty decent cutter. Apparently the quality is a bit spotty as I have heard some people have bad experiences, but I'm quite happy with mine.

Its not typical of the style, or historically dead on, but it is a well made, attractive, and nimble sword that a smart shopper can find at a good price.

Thanks for reading.

WHERE TO BUY
The Hanwei Godfred sword has a MSRP of over $700, but you can pick it up at half that price for just $499.95 HERE at Kult of Athena

---
I hope this review of the Hanwei Godfred Viking Sword has been helpful. To return to Modern Replicas of Viking Swords from Hanwei Godfred Viking Sword Review, click here


Buying Swords Online Can Be

DANGEROUS!



Find the Best Swords in the:
Popular & Recommended ARTICLES

---
---