Hanwei King Edward III
Sword Review
DISCONTINUED
This sword has been discontinued and is no longer available to buy, but has been preserved here for informational purposes.

The Edward III sword by the Hanwei forge was definitely one of the most attractive functional blades on the market at the sub US$300 price point - and a real shame that it ended up being discontinued (Hanwei have had a pretty stable history with their medieval replicas, but it seemed that perhaps this one was just a little too demanding to make).
Our review came just in time for a few lucky people to snap one up, but within a few months was no-more.
So for anyone interested in this bit of Hanwei medieval sword history, read on.

---
Hanwei Edward III Sword Review

Review by RicWilly, Indiana, USA
---
Steel 

Weight 

Point of Balance 

Price Range


5160 Spring Steel

3lbs

7" from guard

US$240-$380 (Historic)
I decided to get this sword because I wanted to try a Hanwei and this one had been given good mention.
At first I didn't give this one serious consideration because it was kind of pretty and I thought it might be fragile.
I was assured this wasn't the case so I went to Kult of Athena website on 10/10/07 at 4:00 am and paid $229 plus the cheapest shipping $12.39 for a total of $241.39.
30 hours later it arrived at my door, causing me to contemplate that if I had paid for the speedy shipping it might have gotten here before I ordered it.
Kudos KOA on super fast shipping!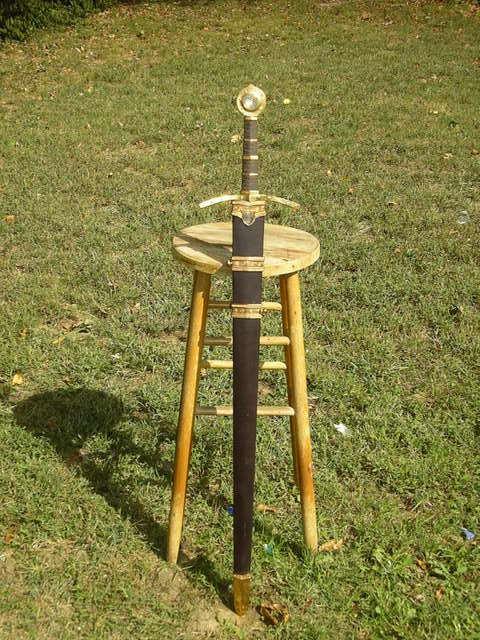 Here is the vendor's description;
Edward III of England was a warrior-king who is remembered in history for his dramatic victory against the French at Crecy (1346) This sword is a replica of his actual battle sword that has survived through the centuries. The style is typical of a 14th century battle sword but the fittings are undoubtedly those of a king, from the heavy gilding to the adder-skin grip to the beautifully enamelled coat of arms. The flattened diamond-section blade bears the emblem of the Order of the Garter, badge of the Knights of St. George, founded by Edward. This well-balanced sword may be wielded single-handed or hand-and-a-half style. Features a functional carbon steel blade. Includes matching scabbard.
Upon receiving it, I was pleasantly surprised to see the sword wasn't gaudy at all. It had an "old" look, (in a good way), as if it had been hanging on King Edwards wall.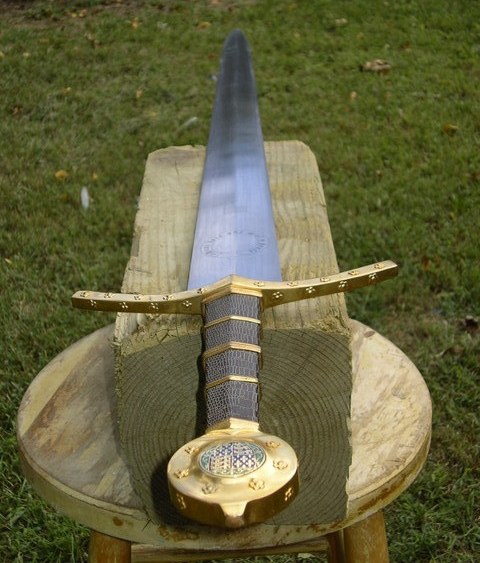 Upon dry handling the Edward III felt well balanced to me. The fittings were tight and it appeared to be a strong sword made for battle, my notion that it was fragile were unfounded. I liked the swords appearance, it is kind of fancy without being outlandish.
The blade is securely peened;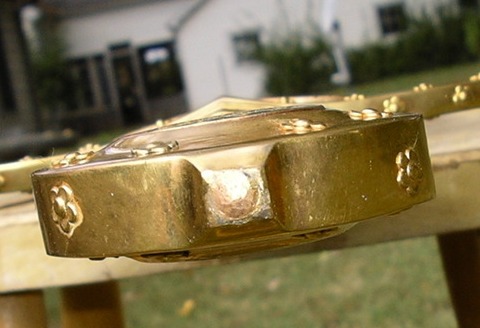 The pommel is brass plated steel and has Edwards coat of arms on one side;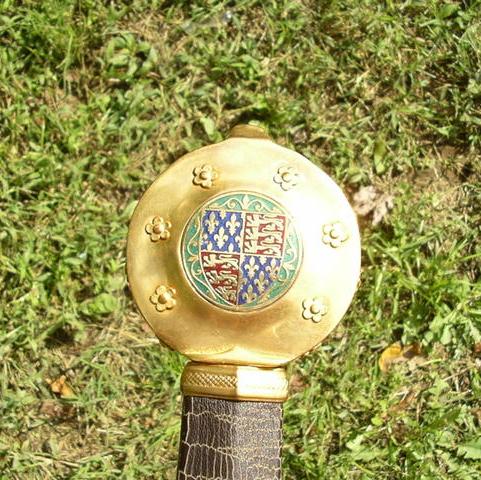 The other side features a faux jewel of some kind;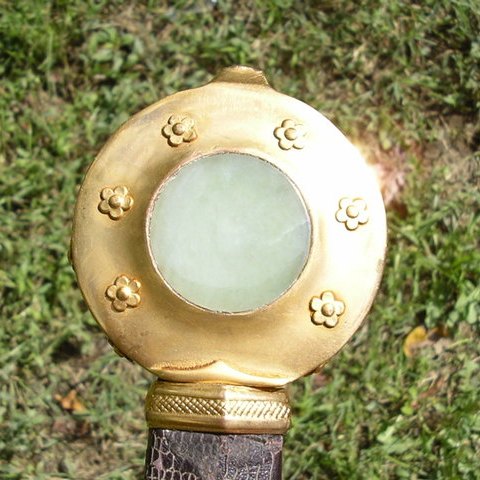 The grip has a covering of the skin of some creature? With what appear to be "brass" rings;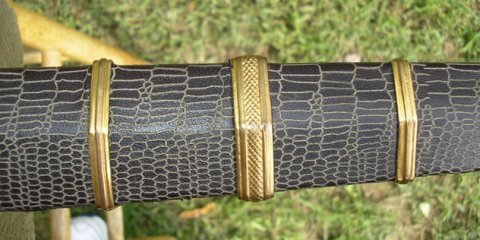 The crossguard is brass plated steel with decorative flowers and down turned on the ends;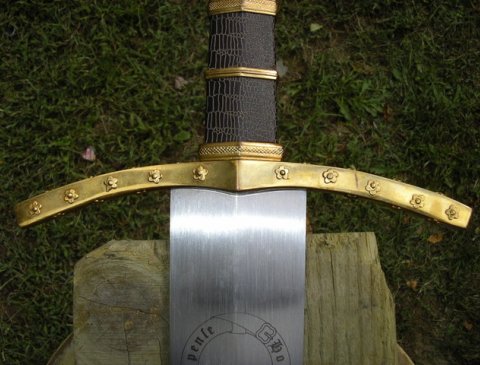 The blade mates with the crossguard cleanly and evenly;
The hilt assembly as a whole;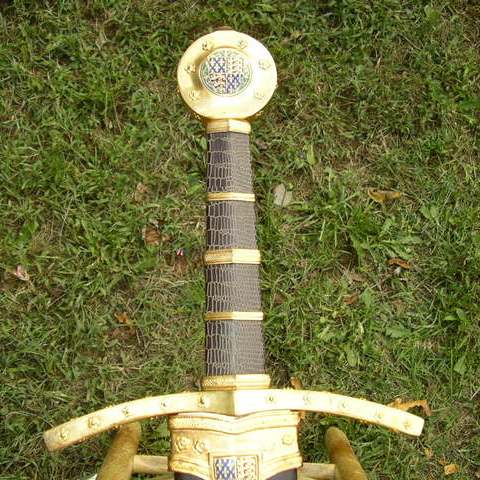 In hand;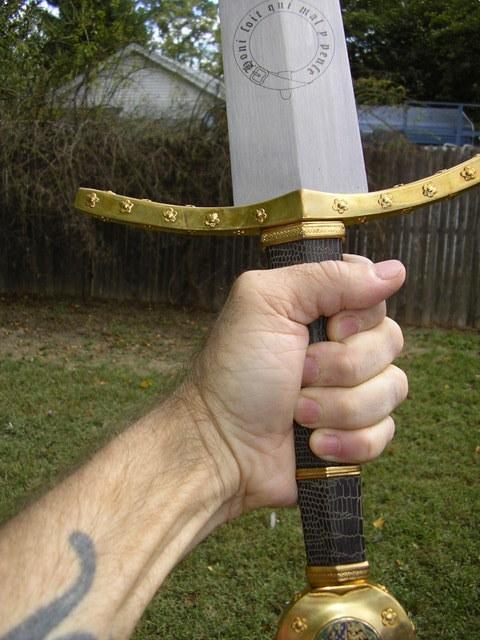 The blade is made of carbon steel, with the upper portion having the decorations mentioned in the vendor description;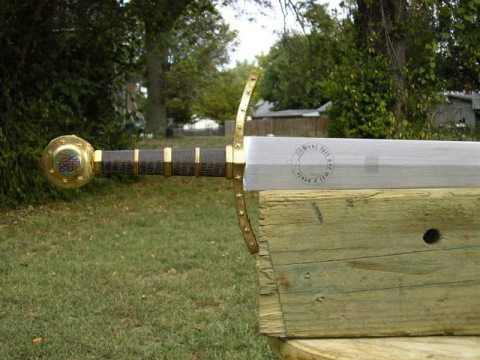 I was forewarned by another member of the SBG community that this sword was not very sharp, indeed 'sharpish' not sharp. It was however rather pointy;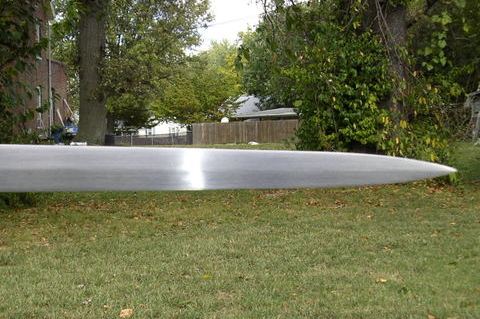 The scabbard is leather covered wood core with "brass" fittings;
Test Cutting

I didn't have a lot of success with my cutting due to the dullness of the blade and my in progress skill level. I sharpened the blade a bit although my sharpening skills are still developing. I was going to sharpen some more before the test but I think this gives a truer sense of the blade on arrival to customer.
VIDEO: Out of the Box Cutting

The factory edge was a bit dull..
After the 'out of the box cutting' I sharpened the sword to paper cutting sharp and did some more tests;
VIDEO: After Sharpening

After sharpening, it performed as it really should have..
The sword performed pretty good even with my limited ability.
In conclusion, I think everyone should have at least one fancy sword in case you want to get all dandied up and go to the ball. If it is capable of dispatching any brigands who might accost you, mores the better.

PROS
One of the most attractive and ornate, historically accurate swords on the market
Well assembled and good handling, despite its considerable heft and blade heavy balance
CONS
Not sharp enough to cut properly out of the box (a common issue with Hanwei swords)

YOU CAN'T BUY IT NOW BUT...
In general the best place to pick up any Hanwei swords is most definitely at Kult of Athena, where their prices are at least 15%-20% lower than anywhere else. Plus if you pay for the fast shipping option, it may even come in so fast that it gets there before you click the order button... ;-)

---
I hope this review of the Edward III sword has been helpful. To return to Affordable Replicas of Medieval Swords from Hanwei King Edward III Sword Review, click here

Buying Swords Online Can Be

DANGEROUS!



Find the Best Swords in the:
Popular & Recommended ARTICLES

---
---