Are the swords that are displayed in the budk catalog reliable
by hugo
(pasadena tx )
QUESTION: I found some good looking katanas in the website budk but i dont know wether to buy them or not if your answer is not to trust them do you know were i can buy functional blades such as swords, daggers, and knifes at reasonable prices? and thanks in advance.


ANSWER:
Hi Hugo,
Hmmm, well - when it comes to swords, BudK primarily focuses on display swords... They do have a few of those 'Shinwa' swords these days, but the jury is still out...
As to selecting some good ones, um - have a look at the rest of SBG. ;-) Lots of different reviews at different price points there... :-)
- Paul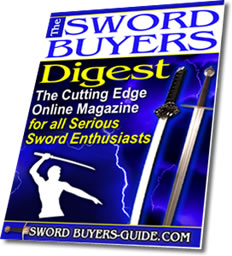 Sword Buyers Digest Newsletter!

Sword Buyers Digest Newsletter

Sign Up to Our FREE Monthly E-zine for all the latest sword news, info and much, much more! Click here for more info.