Bushido Musashi Dragon Fury katana ($59)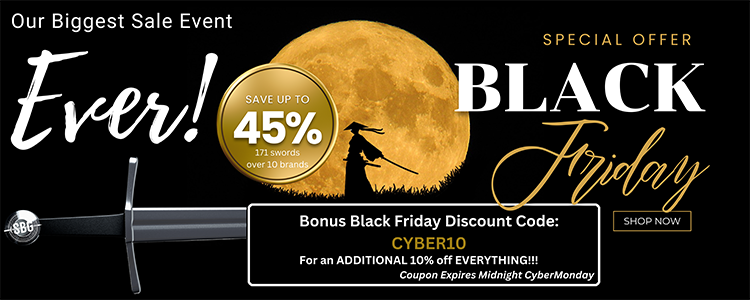 Bushido Musashi Dragon Fury katana ($59)
by Henry
(Iowa )
While exploring the internet after a few weeks of figuring out which sword I should purchase as my first blade, I stumbled upon this sword on trueswords.com. After looking at about every katana on the whole website, I found it hard to belief that this sword could be as well made as the manufacturers said it was at the price it was being sold. I did some overnight research into the quality of the sword and determined that it would be a decent sword that would just be kinda cool to use every once in awhile. When I got the sword I was very surprised with how well everything fit together and felt. My main worry was that it would not feel right in my hands or be loose. I personally chose the dragon fury design because it blended in with the rest of the blade and was very mild yet detailed compared to other designs. The sword is very solid and feels amazing to wield. The only problem that I could point out is that on my blade, there were a few minor surface imperfections. It looked as though it had rubbed up against something and got scuffed towards the tip. Other than the surface scuff, the sword looked fabulous. I was happy to see it came sharpened as it said. It could use a good sharpening but is definitely ready to cut out of the box.

I practiced its cutting power on rolled up newspaper rolls. (mainly because i cant afford the real deal cutting mats!) I was very surprised that I could easily cut into them with little to no resistance. Overall this is an amazing sword to buy and I would highly recommend it to anyone looking for their first blade.
Join in and write your own page! It's easy to do. How? Simply click here to return to Submit Review Musashi Wind Dragon.

Buying Swords Online Can Be

DANGEROUS!



Find the Best Swords in the:
Popular & Recommended ARTICLES

---
---