Chaos Fantasy Sword Review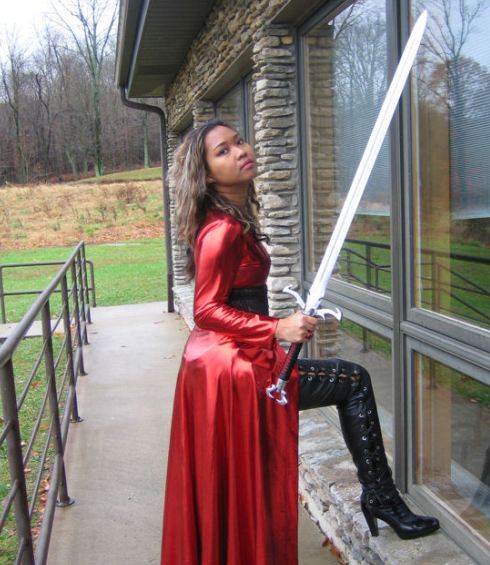 The Chaos Fantasy Sword by Generation 2 is a functional fantasy sword classic.
It's an old school beast of a thing, and the reviewer fell in love with it at first sight.
While it has a few flaws, it's about as solid as any beater sword every was.. It is, the beater sword that set the standard.

---
Legacy Arms Chaos Fantasy Sword Review

Review by Firehand10k, USA
---
Steel

Weight 

Point of Balance 

Price Range


5160 Spring Steel

3lbs 13oz

4.75"

US$251-279
I had previously reviewed the old model back on the SBG sword forums, and while I love that sword I couldn't resist getting it as made now.

I had to do it! Since I had the old one and had heard so much about how Gen2 upgraded their tempering process, a while ago, and redesigned several of their swords to improve the balance and functionality I had to see for myself.
It came wrapped in plastic and thickly coated in packing grease. I got the new scabbard out and found it a great improvement over the plain leather old one. I will confess that at first sight of the blade I thought, "Man this seems frail compared to the old one." I was wrong but more to come on that later. Even while just cleaning off the grease it felt like it was going to be a much more maneuverable blade, at nearly a pound lighter than the old design. Once I could see it all I was very impressed with the overall new look, although I still thought it looked too light.
(At the time) Kult of Athena offered free shipping on this and was super fast at getting it to me. It arrived Monday after being ordered just Friday afternoon and shipped the same day (I'm sure it would have arrived sooner if UPS delivered on weekends).
Blade Length: 33 7/8"
Blade Width: 1 3/4" at guard 1 1/8" at tip
Blade Thickness: 5/16" at guard 1/8" at tip
Hilt Length: 8 1/8"
Overall: 45 1/2"


Guard Height: 7/8" at center
Guard Width: 8 3/16"
POB (point of balance): 4 3/4" from guard
COP (center of percussion): 22" from guard
Weight: 3 lbs. 13 oz.
Fit and Finish

Blade- The blade is polished to nearly a mirror finish (much shinier than the old version). The tool marks from the shaping are visible only near the middle of the blade.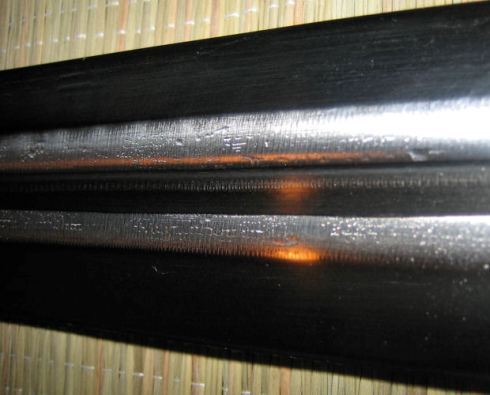 The blade is thinner and lighter than I expected after handling the original. A small curve has been added above the fantasy cutouts near the hand guard to make a more graceful look and an overall narrower blade.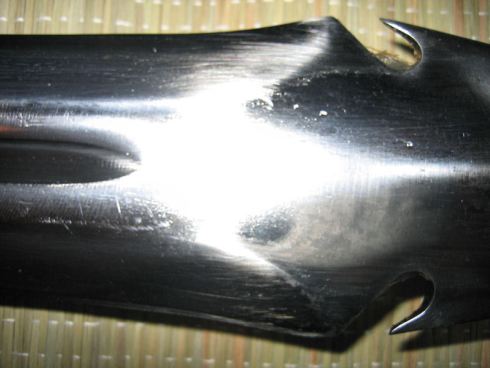 The fuller has also been narrowed and keeps an aesthetic balance to the resized blade. While less of a beast than its predecessor this version is just as solidly assembled. The improved finish has made it nearly (but not quite) impossible to see where the hand-guard and pommel claws are pinned into place.
Handle- The handle of this sword is much smaller around than the older one (4" circumference Vs. 5").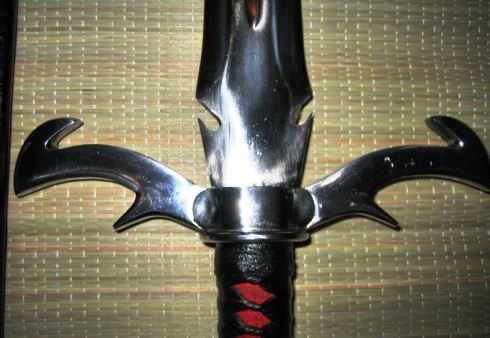 The handle is completely circular under the wrap so when the wrap was applied in a twist it actually makes the handle thicker than it is wide (opposite a usual oval handle). The wrap is leather applied very tight with even twists. The red under-wrap looks like a nylon cloth and has a bit of metallic sparkle to it.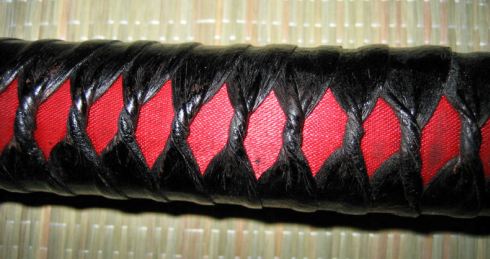 The handle is still very solid and secure held on by a peened on pommel.
Hand Guard and Pommel- The hand guard and pommel are both polished steel. They each consist of more than one piece with the pieces pinned and peened together.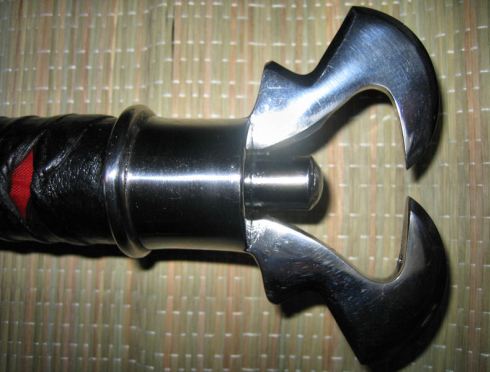 The claws are ¼" thick. The polish has been improved so that the pins holding the claw pieces in place are barely visible.
The peened end of the tang is more prominent than the older version making it look as if the whole attachment has actually been upgraded.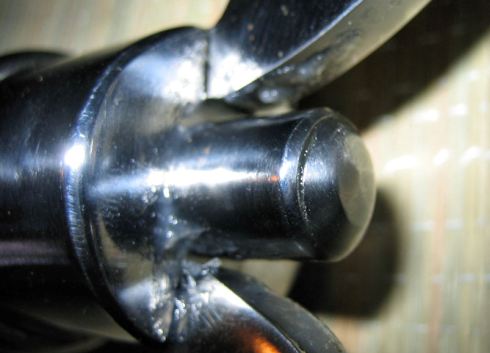 The whole assembly is still very tight after putting it through much more demanding tests than any other sword I have too date.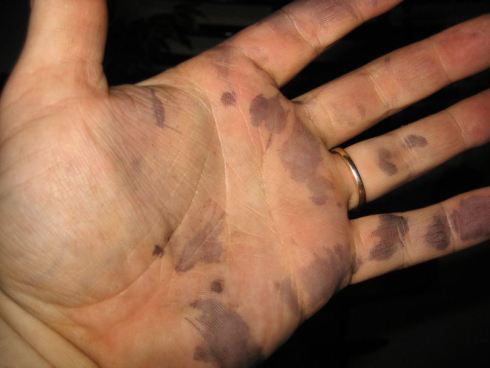 Ink from the sheathe..
Sheath- A vast improvement over the plain leather sheath of the previous version. It is wood wrapped in thin leather with steel end-cap and throat. It is so tight that when inserted the cutouts on the blade dug out some of the wood. I also found, when I went to cut up some water bottles, that the dye on the outside is more like ink and runs badly when wet (at the time of writing this I have washed my hands 3 times already and still have black stains one them).
Cutting- With the improved polish this edition also came with an improved edge. It was very ready to cut straight out of the box. I cut several thicknesses of plastic bottles, some cardboard boxes, and a pool noodle, then proceeded to hack up a pine 1x6. This is the first sword with which I have successfully cut the thick PowerAid bottles.
I thought the first might be luck but I succeeded with two more after that. This version is much faster and more maneuverable than the older one. The blade sustained only superficial scuffing and the entire sword remained solid and straight even after more (half of a 30 gallon trash bag worth of bottles in one session) and harder (intentionally attacking the pine board) cutting than I have used any sword for before
Conclusion

Sharper, smaller and faster but just as durable. This sword finally brings a fantasy weapon to life in an affordable and entirely usable form. Its early design was very good for giving fantasy fans a passable beater.
The improved weight and balance make the Gen2 Chaos a real sword that fantasy fans can afford and train with instead of settling for unusable decorations and trying to tell ourselves we won't swing them around. In just 2 days this sword has risen from something I looked at in skepticism to the pinnacle of my collection.
An elegant yet capable weapon for the more discerning barbarian.
PROS
Extremely durable construction
Natural and surprisingly good handling for a sword of this weight
Original and creative design
CONS
Dye on leather can tend to run if exposed to water
Finish is quite rough in many places - will not appeal to everyone


---
I hope this review of the Chaos fantasy sword has been helpful. To return to Decorative and Functional Fantasy Swords from Chaos Fantasy Sword Review , click here

Buying Swords Online Can Be

DANGEROUS!



Find the Best Swords in the:
Popular & Recommended ARTICLES

---
---