Cleaning a blue Steel and Brass Scabbard
by Michael Malnic
(Walden, NY, USA)
QUESTION: I have an M1850 Staff and Field officers Sword. Could I use a Silicon Gun Cloth to clean the blue steel and brass scabbard? Thank you very much.


Michael Malnic
ANSWER:
Hi Michael,
Yes indeed, a Silicon Gun Cloth will do no harm to either. Blue steel is already somewhat rust resistant anyway - and while it is preferable to use something like Brasso on the Brass, the Silicon Gun cloth will do no harm.
In short, shouldn't be any problems! :-)
- Paul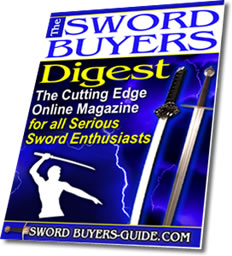 Sword Buyers Digest Newsletter!

Sword Buyers Digest Newsletter

Sign Up to Our FREE Monthly E-zine for all the latest sword news, info and much, much more! Click here for more info.