Cold Steel Viking Sword Review

While the Cold Steel Viking Sword may pay only lip service to historical accuracy (after all, the fittings have an unmistakably Celtic feel, and there is no historical Viking sword that even remotely resembles it) - the general consensus is that if you can buy these for the right price – and with the right QC – they are certainly not a bad sword (though not a GREAT one either).

In this review by Canadian SBG Sword Forumite 'Sandman' we get a first hand and well balanced account of the Cold Steel Viking Sword – taking the good with the bad to see what this sword is really about...
---
Cold Steel Viking Sword
Review by SBG Sword Forumite 'Sandman', Canada


---
Steel
Weight
Point of Balance
Price Range


1055 Carbon Steel
2.3lbs
6.75"
US$299-449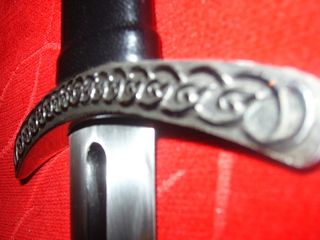 Closeup of the knotwork hilt pattern
At long last! The much anticipated review of the Cold Steel Viking sword!

This is my first sword, so I hope that I cover all of the bases. (I've learned from the best!) :-D

Specs:
Cold Steel's website lists the specs as:
Weight - 37.1 oz (approx. 2.3 Lbs)
Blade Thickness - 15/64"
Blade Length - 30 1/4"
Handle - 6 5/8" Leather wrapped
Overall Length - 36 7/8"

Official Cold Steel Viking Sword Description:

The typical Viking sword of the 9th and 10th centuries featured a long wide blade with a broad central fuller and two keen edges. The preferred stroke was a hard slash or chopping blow, so the point was fairly rounded but was just acute enough to be useful for thrusting. A simple guard with forward curving quillions was often utilized and combined with an equally utilitarian wooden handle that was covered with leather, bone, or even cast in brass.

What really made the Viking Sword so distinctively recognizable from its contemporaries was its heavy 5 lobed pommel used to balance the long blade.

Our sword has features in common with its historical counterpart. It has a double edged blade, hand forged out of high carbon steel and then polished to a brilliant lustre. The wooden handle is covered in leather and is supported by a simple, elegant guard at one end and an equally handsome 5 lobed pommel at the other. Both guard and pommel feature traditional Celtic knot embellishments.

To house the keen double edge blade each of our swords is supplied with a wood scabbard covered in black leather and reinforced with a highly polished steel chape and throat.
I would also like to add that the point of balance is about 6 3/4" from the front of the lower hilt.
Why this Sword?

Well, I love Vikings - they were a cool people, with a rich culture. Here in Canada, options are limited, especially in the sub $300 range - duties and taxes add a lot. I was worried at the appearance of the Celtic Design, because with Cold Steel, they only have a couple of grainy pics like the one above. I was also expecting a plain leather scabbard with low grade metal fittings, but I took the plunge. The handle also has the ridges under the main wrap that seemed more appealing than rivets or wood.

FIRST IMPRESSIONS
Being my first real Sword, it took a while to wipe the smile off of my face. Who am I kidding, it's still there!

When it came in a box that was only an inch deep, I was pleased that it was in one piece and straight, no rattles. It was however, very fast service from Warriors and Wonders in Vancouver.

Compared to any pictures I have found online, this thing is gorgeous! I love the Celtic knots - they really add a rich look to this sword and the scabbard is wood covered in leather - very simple and elegant, in a Viking kind of way!

I am not aware of any Viking swords actually existing that looked this way, and the fuller is so narrow, it is basically a type X blade - the quillions are very long for a Viking, and taper at the ends.

The pommel is peened invisibly, and the handle is huge and flat - I imagined a rounder fit in my hand, but after a few swings, I've gotten used to it. It seems to like the handshake grip.

Because of the long handle, if you squeeze your hand up to the lower guard, you can use it two handed like a bastard, the huge pommel being easy to hold.

Here are some close-ups of the pommel and handle: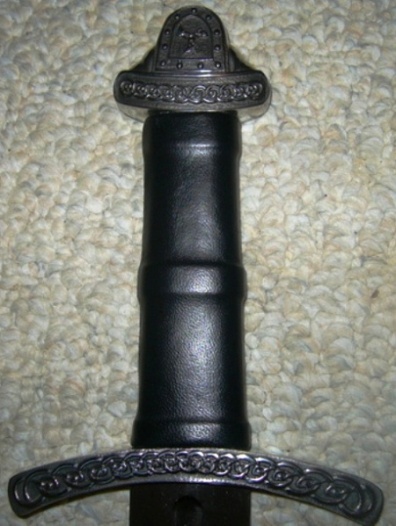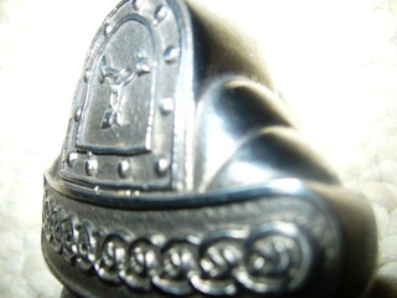 And Finally........

CUTTING TESTS
Out of the box, this thing was sharp, but not terribly, and in fact seems to have a duller spot midway up the false edge. I have also noticed that the very tip is dulled, possibly by being too sharp at one point, and bending in the last half millimeter. I have purchased a stone, but I'm still practising on cheap old knives right now - hey, it's my first and only, no need to wreck it! (yet)

---
EDITORS NOTE: As you can clearly see in the Cold Steel Promotional Video below, when they get their QC right, the Cold Steel Viking sword is definitely quite keen of blade and a good cutter.

The problem is, not all sellers get hold of 'the good stuff', and especially on ebay, there are a lot of the factory seconds for sale. So it is critically important to not only buy the Cold Steel Viking sword based on price, but also on the basis of the sellers reputation.

---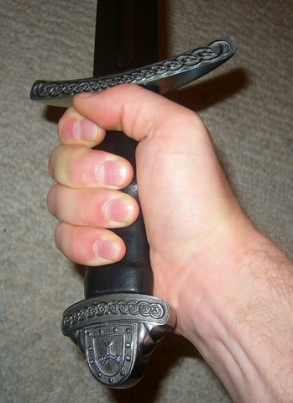 Still, this thing slices easily through plastic bottles, but will not go through more than one, like Shootermike (Mike Harris) suggests; this could be in part of my newbie swing as well.
On milk jugs, a lunge goes through so easily, you'll think you missed, and I was able to take 6 slices out of it before it drained! I had no idea I could do such a thing - perhaps I just have good coordination?

Of course, I had to hit a piece of wood to make sure it held up to this crowd's standards; I figured it's a Cold Steel, it can take it! It did!

It buried itself an inch or so into a very dense round, with no marks on the blade at all, and after another couple of swipes, felt the true weight of the blade when it shuddered in my hand. No rattling though! This blade is light, so there was some vibration, but I wouldn't call it whippy by any means. The 6 3/4" POB makes the 30" blade feel like 24" and the large pommel doesn't seem to get in the way too bad, although I had to shift my hand after the first one!

CONCLUSION
What can I say? My first sword is awesome!! Even though it has no historical bearing whatsoever, I think that as a functional sword, it is an excellent buy. I think I will even use it to train in two-handed swordplay, until I can afford another.

Some pros and cons:

PROS:
Well balanced and light


Large handle, can be swung like bastard sword (just maybe not by the purist)


Sharp
CONS:   
minor mis-fit where mouth of scabbard meets hilt - slight gap on one side, but no biggie


lack of uniformity in sharpening


flatter, wider handle than I had hoped, but ok



I hope you liked the newbie report, and I hope I will have another sword to review soon!

WHERE TO BUY

The best place to pick this sword up is HERE at Kult of Athena where it goes out the door for just $299.95 - almost two hundred dollars less than from buying from Cold Steel (and with better customer service and quality control to boot!).
---
I hope this review of the Cold Steel Viking Sword has been helpful. To return to Modern Replicas of Viking Swords from Cold Steel Viking Sword Review, click here


Buying Swords Online Can Be

DANGEROUS!



Find the Best Swords in the:
Popular & Recommended ARTICLES

---
---