Could I use one of your pictures?
QUESTION: Hello,


I am teaching a class and would like to use your picture of the european sword on the cover of the student's notebook for my 20 students. Could I have permission to do so. If necessary I could put your website at the bottom of the page to serve as advertisement.
I look forward to hearing from you.
Russ
ANSWER:
Hi Russ,
Sure thing - feel free to do so. :-)
Best,
- Paul
Join in and write your own page! It's easy to do. How? Simply click here to return to Ask Questions.

Looking for honest, trustworthy sword sellers? Look no further than:

FEATURED ARTICLES AND REVIEWS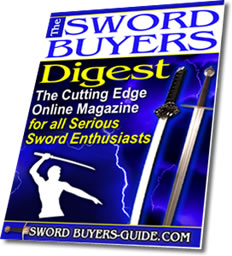 Sword Buyers Digest Newsletter!

Sword Buyers Digest Newsletter

Sign Up to Our FREE Monthly E-zine for all the latest sword news, info and much, much more! Click here for more info.