Darksword Armory 11th Century Viking Sword
by Don Judd
(Pittsburg, KS, USA)
I purchased Darksword Amory's 11th Century Viking Sword #1335 with the scabbard and interlaced sword belt through Kult of Athena in 2011. I also paid Kult of Athena to sharpen the blade because the sharpening service through Kult of Athena was cheaper than through Darksword. Overall, the price was significantly lower than purchasing directly from Darksword.


It took about a month from purchase to delivery, and the sword and scabbard arrived in excellent shape. The sharpening service was okay, but I was hoping the blade would be a little sharper. As a result I did some additional sharpening myself. But all in all I was very happy with my experience and will purchase from them again.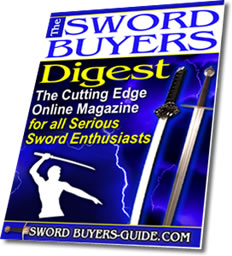 Sword Buyers Digest Newsletter!

Sword Buyers Digest Newsletter

Sign Up to Our FREE Monthly E-zine for all the latest sword news, info and much, much more! Click here for more info.