Does U.S currency work, and is this axe worth it?
There is an axe from a German sword site (Lutel-handicrafts.com) that I want to buy, but I have two problems. My first problem is that I do not know if I can purchase anything in U.S currency, as everything is in Czech Republic currency. I do not know if sending an email would help, because they might not use english. My other problem is I can not find any reviews on this axe (battle axe 20013) and I can not afford to buy something for $250 and have it break when I use it. I also do not know if it comes with a sheath. I have tried to research it, but I can not find anything. If someone can please help with this, that would be great.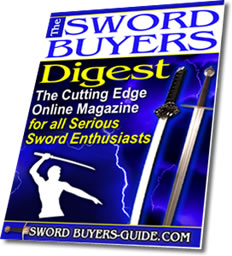 Sword Buyers Digest Newsletter!

Sword Buyers Digest Newsletter

Sign Up to Our FREE Monthly E-zine for all the latest sword news, info and much, much more! Click here for more info.