Don't use vegetable oil!
by Benwah
(Rocklin, CA)
When I was a child, I was given an ornamental lodge sword (by default, as my dad left us). I knew that oiling a sword was important, so I used the only oil I had on hand: vegetable oil. The next time I picked up the sword, it had an odd odor, and was tacky to the touch. WRONG OIL!
Join in and write your own page! It's easy to do. How? Simply click here to return to Sword Care Tips.

Looking for honest, trustworthy sword sellers? Look no further than:

FEATURED ARTICLES AND REVIEWS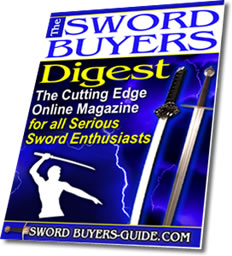 Sword Buyers Digest Newsletter!

Sword Buyers Digest Newsletter

Sign Up to Our FREE Monthly E-zine for all the latest sword news, info and much, much more! Click here for more info.