Fast shipping on Hanwei
by Frank Gomez
(Boulder. CO)
I just ordered a fuku Riu katana by hanwei and it showed up at my house 2 days later! It is really a beautiful sword, packed up well, and it is perfect. I was surprised that it showed up so quickly. I will definitely be ordering more soon. Maybe the matching wak.
Join in and write your own page! It's easy to do. How? Simply click here to return to Swords of the East.

Looking for honest, trustworthy sword sellers? Look no further than:

FEATURED ARTICLES AND REVIEWS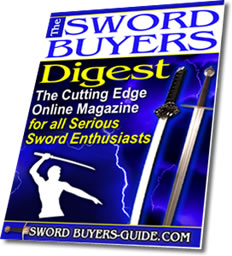 Sword Buyers Digest Newsletter!

Sword Buyers Digest Newsletter

Sign Up to Our FREE Monthly E-zine for all the latest sword news, info and much, much more! Click here for more info.