field MK4 last legend Katana
by lee
(England )
Hi guys I have a field MK 4 dragonfly last legend competition katana that I purchased in 2005 which has spent it's entire life hung on my wall. I am reluctanty looking to rehome it due to my wife expecting twins and us moving into a family home where a samurai on the wall will look out of place and further down the line just isn't practical. I know not of the current laws of selling such an item or where best to advertise. Any help is greatly received.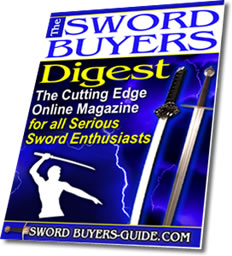 Sword Buyers Digest Newsletter!

Sword Buyers Digest Newsletter

Sign Up to Our FREE Monthly E-zine for all the latest sword news, info and much, much more! Click here for more info.