gengswords
by ryan nield
(New Zealand)
QUESTION: hi my name is ryan i live in New Zealand and want to now if u have heard of gengsword becouse i just bought one and i think you would intrested in it i am at johnnield@slingshot.co.nz


ANSWER:
Hi Ryan,
Yes, I have heard of them - though haven't really had a chance to check them out yet. It would seem that they are pretty much isolated to the NZ market at this point, which is indeed a fairly under represented and underserviced market.
I imagine that for the lack of import hassles and price they are ok. But I won't say any more until I investigate them further. When you get it, be sure to add a comment with your impressions.
Best,
- Paul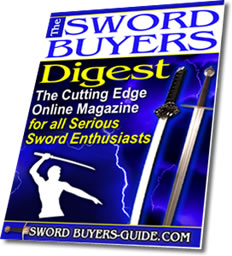 Sword Buyers Digest Newsletter!

Sword Buyers Digest Newsletter

Sign Up to Our FREE Monthly E-zine for all the latest sword news, info and much, much more! Click here for more info.