Great experiences
Found the KOA site through my WMA instructor. Heard tons of positive reviews from SBG and MyAmoury, so I decided to check them out. I have alwasy had great service and decent shipping times from them. When I ordered an item that was out of stock, they immediately emailed me and asked if I wanted to cancell, wait, or change it to a different item.


I've been ordering from them for a year now and have had no issues.
Join in and write your own page! It's easy to do. How? Simply click here to return to Kult of Athena.

Looking for honest, trustworthy sword sellers? Look no further than:

FEATURED ARTICLES AND REVIEWS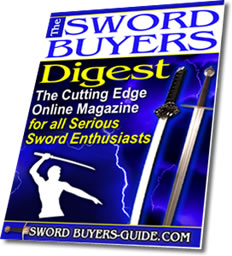 Sword Buyers Digest Newsletter!

Sword Buyers Digest Newsletter

Sign Up to Our FREE Monthly E-zine for all the latest sword news, info and much, much more! Click here for more info.