Great Katana, very fast shipping, no let downs, I was impressed
by Brandon
(Athens, GA, USA)
Wow I was impressed, finally something online as advertised, obviously these folks are in it for repeat buisness, and not turn-an-burn mentality. Sword came in timely manner, believe it was 2 buisness days, firstly it (Practical Plus Elite Katana Hanwei Forge)looked aesthitically pleasing which is always a plus, but it was most definitely not a wall hanger, it was sharp as Sh*t, I accidentally and foolishly knicked my thumb, "we got a bleeder" don't worry the operator is just fine, got an awesome scar too. Not a toy, handle with same respect as firearms. Overall extrememly pleased, I was trying not to get my hopes up, but was pleasantly surprised, thanks again.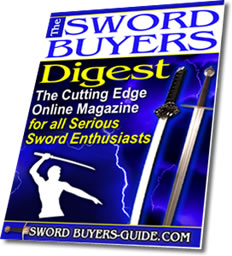 Sword Buyers Digest Newsletter!

Sword Buyers Digest Newsletter

Sign Up to Our FREE Monthly E-zine for all the latest sword news, info and much, much more! Click here for more info.