The Green Destiny Sword
(Crouching Tiger, Hidden Dragon)

The Green Destiny Sword (also known as the "Crouching Tiger Hidden Dragon Sword") by the Noble Collection was discontinued years ago, but the imitation replicas live on..
To be honest, I was not that sad to see it go - with a price tag of some $295 for a non functional wall hanger was kind of ridiculous.
After all, at the end of the day, this movie sword is just a glorified Chinese "Jian" (Tai Chi) sword. And when you consider that you can pick up something like the Cold Steel Gim (Jian in Cantonese) for $50 less - a beautiful, super strong, razor sharp cutting machine - it just seemed crazy to want this particular replica.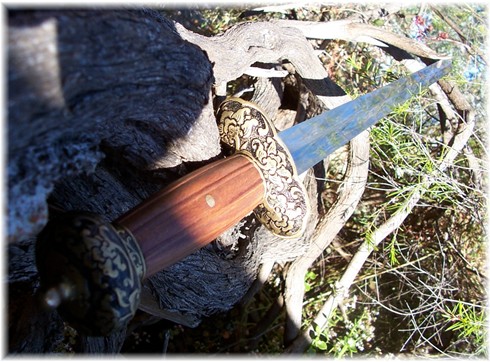 I don't know, maybe it's just me..
Anyway, back to the 'display version' - the imitations of the this sword are considerably cheaper than the official version – but it certainly doesn't make them any better.
Overall, the unofficial versions have a price tag from around US$79.99 to US$159 and are made by generic Chinese sword forges for pennies on the dollar. However, if the Noble Collection replica is "exactly like the films original" – the copies are really quite abstract and are pretty poor imitations. In fact, the majority of these replicas don't even have the right colored hand-guards or tassels!
Overall, while I enjoyed the movie, I can''t recommend the replicas of the Green Destiny Sword. Interest in it is a good lead in to Chinese swords in general though, so as it's no longer available anyway - and the knock-offs are not worth spending your hard earned money on, your best bet is to probably check out our page on Chinese swords...
---
I hope this information on the Green Destiny Sword has been helpful. To return to Movie Replica Swords: The facts of fiction from The Green Destiny Sword (Crouching Tiger Hidden Dragon), click here.

Looking for honest, trustworthy sword sellers? Look no further than:

FEATURED ARTICLES AND REVIEWS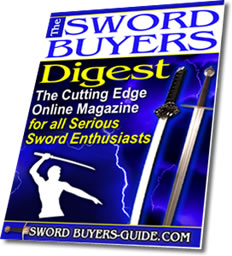 Sword Buyers Digest Newsletter!

Sword Buyers Digest Newsletter

Sign Up to Our FREE Monthly E-zine for all the latest sword news, info and much, much more! Click here for more info.