Hanwei Bastard Sword Review

The Hanwei Bastard Sword is more of a fantasy sword than anything historical. Indeed, technically it isn't really a bastard sword at all - for it is far to big and heavy to use with one hand..
If you are a history buff, you will probably want to give it a miss. But if you are a more general sword enthusiast that likes big medieval fantasy swords, well - it might be just the ticket..
---
Hanwei Antiqued Bastard Sword Review
Review by SBG member Morsus

---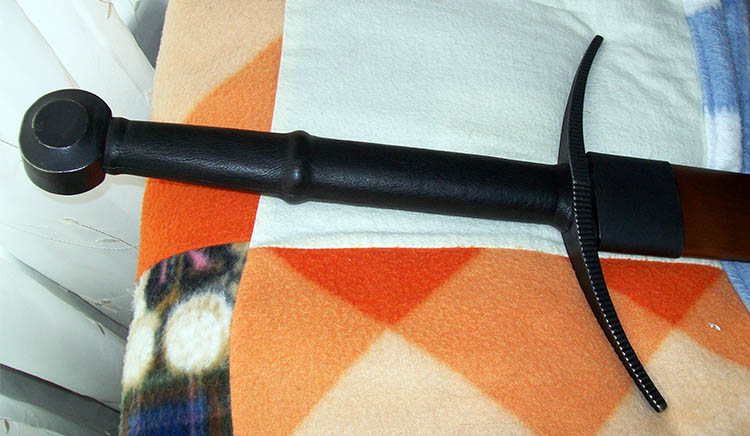 The Hanwei "Bastard" Sword was actually recommended to me by a number of members here after I had posted my interest in a few pieces. I was looking along the lines of a large sword, greatsword, two-handed, what have you. I must say this did catch my attention when I saw it, just as much as the other swords I had been looking at as well. The price was also dramatically less than the others and after reading some reviews I made a decision to purchase this from Kult of Athena
To quote Hanwei with the description:
"The strong and fearless Swiss and Germans originally carried these early weapons, although bastard swords soon became popular in other regions such as the British Isles and Europe. The term bastard undoubtedly comes from the fact that the sword, because of its design, has no legitimate claim to being classified as either a single-handed or two-handed weapon. The bastard sword was a weapon developed for the use of the foot soldier and had became quite common by the early 1500s. The combat styles developed for the bastard sword were the particular specialty of the Northern European Cultures, with the Germanic nations being quite active in its development and use."

I feel this is rather accurate on the whole towards the sword.

The sword definitely looks medieval and appropriate for the 1500s, especially with the antiquing and the design however I have one major qualm that was mentioned in many reviews...

This, I can personally, hardly call a bastard sword. When dry handling this... Bam, it's sheer length forces me to imagine that the only way I can use this is two-handed. The weight of it is manageable for me for though. I think the factor that threw me off most was that I suspected just under four pounds to be light however I didn't factor in the length which definitely is a game changer.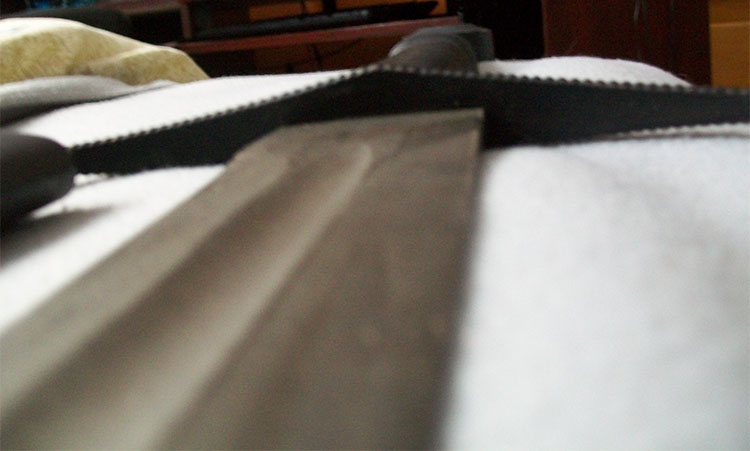 Now, the condition. Overall, fantastic condition, especially after about a week and a half of travel. There's a slight thin scrape on the scabbard and the fuller waves very slightly on each side around 3/4ths the way up which makes it ALMOST symmetrical actually lol. These are really nothing and don't bother me in the least as they're rather hard to notice, especially the latter.

One issue I have is actually drawing the blade from the scabbard. Its a very tight fit with the ricasso really tight. It is loosening slightly and getting easier to draw though so its nothing really.
Statistics
Blade Length; 38 inches and 6/8th
Handle; 11 inches and 3/8th
Overall; 50 inches and 1/8th
Guard; 9 and 3/8th
POB: 4 and 7/8th give or take a hair or an 8th
Weight; 3 lb 10.4 oz
The pictures advertised for this sword really don't do it justice I find. It looks much more medieval and somewhat evil in reality when holding it.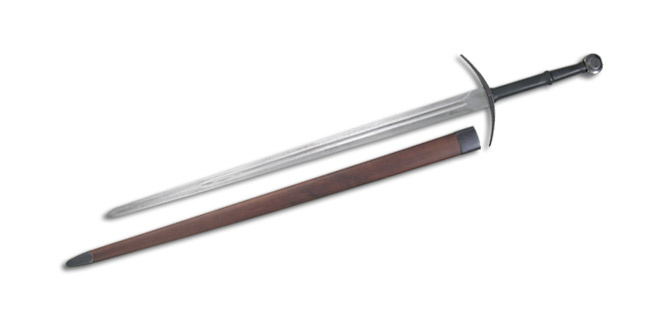 The manufacturer's stock image of this sword
What I love most about this is the blade and the antique design on it. When I hold it or look at it it feels evil. It feels as if this were a greatsword that a medieval Black Knight would use to cleave down foes and I absolutely love it.

Handling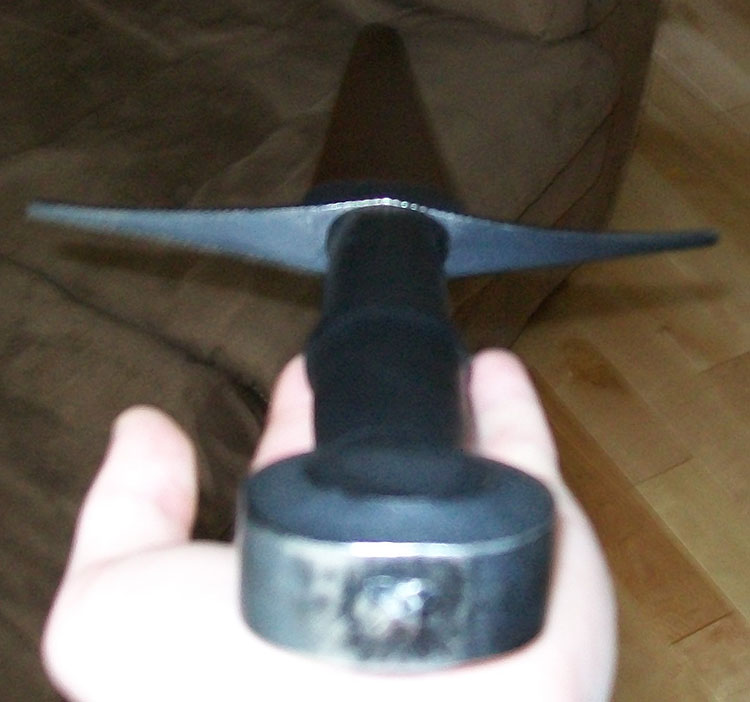 I haven't actually gotten a chance to swing this let alone slash open any helpless bottles yet so I can only provide my dry handling analysis. This is by no means a bastard sword unless you're over 6 feet and have a whole lot of muscle.

I'm a mere 5' 9 and rather slim and the muscle I do have is from working as a grocery clerk with boxes and pallets as opposed to weights and workouts so I'm sure my muscles that support this beast are not as up to par as others are.

That said, this is also my first functional sword so as far as I'm concerned, this is what a two-handed sword should feel like. I do feel that if I took this out and started slashing up object I could handle it half decently though.

When I'm done of the school semester and the weather gets a bit nicer I will take it out to try.
Meanwhile in Evansville Indiana...
While Morsus waits for the school semester to finish, SBG senior member Richard Williams from Indiana who also bought a Hanwei Bastard Sword with antiqued finish puts it through its paces against some milk jugs and water filled bottles..

Conclusion
Pleasantly surprised with this sword. Much bigger than the images let on and the grip is a bit thicker which is a bit of a drawback for me as I have smaller hands. Though the grip is lengthy and very comfortable for me. The blade is not really sharp though with exception near the tip which I think is a secondary bevel? Looks fine to me and I have no problem with it.
I would definitely recommend this sword to anyone looking for a great medieval sword or a greatsword or any antiqued piece and I am extremely satisfied and happy with this purchase. Great quality sword for the price purchased and from what I see Kult of Athena has it on sale frequently!
PROS

Antiquing looks great
Feels comfortable - leather grip is good
Guard, blade, and pommel are all solid and in place
No rust or any blemishes as such
Great for a Two-handed sword
Great quality for price

CONS

Name is very misleading
Not quite that sharp except near tip
Slight scrape on scabbard
Fullers have a very slight wave

WHERE TO BUY
The MSRP on this sword is $340, but the best price is to be found here at Kult of Athena, where it is available for just $243.95 - making it quite a steal for so much, well, steel..
---
I hope this review of the Hanwei Bastard Sword has been helpful. To return to Affordable Replicas of Medieval Swords from Hanwei Bastard Sword Review, click here


Buying Swords Online Can Be

DANGEROUS!



Find the Best Swords in the:
Popular & Recommended ARTICLES

---
---