Hanwei vs cheness 9260
by John
QUESTION: What is a more durable cutter the hanwei katanas or the cheness...Tenchi or the Practical Plus Elite Katana?


ANSWER:
That's easy, definitely the Tenchi - by a country mile.
The Hanwei Practical Plus Elite is a tad sharper, but it is differentially hardened - which means it will bend on a bad cut. Plus, the edge is so sharp it can be brittle and will chip on a hard target.
The Tenchi on the other hand, you can bend it all day long and it will spring back to true (well, probably not a good idea to bend it all day long, but you know what I mean). It is as tough as nails! No contest... :-)
- Paul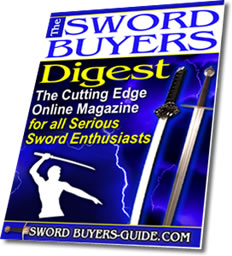 Sword Buyers Digest Newsletter!

Sword Buyers Digest Newsletter

Sign Up to Our FREE Monthly E-zine for all the latest sword news, info and much, much more! Click here for more info.