have you heard of defender
by arthur
(scotland u.k)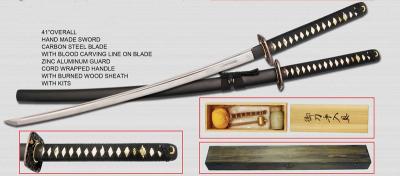 I have read your article but have to dissagree I have purchased a hand forged battle ready samurai sword for 50 british pounds it has a tempered and folded carbon steel blade full tang and double pegged handle with genuine rayskin it also came with a sword robe and cleaning kit and is genuinley hand forged.


Like yourself I've bought a few rubbish swords but this is an absoloute beauty please take a look at www.bestcrossbows.co.uk
ANSWER:
It actually looks very familiar...
The brand is unknown to me, and the name seems to be isolated to that particular UK seller...
I do have a few doubts about the sales copy. There is simply no way that any Chinese forge can make a sword that is folded and clayed that retails for fifty pounds. And that in itself makes me worry about many other things.
It may well be a good sword. But false ad copy doesn't encourage me... :-(
- Paul