Hey, how did you pick out....
QUESTION: The song Sons of Odin? Sorry fore being so off topic, but when I heard it I first thought I had hit the play key on my computer- I paused the song to watch your video that it was in! Its a very fitting song for a viking sword, but I think you should have extended the video to let the chorus start :). Again, sorry for wasting your time, its just awesome to see a fellow metal head with an appreciation for fine steel! Steel being something Manowar like to talk about, say, 9999999999999999999999 times per album :D


ANSWER:
Yup, it really did suit the clip I felt, had the right 'truimphant' sound that was appropriate..! ;-)
Cheers,
- Paul
Join in and write your own page! It's easy to do. How? Simply click here to return to Ask Questions.

Looking for honest, trustworthy sword sellers? Look no further than:

FEATURED ARTICLES AND REVIEWS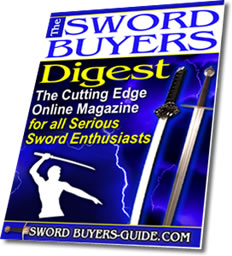 Sword Buyers Digest Newsletter!

Sword Buyers Digest Newsletter

Sign Up to Our FREE Monthly E-zine for all the latest sword news, info and much, much more! Click here for more info.