Higo katana
by Jim
(Illinois)
QUESTION: Hey paul. I know that cheness's katana's are well known and I was wondering, is there ever going to be a comeback of the Higo katana? I've checked the website and it says that it has been discontinued for a while. Even though it says it discontinued, aren't they going to make a comeback of something similar to it? Please update me on this. Thanks


ANSWER:
Hi Jim,
As far as a I know - no... There were problems producing the final batch that started to make it extremely cost prohibitive, as lamination like this is a very time consuming technique.
A real shame, as these were really beautiful swords... :-(
- Paul
Join in and write your own page! It's easy to do. How? Simply click here to return to Ask Questions.

Looking for honest, trustworthy sword sellers? Look no further than:

FEATURED ARTICLES AND REVIEWS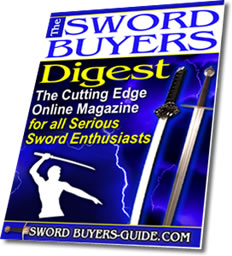 Sword Buyers Digest Newsletter!

Sword Buyers Digest Newsletter

Sign Up to Our FREE Monthly E-zine for all the latest sword news, info and much, much more! Click here for more info.