honest, reliable, and they keep their word. GO KULT OF ATHENA!!!
I purchased a Cold Steel hand-and-a-half sword from Kult of Athena at $249. After digging around the internet a little more I found the same sword for $219 on true swords website. I emailed KoA and notified them of this with a link to the true swords webpage and they immediately refunded me 30 dollars no hassle or arguing.


They price matched for me even after the sale was made when they could just have easily said no.
NOW THATS CUSTOMER SERVICE!!!
Thanks KoA,
Spencer
Edmonton, AB, CAN
Join in and write your own page! It's easy to do. How? Simply click here to return to Kult of Athena.

Looking for honest, trustworthy sword sellers? Look no further than:

FEATURED ARTICLES AND REVIEWS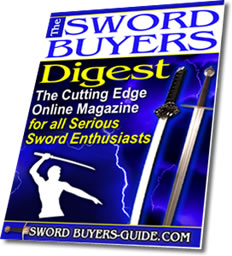 Sword Buyers Digest Newsletter!

Sword Buyers Digest Newsletter

Sign Up to Our FREE Monthly E-zine for all the latest sword news, info and much, much more! Click here for more info.