How do you fit an aftermarket tsuba?
by Phillip
(North Carolina, U.S.A.)
Is it possible to remove a Tsuba from a Katana without destroying it?, specifically, I was planning on buying either a Mushashi Rosewood Shirasaya or a Zetsurin Katana, and fitting it with a tsuba. If I buy one,I plan to use it for test cutting, but would not be above using it for self-defense should the need arise. Also, If I bought the Shirasaya, would fitting it with grips made of cow or deer bone hurt or help its performance as a test cutter, verses Same and a normal handle wrap?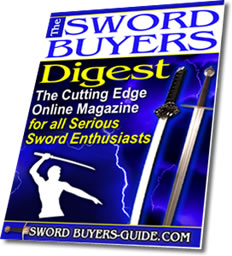 Sword Buyers Digest Newsletter!

Sword Buyers Digest Newsletter

Sign Up to Our FREE Monthly E-zine for all the latest sword news, info and much, much more! Click here for more info.