How much weaker does a bo-hi make a sword?
QUESTION: Right now I'm planning on buying a tenchi and I'm trying do decide whether or not to have it with bo-hi. I understand that the bo-hi makes the sword slightly less stronger, but by how much?


ANSWER:
It is barely much of a difference actually...
For a start, the 'I-beam' design of the bo-hi is much like that used in the construction industry. So while there is less material, it is somewhat reinforced.
Secondly, this is monosteel (through hardened) 9260 Spring Steel we are talking about. So it is already super durable...
The main difference is that a blade without bo-hi is a little heavier and has a more forward balance point - giving it more power, but making it a little less graceful.
Hope this helps.
- Paul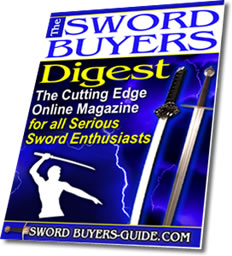 Sword Buyers Digest Newsletter!

Sword Buyers Digest Newsletter

Sign Up to Our FREE Monthly E-zine for all the latest sword news, info and much, much more! Click here for more info.