I bought a "Hand made" Masahiro Samurai Sword
by Dayton
(Omaha,NE)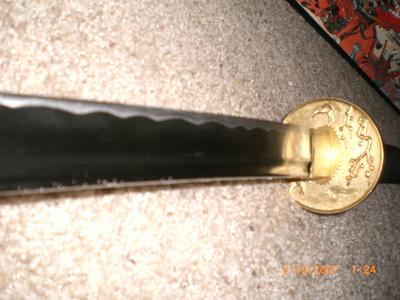 Masahiro1
QUESTION: I need to know if this is actually a Masahiro Sword. I bought from a place on the web called www.sharpimport.com and this is the item


15-MA001R
Item Name: HAND MADE MASAHIRO SAMURAI SWORD
Description: 41" OVERALL IN LENGTH WITH 27" BLADE AND 10 3/4" HANDLE. FEATURING EXTREMELY DURABLE HIGH CARBON STEEL BLADE THAT CAN CUT STEEL WIRE WITHOUT CHIPPING, AUTHENTIC RAY SKIN WRAP HANDLE & LACQUERED FINISH WOODEN SCABBARD. A HAND TAG AND SWORD BAG IS INCLUDED. A DECORATIVE TRIANGULAR BOX IS DESIGNED TO BE A DISPLAY STAND AS WELL
Unit: EACH
Price: 0 or more $ 48.95 EACH
I took apart the handle and there is nothing either etched or signed into the tang. Does Masahiro sign his swords? Can you find out about this for me please?
I guess I can only send 1 picture, I have others. It also has a clearly wire brushed hamon. They also say it is forged steel.
Thank you
Dayton Arthur
ANSWER:
I don't think it is a genuine 'Masahiro' actually, at least not one that I have seen before...
My understanding is that most of them do have some signature on the nagako, though bear in mind that Masahiro swords are - on the whole - mass produced in a factory and there really isn't a whole lot going on in the way of forging if you know what I mean...
Still, for the price you paid - at least it isn't a stainless steel wall hanger. Just be careful with these cheapies, there are only a handful under US$100 that I trust.
Sorry to be the bearer of bad news...
- Paul