I have no plans on purchasing anywhere else.
by Blood & Honour USA
(North Carolina)
I have now purchased two swords from KOA, and in both dealings they have been quick to reply (even when my queries were idiotic) and quick to fill both orders as described. I have only recently taken up sword collection but thankfully I discovered this place sooner rather than later.


Their prices are lower than anyone else and most importantly to me, they don't advertise things that they don't have in stock, which is way to rare I have noticed.
Join in and write your own page! It's easy to do. How? Simply click here to return to Kult of Athena.

Looking for honest, trustworthy sword sellers? Look no further than:

FEATURED ARTICLES AND REVIEWS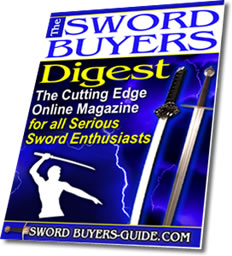 Sword Buyers Digest Newsletter!

Sword Buyers Digest Newsletter

Sign Up to Our FREE Monthly E-zine for all the latest sword news, info and much, much more! Click here for more info.